The longest tenured member of the Vikings offensive line at the beginning of the 2015 season was starting center John Sullivan.
The eighth-year veteran was sidelined with back injuries in training camp, which would later require back surgeries and meant he would land on the Vikings injured reserve.
Next up on the depth chart was Joe Berger, a natural guard, who would be slotted into a new position on the offensive line.
Berger went on to exceed expectations and lead the way for the NFL's leading rusher Adrian Peterson.
PFF 's Matt Claassen explains why:
*Joe Berger was largely used in a reserve role during his first few years with the Vikings before starting at right guard during the last half of the season after replacing Brandon Fusco. This preseason Berger was once again inserted into a starting spot during the preseason after a season-ending injury to center John Sullivan. Not only has Berger done a superb job replacing an elite center, but he has quietly been one of, if not the best center in the league this season. The veteran has excelled as a run blocker to earn the highest run blocking grade among centers during the last four years. Over the final half of the regular season, he earned an above-average grade of 1.0 or higher in every game, including a peak of 5.3 against a good Oakland defensive line (0.0 is average). He was also the most consistent center as he had the lowest percentage of negatively-graded run blocks at the position. *
Charles Johnson wants to 'light it up' in 2016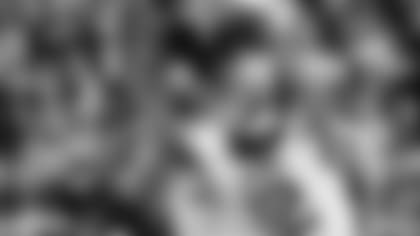 Vikings rookie wide receiver Stefon Diggs finished the year with 720 receiving yards, and had one of the best debut seasons in franchise history.
Vikings third-year wide receiver Charles Johnson, who was returning from a rib injury that put him out for three weeks, would not see as much time on the field at the position going forward.
Johnson finished the season with nine receptions and 127 yards.
"It came down to a numbers game a little bit," Vikings Head Coach Mike Zimmer said. "[Stefon] Diggs came in and had a big role. I wanted to dress more guys on defense."
Diggs was a key component in three consecutive victories against the Chiefs, Lions and the Bears heading into Week 9.
*By that time, Johnson's ribs were healed and he was ready to return, but it is hard to take a guy out of the lineup that was putting up the type of numbers Diggs was. Johnson understood that and just felt he was on the wrong end of some unfortunate circumstances. *
*"It wasn't very long, just a couple weeks, few weeks (he was out), but when things are clicking and we're winning games it's hard to change things up," Johnson said. "I'm a big guy, I'm built on routines. I'm built on some superstition things. Where I'm like, if I do this, this week and we win, I want to do the exact same thing. So it's kind of just things like that, and I'm a team guy, I want to win games. That's most important. I do want to help my team win, and it was just kind of unfortunate this season." *
Johnson is taking a positive approach to how the season turned out after being inactive for the final three weeks of the season.
"I'm a guy who came from nothing," Johnson said. "I always work myself up to where I'm at. I understand it and I've been through it before. It's just another page to my book, another thing I had to overcome and I'll bounce back. It's nothing."
"Do what I do, go out there and grind and continue to get better," he said. "Come back in here this offseason, OTAs and stuff, and keep doing what I do. Light it up."