"We made a big-time roster move yesterday," Vikings Assistant Head Coach/Co-Defensive Coordinator Andre Patterson told media members on Sept. 15.
"We added a new addition to the Vikings family and, most importantly, to my family," Andre said. "I had my first grandchild, my grandson. Everybody's healthy, and it was an exciting moment for my family."
Andre Patterson III, or Tre for short, was born to Vikings offensive quality control/assistant running backs coach AC Patterson and his wife Mary on Tuesday, Sept. 14.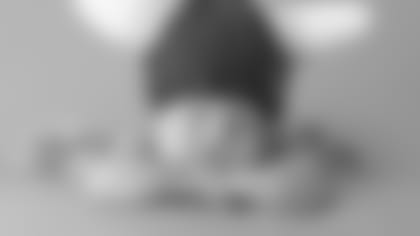 "My favorite moment would probably be the first moments," AC reflected earlier this month. "I got to the first one to hold him because [Mary had a C-section]. So I got to do that, and I got to cut the cord and that kind of 'dad' stuff. His eyes were open, so he could look at you, and that was really cool for me."
The first-time dad and first-time grandpa have been loving life with Baby Tre, and they both are eager to teach him the ins and outs of football in the coming years.
While Andre coaches defense and AC is on the offensive side of the ball, both actually were offensive linemen during their playing days.
"He has some offense in his blood," AC laughed of Andre. "We'll see, though, because he can teach him how to pass rush, too."
Added Dre with a smile: "Or, we can teach him how to play baseball."
We sat down with both Coach Pattersons to discuss the adventures of parenthood – and grandparenthood.
Q: AC, What excited you most about becoming a dad?
AC: "Just getting to have a little boy in our lives. Me and my wife, we've been married now for three years, so we knew we wanted to take that next step. Now we got there, and it's been great. I'm just excited to teach him how to throw a ball and do all the things that dads do, right? Ride a bike – I might need to re-learn how to ride a bike so I can teach him right (laughs) – but all of those great things. Play his first video game with him, all those things. It'll just be fun. I can't wait."
Q: Any surprises in the first month of parenthood?
AC: "All the things they say are true – you don't get a ton of sleep, and you don't always know exactly what's wrong, and when it's your first time parenting, you're like, 'Am I doing this wrong? Am I doing it right?' We all make mistakes and learn and stuff, but it's been good. The only 'surprise' for me was just how strong my wife Mary was through the whole thing. She was up and moving the next day and doing all the motherly stuff that she wanted to do, and she's been doing that since. [It's been inspiring] to see how strong she's been."
Q: Coach, what has it been like being a first-time grandfather?
ANDRE: "It's been unreal. The proudest moments in my life were the day AC was born and the day my daughter was born. When I got to the hospital and I got a chance to hold [Tre], I thought my heart was going to burst. So I knew I would be [proud], but I didn't think it would be as much as an emotional moment as it was for me – it was like it was when I had my two children.
"When I get a chance to see him, it just lightens up my day. It's like I tell AC, 'He could care less if we won or lost a game. He could care less about how good or bad your day was at work.' All he cares about is that you're there to hold him, feed him, take care of him. That's a good thing to have in your life."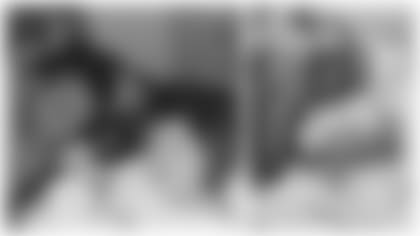 Q: Do you see any early similarities between Tre and AC as babies?
ANDRE: "That's funny. We were just talking about that last night. The last couple days, Tre's been in one of those moods where he wants to cry all the time, and you can't find the thing that will settle him down. So I said, 'Well, he's definitely his dad's son.' Because AC was like that. No matter what you did – feed him, change him, sing to him, talk to him – nothing would make him calm down. And then I finally got smart enough to put him in the car seat, put him in the car and throw on Michael Jackson, and he'd stop crying. So I found a way when AC was like that.
"Another thing – at just about 4 weeks old, and AC was the same way, he has a strong neck for a little baby. AC would be lifting his head up to look around; and Tre does the exact same thing. You're holding him and are like, 'Hey, you've gotta watch his head,' but he's like, 'No.' On his own, he'll look around, and that reminds me a lot of AC, too."
*Q: Besides football, what else are you excited to teach Tre? *
ANDRE: "I plan on teaching him a bunch of stuff. … That was the fun part of being a dad – not just to help them learn their first experience with sports but just life in general, how to grow up and be a good person. He grew up to be a good man, a good father, good husband, all those kinds of things. I know that's AC's number one job, but it's my second job, too. Hopefully, God willing I'll be on this earth long enough to be able to share those things with him, too."
Q: What has it been like watching AC be a first-time dad?
ANDRE: "I'm proud. To see him hold Tre is a great feeling. To see how he looks at Tre – I know what that look is. But also what comes up sometimes, too, is I guess the concern. … I know there's gonna be ups and downs in life, and everything's not going to be bubble gum and popcorn. And knowing that he's going to have to talk to Tre about some tough discussions. The first time he comes home crying because somebody picked on him. The first time he falls down and cries. All those kinds of things. So those things pop in my head, too, that right now it's a great feeling for him. But heartache comes with it, too, because you love someone so much. So I think those things pop into my head, too."
Q: AC, what is a piece of advice you got from your dad that you'd pass along to other first-time fathers?
AC: "You've gotta be ready to become second in your wife's life. And that's not in a mean way, but she's gonna put him first. You're not gonna get the same amount of time to be like, 'Hey Babe, let's go do this or let's go do that.' You're going to be second in her mind because she now has our son in her life. And you may even be third, because you've got the dog, too. You might even fall behind the dog now. But that was a good piece of advice because she's busy. … And then, he was in this profession [when me and my sister were young and knows] how much time it takes away from your kids, so just trying to make the most of the time I do have with him is just so key. And I know he did the same thing with me. Even though I don't remember it, my mom and him have told me that. So just trying to make the most of those moments that we do get together."