MANKATO, Minn. –After 52 seasons, the Vikings have wrapped up their final practice on the campus of Minnesota State University, Mankato.
The Mankato community has been a longtime and gracious host for the team every summer since 1966. Countless coaches and players have walked across Stadium Road and onto the turf of Blakeslee Stadium and its adjacent practice fields; thousands of fans have traveled to Mankato to line the fences and sidewalks, appealing to their favorite Vikings for an autograph or photo.
Hall of Fame Coach Bud Grant, who spent 18 summers in Mankato himself during his coaching career, spoke at a special "thank-you" event on Monday and said that the city has "served Minnesota as well as any community in the state."
"Everybody from this part of the country, from South Dakota to Iowa and Wisconsin has been to Mankato," Grant said. "It's been a great experience. I think the thing that made it is the people of the area have embraced us to the greatest extent everywhere we've been."
Mankato has certainly held memorable moments for players, from Chuck Foreman to current receiver and Minnesota native Adam Thielen.
Here are a few of their memories and reflections as they bid farewell to a training camp tradition: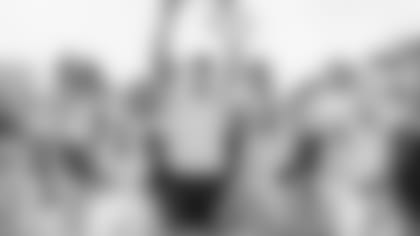 Bud Grant, Head Coach | 1967-83, 1985
"We were the last ones to go to training camp. Training camps were eight weeks and we played six preseason games. I always told the players, 'Here's the deal, we're not going to have a large camp. It's going to be the shortest camp in the National Football League, provided that you come here in shape.' We didn't have [organized team activity practices] or anything like that. You come to camp in shape, we'll have the shortest training camp.
"We had a short training camp, and it turned out, the next year they were in better shape than the year before. They bought into it. From that point on, and the leadership we had, [Jim] Marshall, [Mick] Tingelhoff, that was invaluable. Those two guys made the team as much as anybody. Those two people were as important to our team as anybody we ever had. They were my captains.
Mike Grant (worked as a ball boy and on sidelines)
Story 1: "The absolute best guy to me was Fran Tarkenton. Fran knew everybody's name. He would say hi to every single person walking out. I watched him and how he worked, and I remember my dad and I talking way back when about how he was going to be highly successful when he was done with football. He had the ability to connect with people. When you're a young kid, you don't know if he's a good guy or a bad guy, you just know that everyday he'd say hi to me, know my name. We used to sit in here in the equipment room when Stubby Eason was our equipment manager. Fran would come in with the ball boys. A lot of players would say hi and be on their way. Fran would come in and jump up on the counter. He'd sit cross-legged and we'd talk football. He taught me how to throw a pass, we talked about technique. He just was interested in you."
Story 2: "My dad has a thing about socks. I also have a thing about socks. He didn't like high socks. That was in the Joe Namath era, things were starting to get a little crazy. The players were wearing their socks too high. We walk in, we're working and Jim and whoever, probably Jim — no one on the team did anything without Jim Marshall's saying it was OK. He was like the Godfather. 'All right, we're all going to get Bud today. We're going to all roll our socks down.'
"This is the stupidest story, but it says something about my dad. Five weeks into training camp, they're tired of it, they want to have a protest. All they could come up with was to roll their socks down around their ankles. That was it. We come out to practice, and I had to do it. They looked at me and said, 'You're doing it too.' We all roll them down, so they're all nervous. 'What's Bud going to say?' Well, about an hour into practice, my dad rolls his socks down into donuts. No one ever talked about it again. It was over, and no one ever said a thing about it. He never said a word. He just rolled them down."
Jim Marshall, DE | 1961-79
"Football is a very demanding sport. You've got to have some levity in doing your job because it's tough. …
"We had little contests, or I would say, we would think of fun things to do. It was back in the time when the astronauts were going up [in space], so we thought we would do that, too. We decided there was going to be a 'manned' space event, so to substitute for a human, we got a frog."
"It was fun. There were a lot of gimmicks, there were a lot of things you had to do to out-cage Bud, and that was a trick because he would always somehow know what was going on. …
"I would always think about what we were there for. The idea wasn't just to go into the season and stuff like that. It was really to make the playoffs. We had the idea we were going to make the playoffs and go to the Super Bowl."
Bob Lurtsema, DE | 1971-76
"This is the truth – we would have played for less. We had so much fun. And without the fans, we wouldn't have had the opportunity to play the greatest game in the world. There's negatives with every situation, but you have a choice. You can dwell on the negative or dwell on the positive. So we always dwelled on the positive, which meant that we had 45 minutes between the afternoon and dinner [to get pizza]. We had 40 minutes to play cards between the 6 and 7:30 meetings. So we were always doing something. Because of Bud Grant, it was about being surrounded by 45 positive people with a great attitude."
Doug Sutherland, DT | 1971-81
"I'll tell you what, my first memory of Mankato – I was traded from the New Orleans Saints to Minnesota, and I made it from Hattiesburg, Mississippi, which is the hottest training camp that anybody could ever come up with. I made it from Hattiesburg all the way to Mankato in the same day, and it was on a Wednesday night, the night of the infamous track meet in the dormitory. Wednesday night was the night that we didn't have a meeting, so most of the guys would go out and have a couple of beers. It was a lot of fun. I remember in New Orleans, we had to be in our room with the lights out or it was a $1,000 fine. When we got to Minnesota, you had to be in the dormitory, but we were running a track meet. 'The first call for the 880-yard run,' and we had relays, and it was just [fun]. I said, 'These guys can win. They have fun.' It was really neat. We had bocce ball tournaments, we built rockets, anything to pass the time. I think we used to spend about six weeks here, so I have over a year of my life spent here in Mankato.
"You know, you get there after the evening meal, and the first time you meet some of these guys, you're a stranger and you're in their dormitory – they don't know you from a bale of hay. So it was interesting. Ed Sharockman was my first roommate, but I had Lurtsema for five years. That made training camp a lot more fun; he's a crazy man, and he's a friend. I love him dearly."
Chuck Foreman, RB | 1973-79
"One of the stories I heard of, Ed Marinaro was a running back down here, he [had been] the Heisman Trophy runner up […] he was the top dog down here, and he showed up to training camp with this purple Porsche, from what I understand. He came from Cornell, Ivy League and all that. And I guess one day he came out looking for his car, and he couldn't find his car. So a bunch of the guys, I guess, took the car, picked it up and carried it over to the middle of the football practice field and set it over there. And that's where he found it when he came out to practice."
Mark Mullaney, DE | 1975-87
"The most memorable [training camp] was probably my rookie year. Just being, I guess, inducted into the Purple People Eater gang. That was hard for me, because they were already legends at the time and probably the best defensive line in football. That was a hard year for me because I got drafted in the first round to play that position, and I'd never played it before. So the memory of just getting through that year and making the team was really a highlight for me."
"I think most of my great memories came from going to [Jake's Stadium Pizza] on Wednesdays after practice, when Coach Grant would give us a chance to come here after a hard of practice and drink a beer. We'd come down here and eat pizza and drink cold beer and go back to the dorm."
Tyrone Carter, DB | 2000-02
I just loved it here. It was a great town that came to support us. The fans were great, gave you some energy for practice, the fans out there cheering you on. So I just loved the fans, to tell you the truth. They took the time out of their day during training camp – some of them don't go to work for a week or two, just to come out here to see us practice. That's the part I love the most.
"My first day as a Minnesota Viking, we're in line and start the first drill, and Randy Moss stopped the drill and said, 'Hold on. I want to make sure I know everybody, all the receivers.' That's a side of Randy Moss that nobody ever saw – he was the first to [help]. And then he worked with me, even though I was competing for his job – well, not really, but we were the same position. And from the first drill, he'd never met me, and he stopped me and said, 'No, you need to do it this way.' And he made sure he knew my name, he was an advocate for me. That was definitely my most memorable thing."
Brian Robison, DE | 2007-Present
"I think the memories that always stand out for me [are] having the conversations in the locker rooms or the dorms, and then the night practices. You always enjoy the night practices. Any time the lights come on, you always get a little extra amped up. Those are the memories that I'll take away."
Kyle Rudolph, TE | 2011-Present
"You really get to know guys off the field. When we're back at Winter Park, it's all work while we're there. Whereas, down here, we get breaks in between practice and meetings, so you get time to have meals and spend time together. That's what you remember the most about training camp."
"[The fans] come each and every day, and that's one of the things I think I'll miss most about being down here in Mankato – the fans' energy, from the time we're riding over on our bikes at quarter-to-7 in the morning, to the time we leave the last meeting at 9:15. There's always fans out here, they're always excited, and they're huge Vikings fans. They support us no matter what the odds may be going into a season, they're optimistic, and they expect us to win a championship every year, as do we."
Trae Waynes, DB | 2015-Present
"It's cool walking up here [on move-in day] and you've got a bunch of fans who are cheering you on, wanting autographs and asking questions."
Adam Thielen, WR | 2014-Present
"When you're coming into training camp, there's not a whole lot that is familiar. When you can kind of grab something from it that is familiar, it kind of keeps you calm and helps you just play football. It was nice for me to come out here and be familiar with the practice fields, the game field … at least have something to kind of relax me and let me just go out there and have fun.
"Looking back early on, the plays I was able to make [were important]. I remember making diving catches to start off training camp, and that just kind of gave me confidence and kind of jolted me into having the ability to make the team. It's a tough league, and when things go right for you, you can build on that and gain confidence from that, and ultimately it can help you in the long run. It can [also] go the other way. I'm just fortunate that those things kind of went my way early in camp because I think it could have easily gone the other way."