All Micheline Schultz could do was point to the sky with gratitude.
Schultz and her two daughters were given the surprise of a lifetime at halftime of Sunday's Vikings game, when the trio was gifted tickets to Super Bowl LIV in Miami.
The gesture was a culmination of a five-plus year journey that began when Schultz's husband, Tom, died in June of 2014. But Tom, ever the selfless one, was an organ donor.
His heart and lungs ended up saving the life of Quinton Jones, who was on hand to present the tickets to the Schultz family. When he did so, Schultz began weeping and immediately pointed upwards.
"I feel, in all of this, Tom's presence. He was with us and working through us," Schultz said. "We know he's here. The amount of gratitude we feel that Quinton and is family have … it lifts the grief. It really does.
"Obviously, I can't hug my husband. So, that pointing up to the sky is a powerfully humble acknowledgement to Tom that all of this is happening because of him," Schultz added. "It is my way of showing the world what an incredible man Tom was, and how his spirit continues to inspire the life of a man eternally grateful to be living it."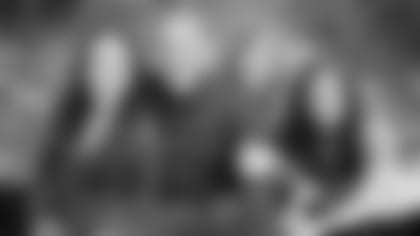 Tom Schultz worked as a statistician for the Vikings for 25 years. The father of two passed away from a sudden brain aneurism on June 1, 2014.
Schultz's passing was a blessing for Jones, who lives in Bermuda but was at the Mayo Clinic in Rochester in dire condition.
Jones was dealing with amyloidosis, a rare disease in which abnormal proteins are produced in organs. The disease affects the liver and other organs, and the only cure was a pair of organ transplants.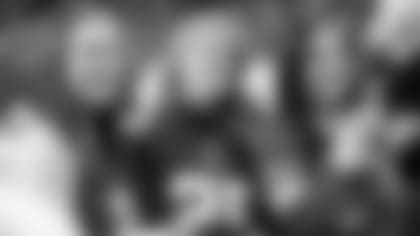 On June 1, 2014, Jones was on the waiting list for organs, and was preparing to receive an artificial pump in his heart to buy him extra time.
Early in the morning on June 2, Jones received the news that Schultz's heart and lungs were a perfect match. The surgery was performed on June 3.
More than five years later, Jones proclaimed he is feeling better than ever.
"I'm 67 years old, but I feel like I'm 27," Jones quipped. "If I trained hard enough, I could make the Vikings."
Although Micheline Schultz knew someone had received her husband's organs, she needed time to grieve and process Tom's death before attempting to reach out.
But in May of 2018, Schultz wrote a letter to LifeSource, an organ donation organization. They then contacted Jones, who had been constantly thinking about the man whose organs gave his new life.
Jones and Schultz corresponded via email for months, eventually setting up a meeting at Twin Cities Orthopedics Performance Center with the help of the Vikings. The date was set for June 1, 2019 — the five-year anniversary of Tom's passing.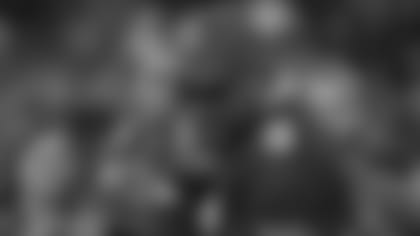 Schultz's family and Jones shared an emotional hug upon meeting, and the tears later flowed when Micheline and her two daughters, Mikaela and Mia, listened with a stethoscope to Tom's heart beating inside of Jones.
The group met Vikings quarterback Kirk Cousins in the locker room, and later boarded a bus for U.S. Bank Stadium. The group was given a private tour by Vikings Hall of Fame guard Randall McDaniel.
Perhaps the most moving moment was a visit to the stats booth, where Tom could have worked for Vikings home games at the venue that opened in 2016.
"It was a tender and beautiful day," Schultz said.
But even before they met, Schultz said she felt connected to Jones through little idiosyncrasies that were related to Tom.
"Tom absolutely loved the water," Schultz said. "He was a busy person in the city, but he wanted nothing more on the weekend than to go to the cabin and walk on the dock where he could literally leave the world behind. His dream house would be anywhere by the water."
Jones, of course, lives in Bermuda — a small island that is more than 1,000 miles northeast of Cuba.
Plus, Schultz senses Tom's giving spirit in Schultz. When the two met in June, Schultz mentioned that Mikaela was moving to Texas in July and Mia was going to be looking at colleges in the fall.
Jones kept those nuggets in mind, emailing Schultz after each event and checking in to see how they had gone.
"I started sobbing because it's exactly how Tom would say it. It is the wildest thing … and the sweetest thing," Schultz said. "It stirs up a lot of emotions, but at the same time, it stirs up this grace, and it's impossible to be stuck in the grief."
The events of the past five years led to Sunday, where the group's story was highlighted at halftime for the NFL's My Cause My Cleats initiative.
Jones spoke glowingly of the chance to have people learn about Tom and the group's story.
"The love we share, it's unbelievable," said Jones, who became a Vikings fan to honor Tom's passion for the Purple. "It was my first Vikings game. But it won't be my last, let me tell you."
There was hardly a dry eye in the stadium by the time a video describing the journey was done with.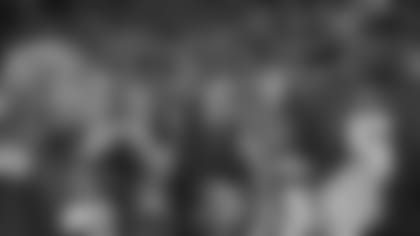 But then came the Super Bowl surprise.
"We are still a little shell-shocked. The shock and the awe was just surreal. I would have accepted tickets to the Minnesota State Fair, but how do say thank you for Super Bowl tickets?" Schultz said. "It's way above and beyond anything we could have even thought of. We're just so profoundly grateful."
So, too, is Jones, who wanted to pass along a message that was echoed by Schultz.
"Please become an organ donor and save somebody else's life," Jones said. "Because somebody saved mine. Tom gave me the gift of life."
Added Schultz: "Tom was a sweet, kind, humble and powerful presence in the world. He had the generosity the size of Jupiter. In giving Quinton the life that he has … the impact is immeasurable."