There is rest on the horizon for the Vikings, but a little bit of work remains.
Minnesota (7-3) hosts Denver (3-6) Sunday at U.S. Bank Stadium. Kickoff is at noon (CT).
The Vikings are off with a bye next week, but can get to eight wins and keep themselves in the playoff picture with a victory.
The Broncos had a bye last week, and should be rested for a hostile road environment.
And while there has been plenty of coverage on the Purple this week, Vikings.com chatted with Broncos reporter Phil Milani of DenverBroncos.com for a glance at what the other side is thinking before Sunday's contest.
Here is the Week 11 edition of Opposing Viewpoint:
We'll start at quarterback, where Brandon Allen is now Denver's starter. He earned a win over Cleveland in starting his first-ever game in Week 9, completing 12 of 20 passes (60 percent) for 193 yards with two touchdowns and no interceptions. What kind of jolt has Allen given the offense a little more than midway through the season?
PM: Brandon Allen certainly energized the offensive side of the ball as he led the Broncos to a 24-19 win over the Browns. No one knew what to expect from the fourth-year quarterback, considering he had never taken a regular-season snap before that game.
While Allen only completed 12 passes, he brought something to the table that the Broncos had been missing in their first eight games with veteran signal caller Joe Flacco: the ability to extend plays by getting out of the pocket.
"I thought he ran the offense well, showed a little mobility, made some good throws, missed a few too," Broncos head coach Vic Fangio said after that game. "We're not ready to put him in Canton yet, but overall pleased with the way he played."
Allen benefited from his supporting cast, as 96 of his 193 passing yards came on two spectacular touchdown catches by Courtland Sutton and Noah Fant.
In the locker room after the game, several players were impressed with how well Allen knew the playbook, and they also noted his calm demeanor.
"He was in the huddle and he wasn't rattled at all," said Sutton. "You would think that he's been doing it for years. The composure he had in the huddle was awesome to have."
Allen described things a little differently.
"Nervous energy, I think, is the best way for me to describe it," said Allen. "I was excited and obviously a little bit nervous, but once you get playing, get in there and get hit one time, things really get going for you."
Doing it at home is one thing — taking this show on the road to a hostile atmosphere in Minnesota will be a completely different challenge.
Vic Fangio is in his first season as the Broncos head coach, but he knows this week's opposing quarterback well. Kirk Cousins has made four career starts against a Fangio-coached defense [all with Chicago], and each side has two wins apiece. What has Fangio said this week about the way Cousins is playing in 2019, and the challenges of going against No. 8?
PM: Fangio brings a wealth of knowledge into this matchup, having been the defensive coordinator in Chicago for the past four seasons. But he downplayed that possible advantage earlier this week, citing offseason changes made to the Vikings offensive coaching staff. Those changes include the addition of several former Broncos coaches, most notably former head coach Gary Kubiak.
"I think it's the best offense they've had since I've seen them the last few years," Fangio said. "I think they have an offense that fits their players including their quarterback and obviously their receivers and running backs. Their offensive line is vastly improved from what it's been.
"It's a totally different offense schematically. I think they have found the right fit."
Fangio isn't the only one impressed with the Vikings' eighth-ranked offense. Broncos President of Football Operations and General Manager John Elway has also taken note.
"They're doing a nice job offensively of getting the ball to Dalvin Cook, who is having a tremendous year," Elway said. "[He's] a guy who is very explosive in the run game as well as the pass game.
"I think Kirk feels comfortable. Obviously, it looks like he's comfortable because they have had a lot of success. We've got our hands full."
For a few years, Von Miller was regarded as one of the best defensive players in the NFL. For Vikings fans who don't get to see him much, is he still playing at that high level? How is he looked at as a leader on that side of the ball?
PM: This has been a somewhat puzzling year for Von Miller.
The Super Bowl 50 MVP has totaled double-digit sacks in each of the previous five seasons, but nine games into the 2019 campaign, Miller has only gotten to the quarterback four times.
He had sky-high expectations heading into this season, considering what Fangio was able to get out of Khalil Mack last year in Chicago. But adjusting to Fangio's defensive scheme has proven to be more challenging for Miller than anticipated.
"He's going to push me in the right direction and do everything necessary to make sure I'm a better player, and I can appreciate that," Miller said earlier this season. "I'm worried about being the best football player I can possibly be. I know his mindset is there, and that's exactly what my mindset is as well."
Miller has been asked to do much more than just rush the passer. He's dropped into coverage at times and is also much more active in stopping the run than in years past.
That being said, Miller still demands double-teams and continues to be the Broncos most-disruptive player on defense. He is just not making the game-changing plays that we have grown accustomed to seeing.
The Broncos sit at 3-6, but they have shown plenty of fight by winning three of their past five games after an 0-4 start. Which young players — guys who are looked at as the future in Denver — have impressed you so far in 2019?
PM: The Broncos have several young players — particularly on offense — that give fans reason to be optimistic about the future.
Wide receiver Courtland Sutton has taken a considerable leap in his sophomore season and has emerged as the Broncos' top pass catcher. He has already matched last season's touchdown total with four, and Sutton's 692 receiving yards have him among the best in the AFC.
Running back Phillip Lindsay is a home-run threat every time he touches the ball and is following up his Pro Bowl rookie campaign with a very successful second season. Lindsay needs to find the end zone once against the Vikings to become just the second undrafted running back to score 16 total touchdowns within his first 25 games.
Noah Fant had his breakout game against the Browns, crossing the century mark in receiving yards for the first time. And Fant's 23 catches are already the most by a Broncos rookie tight end in a single season.
The Broncos also have a few young defensive players that the organization is excited about, most notably Justin Simmons. The fourth-year safety has excelled in Fangio's defense and could be heading to the Pro Bowl at the end of this contract season.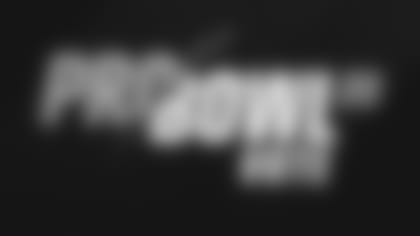 Pro Bowl Voting
Last chance! Vote to help make sure all your favorite Vikings make the 2020 Pro Bowl in Orlando. Voting ends Dec. 12, 2019.
And finally, pick a Vikings player on each side of the ball are you most looking forward to watching Sunday afternoon at U.S. Bank Stadium.
PM: Offense: Dalvin Cook.
I have to go with arguably the best running back in football. Cook had 183 total yards from scrimmage and a touchdown against the Cowboys on his way to being named the NFC Offensive Player of the Week. The Vikings' fourth-quarter drive that included 10 straight run plays tells you everything you need to know about Minnesota's commitment to the run.
The Broncos will have to swarm to the ball on Sunday because one or two guys cannot bring Cook down. I saw one highlight last week in which he made three Cowboys defenders run into each other.
Cook definitely makes the Vikings legitimate title contenders, and I cannot wait to see him in person.
Coming off his first Pro Bowl selection in 2018, Danielle Hunter is back at it this year with 8.5 sacks through ten games. Along with Everson Griffen, the Vikings' pass-rush duo will give the Broncos' offensive line more than enough to worry about this week.
The Broncos have allowed 30 sacks this season, which ranks 25th in the NFL. Giving Allen enough time to go through his reads will be important, so Hunter's matchup against Denver's offensive tackles will be one to keep an eye on all game.