EDEN PRAIRIE, Minn. – As a kid in the late 90s, A.C. Patterson spent summers tossing a football around with former Vikings receiver Randy Moss and Cardinals receiver Larry Fitzgerald.
Fitzgerald, whose father is a reporter in the Twin Cities, participated in camp as a ball boy.
"I'm the only one in that group that didn't pan out as an All-Pro wide receiver," A.C. said, laughing.
That's not to say he didn't pan out in football, though. This past summer, A.C. revisited summer training camp in Mankato – this time, as a coach.
Growing up, A.C. Patterson spent numerous days on the sidelines at Minnesota Vikings training camp watching his father, defensive line coach Andre Patterson, in action. Now, at just 23 years old, A.C. is the offensive line coach for the Division I (FCS) Portland State football program – whose mascot is also the Vikings.
"My wife always says, 'The Vikings are going to win on Saturday, and then the Vikings are going to win on Sunday,' " the elder Patterson said.
This winter, Patterson has two records to be proud of: Minnesota's 11-5 season and Portland State's 9-3 mark under partial direction of his son.
The 2015 season was A.C.'s first coaching at Portland State, and he appreciated the opportunity to spend time alongside Vikings offensive line coach Jeff Davidson at training camp this summer to prepare for the position. A.C. said he learned a lot from Davidson, as well as assistant offensive line coach Hank Fraley and guest coach Hudson Houck that led to a very successful debut year.
Although Patterson initially tried to deter A.C. from coaching, saying it can be a stressful and unreliable career, he's happy to see him making such a smooth transition into the role and finding success.
"I'm very proud of him," Patterson said of A.C.'s accomplishment. "I think the biggest thing for him is that I knew he was in good hands, because the head coach there (Bruce Barnum) has known him since the day he was born. I was just happy that it wasn't too much for him, that it didn't overwhelm him."
Patterson said A.C. has been around the game since he started walking and talking, so although he's young, he didn't walk blindly into the position.
"He knew what he was getting into," Patterson said.
Barnum, who is longtime friends with Patterson and gave A.C. a baseball bat (that he still has) when he was one day old, knew he was taking a risk by hiring a 23-year-old coach. Would A.C. swim, or would Barnum have to hold him up? However, he saw A.C.'s potential because he saw his father in him.
"Andre Patterson studies the game more than anybody I know – he taught me how to study the game," Barnum said. "A.C. is a young Andre. The great thing is, you can see some of his mom in him, too. He's compassionate – you can tell where he came from. He's got good parents, and he's a student of the game like his dad."
While the father and son coach opposite positions, their journey is actually quite similar. Both Pattersons played offensive line in college but suffered career-ending injuries prior to finishing school. Both took opportunities as student assistant coaches that then led to full-time positions.
Observing A.C. in the coaching role at training camp was sp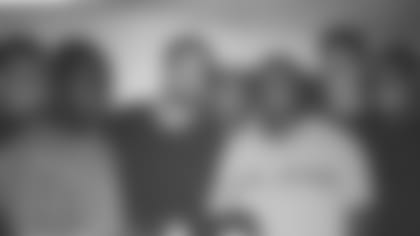 ecial to Patterson. Before his eyes, Patterson saw a little boy – who once challenged Hall of Fame defensive tackle John Randle in a video game – transform into a man.
"As a young kid, he would come to training camp with me and be a ball boy, but at that time of life all he cared about was laying on the pop-up dummies and getting back to play video games," Patterson said.
While staying in Mankato for training camp, the father and son shared connecting dormitory rooms. A.C. would go to his father's room at night to discuss the day's practice, ask questions about blocking techniques or specific plays and offer feedback on the players.
"Our relationship went to another level," Patterson said. "It was great to have discussions with him about the game of football and see that he was really paying attention to what was going on out there, and he was learning. That was a lot of fun for me to see."
A.C. also asked his father for insight prior to starting his first year at Portland State, and Patterson offered him advice on something he's learned over his career: as a coach, no matter what age, it's important to demand respect from one's players.
Being so close in age, A.C. can easily relate to his players' experiences, which can be beneficial. But Patterson also reminded him not to become their friend before becoming their coach.
"Your first impression on that first day, you can never get that back," Patterson told A.C. "They have to know from day one who's boss. You can't walk in there like you're their buddy because you're their age. At some point, you're going to have to get in a guy's face and make him do what you want him to do. You can always ease up. You can't start easy and then try to be hard."
A.C. took that instruction to heart, and he strives to be the admired and well-liked coach he's observed in his father for years.
"I really appreciate how he communicates with his players," A.C. said. "All his players really enjoy him as a person but also still respect him. They want to gain the knowledge he can give to them. That's what I'm trying to do here as well."
Patterson's advice and mentorship served A.C. well in Portland State's 9-3 season, the school's best since 1991 – one year before A.C. was born.
The 23-year-old has also quickly gained a reputation as a talented recruiter.
"His relationship with the players is exactly what he saw from his dad, and that personality shines through. That's really shown up in his recruiting – the evaluation of talent, the organization, all of it," said Barnum. "He's seen the best. He's walked the sidelines of the NFL, he's seen the premier athletes in the country, and he knows what we need to win."
Patterson is not surprised at his son's knack for recruiting. He said A.C. has always been a people person and can "talk to anyone," an attribute Patterson says A.C. probably developed by living in several different cities growing up.
One could also credit Patterson's communication skills to the variety of people he met as a coach's son – one of those being legendary coach John Madden. Patterson and Madden's connection goes back to Cal Poly San Luis Obispo, where Patterson coached and Madden is an alum. When Patterson was working in his first stint in Minnesota, he brought A.C. to Winter Park one Saturday when Madden was there to cover the following day's Vikings game.
"I brought A.C. over to Coach Madden, and he took him out to the Madden Cruiser. He gave him a tour of the bus, and then he gave him his first Madden video game – they had just come out with it," Patterson recalled. "From that day, he's been hooked on that video game."
Like any little boy who loved not only football but electronics, that moment will forever stand out in A.C.'s mind. Surrounding that memory, though, are numerous others of spending time with his father doing something they both love.
"My dad has shown me how to be a great coach, but more importantly a great man," A.C. said. "By watching him, I learned how a professional conducts himself. I'm extremely lucky to be his son because I got to learn from one of the best in the business. I strive to make him and my mother proud."
A.C. added, laughing, "Even if he does coach on the wrong side of the ball."
Madden may be iconic, but he's not A.C.'s hero. That role belongs to the man who taught him how to coach football … and so much more.