MINNEAPOLIS – Nya Sigin has a whole NFL team – and really, the entire league – behind her.
Nya, 14, was invited to the Vikings Thursday Night Football game at U.S. Bank Stadium by three Vikings teammates – Anthony Barr, Eric Kendricks and Alexander Mattison – along with Assistant Head Coach/Co-Defensive Coordinator Andre Patterson.
The group joined a Zoom call with Nya; her sister, Liza Sigin; and their mother, Suzy Benjamin during Thanksgiving week. The Vikings desired to speak with Nya and offer encouragement after the Prior Lake High School freshman became the target of a racist video made by fellow students.
In the video, the girls are heard making racist remarks, using racial slurs and encouraging Nya to take her own life.
Nya later spoke with media members and maintained a kind, calm demeanor despite such a painful circumstance.
The Vikings message to Nya in response is clear: You are not alone.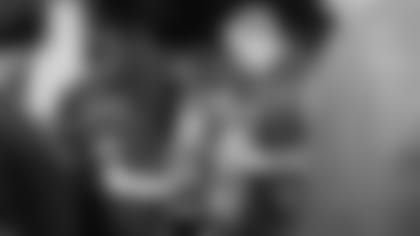 "I'm sorry you had to go through what you went through – but at the same time, I'm proud of how you went through it. You're a voice. And your voice matters," Kendricks told Nya. "A lot of people are hearing you. Obviously there's a lot of negative, a lot of bad out there, but I just want to let you know there's a lot more good than there is bad.
"You've gotta cling on to that, and you've gotta truly believe in it – and attach yourselves to those around you who are bringing joy to your life," Kendricks said. "I just want to say thank you again for speaking up and standing up for yourself and for others like you. We're here for you as Vikings."
Mattison admired Nya for showing bravery in the face of hatred.
The Vikings running back acknowledged "it's not easy" to experience the things Nya did at the hands of peers.
"Growing up and having my own experiences with some things like that, of that nature, I definitely can understand and feel how [you might be feeling]. Thank you for being brave and handling that in such a mature way," Mattison said. "I just want to send some love for you, some positive energy, and [want you to] understand that the Vikings, we're here for you, and we all have your back."
Patterson, who grew up in Richmond, California, told Nya that he's encountered instances of racism and discrimination throughout his life, as have his two children.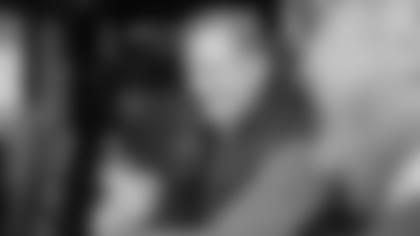 He encouraged Nya, imploring her to not allow the bullying and behavior of others to impact her self-image and self-worth.
"I just want to let you know that you're special. Never forget that," Patterson said. "Just know that you have a special place in this world, you have a special life ahead of you, and don't let anybody hold you down.
"You're strong," Patterson added. "Anything you want in life is there for you, and we're here for you. Just know what you're going through is not unique to just you. We've all experienced it and have grown stronger because of it, and we're behind you, 100 percent."
Barr recently was named the Vikings nominee for Walter Payton NFL Man of the Year in recognition of his commitment to the Twin Cities community.
Barr's heart and compassion were evident that evening while speaking with Nya.
"You matter. You're very important. You're an important person," Barr said. "I watched that video, and I watched the interview that you did, and I just want to say I was really impressed with how you were able to articulate how you were feeling in such a calm way, given what you had gone through.
"I think that's going to open the door for some people to kind of speak up and speak out on certain things that aren't right," Barr continued. "I just want to commend you on speaking out. I was really impressed by that. Again, we're here to support you. We love you, and just know that you're not alone."
Though the Vikings told Nya she'd be receiving tickets to the Vikings-Steelers game, there still was one more major surprise in store for her.
About 20 minutes before kickoff, Nya and her family were greeted near the sideline by Vikings Owner/Chairman Zygi Wilf, Vikings Owner/President Mark Wilf and NFL Commission Roger Goodell.
"You're a wonderful young woman," Goodell told Nya.
"We're so glad you're here tonight," Mark Wilf added. "Your courage is so inspiring."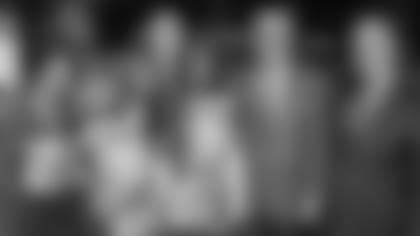 They then surprised Nya with a pair of free tickets to Super Bowl LVI.
Her expression wavered somewhere between pure shock and elation as she turned to her family in disbelief.
"They told me there would be a surprise, and I thought maybe we'd have good seats or something," Nya laughed. "And now I'm going to the Super Bowl?!"
Nya joked the holidays suddenly got more complicated, as she'll need to choose a family member to accompany her to the game in Los Angeles on Feb. 13. Through all of the difficult times she's recently experienced, Nya noted, her family has been her rock.
"They've been amazing. They've been with me every single step of the way," she said.
And while she's thrilled to have received the tickets, Nya is most grateful for the kindness and compassion that's shown so strongly through a bleak situation.
"It made me feel like I finally had [an outside] support system behind me," Nya said of the Zoom call and attending the Vikings game. "I finally feel supported. I feel so loved. It's amazing."