MANKATO, Minn. –Training camp can be a grind, but safety Antone Exum is grateful to get a few extra days of practice under his belt before the remaining veteran report Wednesday afternoon.
Exum, who has battled injuries over the past 20 months, hasn't played in an NFL game since Dec. 6, 2015. He suffered a torn ACL last preseason, spending all of 2016 on Injured Reserve. He then returned to the field this spring before another injury sidelined him on the second day of minicamp.
After participating in the first training camp practice Monday, Exum was all smiles.
"I love this sport," Exum said. "So it's exciting to be out here with the guys again and running around playing football.
"I haven't been able to play football in a long time, so I have no problem being out here [a few days early]," he added. "It's a blessing for me because I know what it's like to not be able to play the game."
Exum said exercises and drills at Monday's practice involved movements he hadn't done "in months, if not a year." He appreciated the opportunity to acclimate his body back to the gridiron.
This summer marks Exum's fourth training camp in Purple, but he said that his focus for the two-plus weeks hasn't changed since his rookie year.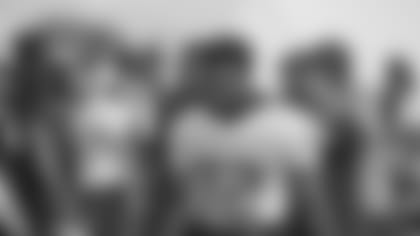 It's all about dependability.
"I just want be consistent every day and let the coaches know that I'm a reliable player that can consistently make plays and not be in the wrong position," said Exum, who views the safety position as the "quarterback of the defense."
Entering the 2017 season, Exum said his biggest concern is doing everything the coaches task him with and helping the Vikings in whatever role he can.
Despite being injured, he got a close-up look at Minnesota's defense this spring, and he said the unit looks incredibly cohesive.
"We were jelling great, or they were jelling great," Exum said. "The time I was out there, we looked good, and then when I got hurt they kept going and kept progressing. This is, what, the fourth year of [Vikings Head Coach Mike Zimmer] here? I think everybody's more comfortable in the defense and have a better idea of what he's looking for."
Jaleel Johnson knows roster spot isn't a 'gimme'
Jaleel Johnson was thrilled when the Vikings selected him in the fourth round of this year's draft.
The former Iowa Hawkeye was the third player Minnesota took off the board, but Johnson knows that it's not a guarantee to make the final 53-man roster.
"I'm trying to do whatever I can to get on the field – whether it's 3-technique or whether it's field goal blocking, or whatever it may be," Johnson said. "I'm doing whatever I can to get on the field and contribute."
Added Johnson: "It's not easy; it's not given to anybody. You have to come out here and compete and show what you can do."
The defensive tackle also said, however, that he's grateful to be working with such a talented and veteran group of linemen.
Johnson said he's gotten a lot of support and guidance from fellow tackles Linval Joseph and Tom Johnson, as well as Danielle Hunter, who was placed on the Non-Football Injury list Monday but has been mentoring the rookie in the classroom.
Johnson also considers himself fortunate to be learning from Vikings defensive line coach Andre Patterson.
"Coach 'Dre, definitely one of the greatest coaches that I've ever had, as far as him knowing the schemes and what they do on defense, and him putting us in the right position to make a play," Johnson said. "The more [rookies] are under his wing … it helps us out a lot."
Elijah Lee carrying spring lessons into training camp
In the couple of months separating rookie minicamp and his first NFL training camp, Elijah Lee has seen a lot of improvement from himself and his classmates.
"We retained a lot," Lee said. "At the beginning we were all walking around, swarming around plays, everything was blending together, and now we're starting to sort it out."
Lee is one of just three linebackers who reported for camp on Sunday before the full team checks in Wednesday afternoon. He is joined by Ben Gedeon and Eric Wilson, whom the Vikings signed as an undrafted free agent. Shaan Washington also is at camp but was listed on the Physically Unable to Perform list.
While playing so many reps was taxing, Lee felt it was well worth it.
"It was kind of tough at first because you didn't know what to expect, but once we were out there, we were just having fun," Lee said. "Whenever you have everyone else around you, everyone is just having fun, smiling, you don't realize you're tired.
"I love the experience. Once-in-a-lifetime opportunity," Lee later added. "Just to be in this position, I'm blessed, and everybody in this position is blessed to do what they've been dreaming about since they were a little kid."