The Vikings are not in a position to clinch a playoff berth in Week 15, but they can certainly help their chances with a win Sunday against the Chargers.
Minnesota and Los Angeles square off at 3:05 p.m. (CT), putting the Vikings in a rare later afternoon time slot.
Vikings fans will certainly have their eyes on other games, most notably an NFC North clash at Lambeau Field between the Bears and Packers.
If the Vikings win and Packers lose, bringing both teams' records to 10-4, a Week 16 matchup at U.S. Bank Stadium on Monday Night Football would be for first place in the division.
There's a long way to go until then, however, beginning with a handful of key tilts across the country in Week 15.
Here's a breakdown of the Bears-Packers, Rams-Cowboys and Colts-Saints games: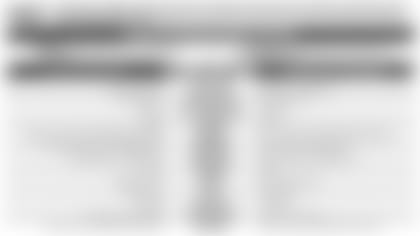 Chicago (7-6) at Green Bay (10-3)
Noon (CT) Sunday | Lambeau Field | FOX
Outlook: The entire state of Minnesota will likely be tuned into this one, as it has massive ramifications in the NFC North. Green Bay currently leads the division and is 3-0 in NFC North play, but will kick off a stretch of three straight division games to end the regular season. The Packers host the Bears on Sunday before finishing with road games against the Vikings and Lions. Chicago has won four of five games to stay in the playoff hunt, as the 2018 NFC North Champions are looking to make back-to-back playoff appearances for the first time since 2005 and 2006. The Bears final three games (at Green Bay, home against Kansas City and at Minnesota) feature three teams who currently have 28 combined wins.
Chicago's defense ranks in the top 10 in total yards (10th; 326.5), rushing yards (seventh; 96.3) and third-down percentage (seventh; 35.1 percent).
Quarterback Mitchell Trubisky has been sacked 28 times in 12 games in 2019. Trubisky was sacked just 24 times in 14 games in 2018.
Bears linebacker Roquan Smith (torn pectoral) was placed on Injured Reserve following Chicago's Week 14 win over Detroit.
Quarterback Aaron Rodgers leads the NFL with an interception percentage of 0.45 percent. Rodgers has thrown two picks in 441 pass attempts.
This will be the 200th total meeting between the teams, including a pair of playoff games. Green Bay holds 98-95-6 advantage all-time in the series history.
The Packers defense has 13 interceptions in 2019, which is tied for third with five other teams, including the Vikings. Cornerback Kevin King leads Green Bay with four picks.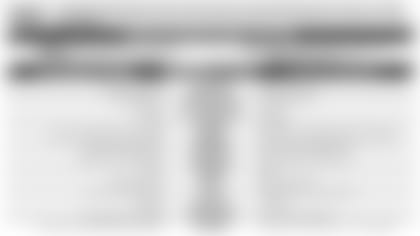 Los Angeles Rams (8-5) at Dallas (6-7)
3:25 p.m. (CT) Sunday | AT&T Bank Stadium | FOX
Outlook: This matchup features a Wild Card hopeful team with a winning record against a sub-.500 team that currently leads its division. The Rams are coming off an impressive 28-12 win over Seattle, and now get set for three straight NFC games to close out the regular season, including a road game in San Francisco in Week 16. Dallas and Philadelphia both sit at 6-7, but the Cowboys are in first place in the NFC East due to a head-to-head win in Week 7. The teams will meet again in Philadelphia in Week 16.
The Rams have racked up 1,004 yards of total offense in back-to-back wins over Arizona and Seattle. That is their highest two-game output of the season.
Running back Todd Gurley II has a team-high 721 rushing yards and nine scores on 177 carries. He has yet to record a 100-yard game in 2019.
Los Angeles' defense has allowed 17 points or less in six of its past seven games. The Rams are 5-2 in those games.
Dallas' offense ranks first in yards per game (430.8), passing yards per game (306.8), fewest sacks allowed per pass (3.62 percent) and third-down conversions (56.5 percent).
Including the Cowboys loss to the Vikings on Nov. 10, Dallas has lost four of five games, yet has remained in first place in the NFC East each week.
Running back Ezekiel Elliott has 1,071 rushing yards in 2019, marking his third career 1,000-yard season in four tries.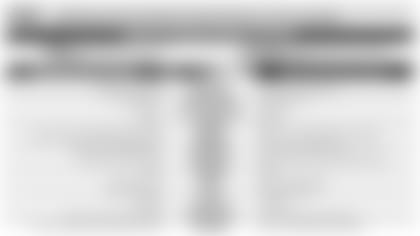 Indianapolis (6-7) at New Orleans (10-3)
7:15 p.m. (CT) Monday | Mercedes-Benz Superdome | ESPN
Outlook: New Orleans is coming off a heartbreaking loss in Week 14, as the Saints fell 48-46 at home to the 49ers. New Orleans has already clinched the NFC South, and is assured of being a top-three seed in the NFC playoffs. The Saints host the Colts in Week 15 before finishing with road games against the Titans and Panthers. The Colts have lost three straight to fall behind in the AFC South race, but are still mathematically alive for the playoffs. Indianapolis hosts Carolina in Week 16 before closing out the regular season in Jacksonville.
Linebacker Darius Leonard scored on an 80-yard interception return against Tampa Bay in Week 14. It was the Colts longest touchdown of the season on offense, defense or special teams.
Kicker Adam Vinatieri, who is 46, is on Injured Reserve with a knee injury. Vinatieri is the NFL's all-time points leader with 2,673.
The Colts are 2-4 on the road in 2019, and have lost three straight games away from home.
New Orleans' 48-46 loss in Week 14 marked the first game in NFL history to ever end in that score.
Drew Brees currently ranks second in NFL history with 537 touchdown passes. Peyton Manning tops the list with 539, while Tom Brady has 536.
Saints defensive end Cam Jordan ranks third in the NFL with 13.5 sacks. He has 85.0 career sacks and has now recorded five seasons with double-digit sacks.