Justin Jefferson is already a star, and players around the league have already taken note of the historic start to his career.
That was evident by Jefferson's peers voting him in at No. 53 on NFL Network's "Top 100 Players of 2021." He was joined by Vikings teammates Eric Kendricks at No. 70, while Adam Thielen came in at No. 80 on the list earlier in the show.
Jefferson racked up a Super Bowl-era rookie record with 1,400 receiving yards over just 14 starts in 2020. That yardage total also set a Vikings single-season record by a rookie, breaking Randy Moss' 1,313 yards in 1998.
"There's a lot of tremendous receivers in the league, and for me to be able to break a record that all of those guys couldn't break, it was special for me," Jefferson said. "Just having my name in the history books at the top of the list … that's definitely a dream of mine. All of the hard work is paying off."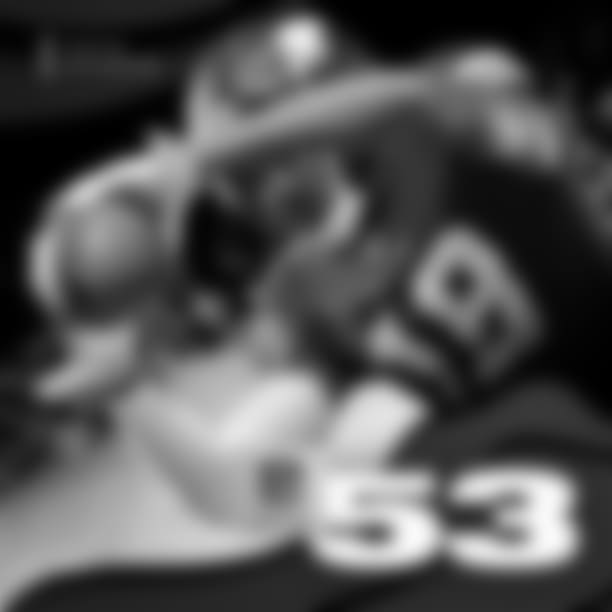 The 22nd overall pick in the 2020 NFL Draft, Jefferson was the only offensive rookie to make the 2021 Pro Bowl. Jefferson's 88 catches set another franchise record and led all rookies, and he tied for second in his draft class with seven touchdown catches.
Jefferson said his favorite play from his rookie season was the first touchdown catch of his career, a 75-yarder against the Titans in Week 3.
"It was after the catch where I started doing 'The Griddy' in the end zone," Jefferson said. "That was cool. I made the move and looked over to the sideline and everybody was [going] crazy.
"I was like, 'Yeah, this is me. This is what I'm here for,' " Jefferson added.
Bills cornerback Tre'Davious White, who teamed with Jefferson's brother Jordan at LSU, said he has seen Jefferson's talent up close for a while.
"Everything he's doing, he's been doing it to kids in high school and college before you see him now," White said. "Just to see where he's at now, he has that motivation and desire to be great."
Jefferson is the youngest player on the list, and the highest-ranked rookie.
Chargers QB Justin Herbert, the 2020 NFL Offensive Rookie of the Year, was ranked 56th.
Kendricks made the list for the second straight season, jumping 13 spots from where he appeared a year ago.
He was an All-Pro selection in 2019 and was on the same path before an injury held him out of the final five games in 2020.
The linebacker still made an impact in 11 starts, finishing with 107 tackles (69 solo), four tackles for loss, three interceptions and six passes defensed (team stats).
Known as one of the league's most versatile linebackers, Kendricks drew praise from his peers across the league.
"He's a guy who is making plays in space, covering backs out of the backfield," said Colts linebacker Darius Leonard. "He's about 240 [pounds] but doesn't play that way.
"That's another guy who is under the radar that a lot of people don't talk about enough," Leonard added. "He makes plays every time he's on the field."
Current and former teammates also raved about No. 54 in Purple.
"I've seen him jump stick routes in practice, jump whip routes," said Bills wide receiver Stefon Diggs. "I've seen him catch a one-handed pick one time … he's a hell of an athlete.
"He's damn sure the quarterback of the defense because he does everything," Diggs added. "He's a guy who is always at the top of the line as far as linebackers."
Justin Jefferson said: "EK, he means a lot to all of us. He's pretty much the leader of our team with everything."
Kendricks also was the Vikings nominee for the 2020 Walter Payton NFL Man of the Year Award.
Thielen, meanwhile, returned to the list, which is compiled with votes by players, after missing out in 2020. He was ranked 36th on the 2018 list and No. 33 in 2019, but an injury-plagued 2019 season meant no preseason accolade last year.
The Minnesota native bounced back with an impressive 2020, especially in terms of finding the end zone.
Thielen hauled in 14 touchdown catches last season, which is the fifth-highest total by a Vikings player in a single season. He also added 74 catches and 925 receiving yards.
Since 2016 when Thielen became a starter, he has averaged 83 receptions, 1,087 yards and eight touchdowns for every 16 games played.
"He's very crafty of a receiver. Honestly, he stresses me out," said Colts cornerback Kenny Moore II. "Everybody can't do that … having a good release, good stem, good body movement and body control, and being able to catch the ball, too. He's able to do all of that at once.
"They move him around a lot," Moore added. "They know how to use him and get him the ball."
While Thielen's segment on the show highlighted his 'Griddy' dancing ability, he also earned plenty of praise for his acrobatic touchdown catches in 2020.
"What really makes him great are the catches he makes when someone is on him," said Broncos safety Justin Simmons. "I can remember watching Adam Thielen, and it seemed like every other week someone had tight coverage on him and he was still able to make a ridiculous catch."
Thielen's notable plays in 2020 included a one-handed touchdown catch against the Bears, along with another one-hander against the Cowboys.