The Vikings.com 2019 Free Agency Primer series uses NFL.com's Top 101 Free Agents list to break down this year's class. We will count down the groups of players until March 13 when free agency is scheduled to open.
The list was composed by Gregg Rosenthal and Chris Wesseling of NFL.com. Career stats are taken from NFL.com and/or pro-football-reference.com and apply to regular seasons, unless noted.
Note: The list may end up changing prior to free agency opening, but this breakdown is updated as of the March 5 deadline for teams to use the franchise or transition tag.
91-101: Wednesday, March 6
81-90: Wednesday, March 6
71-80: Thursday, March 7
61-70: Thursday, March 7
51-60: Friday, March 8
41-50: Friday, March 8
31-40: Monday, March 11
21-30: Monday, March 11
11-20: Tuesday, March 12
1-10: Wednesday, March 13
The 91-101 grouping includes four defensive linemen, a pair of corners, a running back with more than 10,000 rushing yards (and some great commercials) and a former Vikings quarterback.
91. DE Benson Mayowa, Arizona Cardinals
Career stats: 72 games, 15 starts, 116 tackles, 29 tackles for loss, 13 sacks, 5 passes defended, 4 fumble recoveries
Mayowa has bounced around from Seattle (2013) to Oakland (2014-15) to Dallas (2016-17) to Arizona (2018). Six of his 13 career sacks were recorded in 2016 with the Cowboys.
92. DL Brent Urban, Baltimore Ravens
Career stats: 41 games, 19 starts, 52 tackles, 7 tackles for loss, 3.5 sacks, 5 passes defended
A fourth-round pick by Baltimore in 2014, Urban started all 16 games for the first time in his career in 2018. He had a career-high 27 tackles this season, including two for loss, as a defensive end in the Ravens 3-4 scheme that led the NFL in yards allowed per game and ranked second in points against per game.
93. WR Chris Conley, Kansas City Chiefs
Career stats: 53 games, 34 starts, 168 targets, 104 receptions, 1,238 yards, 11.9 yards per catch, 6 touchdowns, 23.4 receiving yards per game, 61.9 catch percentage
A third-round pick in 2015, Conley is eligible to hit free agency for the first time. Five of Conley's six touchdowns occurred in 2018, helping first-year starter Pat Mahomes total 50 touchdown passes, which tied for the second-most in a season in NFL history.
94. RB Marshawn Lynch, Oakland Raiders
Career stats:148 games, 135 starts, 2,441 rushes, 10,379 yards, 84 touchdowns, 4.3 yards per carry, 70.1 rush yards per game, 287 receptions, 2,214 receiving yards, 9 receiving touchdowns
Lynch will be 33 by the time the 2019 season rolls around. The five-time Pro Bowler's 10,379 career rushing yards rank 29th all-time. After taking a hiatus in 2016, Lynch suited up for his hometown Raiders. In 21 games with Oakland, he has rushed for 1,267 yards (60.3 per game) and 10 scores.
95. CB Brent Grimes, Tampa Bay Buccaneers
Career stats:148 games, 132 starts, 575 tackles, 11 tackles for loss, 33 interceptions (3 returned for touchdowns), 140 passes defended, 4 forced fumbles, 2 fumble recoveries
Grimes' 33 career interceptions are third-most among active players behind Reggie Nelson (38) and Aqib Talib (35). Undrafted out of Shippensburg by a Falcons team with Mike Zimmer as its defensive coordinator in 2007, Grimes has played for the Falcons (2007-12), Dolphins (2013-15) and Buccaneers (2016-18). The four-time Pro Bowler will turn 36 in July.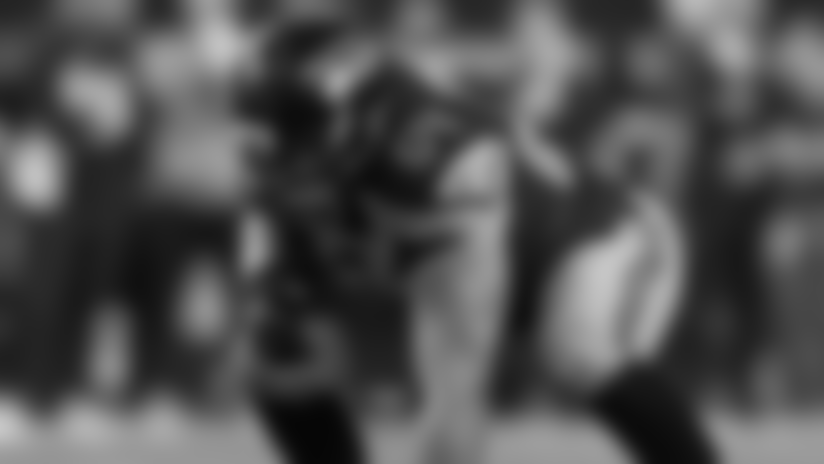 96. G J.R. Sweezy, Seattle Seahawks
Career stats: 88 games, 78 starts
A seventh-round pick by Seattle in 2012, Sweezy started 49 of 59 games in his first four seasons in Seattle. He signed with Tampa Bay in 2017 and started all 14 games he played for the Bucs before returning to the Pacific Northwest and starting 15 games in Seattle last season.
97. CB Rashaan Melvin, Oakland Raiders
Career stats: 51 games, 28 starts, 194 tackles, 4 tackles for loss, 4 interceptions, 30 passes defended, 3 forced fumbles, 1 fumble recovery
The 6-foot-2 corner has suited up in games for the Ravens (2014-15), Patriots (2015), Colts (2016-17) and Raiders (2018). Twenty-six of Melvin's starts have occurred in the past three seasons. He had career bests of three interceptions and 13 passes defended with Indy in 2017.
98. LB Brandon Marshall, Denver Broncos
Career stats: 74 games, 63 starts, 423 tackles, 28 tackles for loss, 2 interceptions, 21 passes defended, 5 forced fumbles, one fumble recovery (returned for a 19-yard touchdown)
A former fifth-round pick of Jacksonville in 2012, Marshall transitioned to the Rockies in 2013, appearing in just one game that season before becoming a starter in 2014. That season was one of his best, as he totaled career highs of 119 tackles, 11 tackles for loss and nine passes defended. He missed five games in 2018.
99. DT Domata Peko, Denver Broncos
Career stats: 201 games, 186 starts, 589 tackles, 47 tackles for loss, 20 sacks, 14 passes defended, 3 forced fumbles, 5 fumble recoveries
Peko, a fourth-round pick by Cincinnati in 2006, has been an incredibly durable player since becoming a starter in 2007. The nose tackle has missed just seven games in the past 12 seasons and has started all 16 games of a season 10 times. He will turn 35 in November.
100. DT Tyeler Davison, New Orleans Saints
Career stats: 61 games, 48 starts, 95 tackles, 9 tackles for loss, 3.5 sacks, 4 passes defended, 3 forced fumbles
A fifth-round pick in 2015, Davison has been a starter for the Saints the past three seasons, helping New Orleans rank second in the NFL in rushing yards allowed per game and per play in 2018.
101. QB Sam Bradford, Free agent since in-season release by Cardinals
Career stats: 83 games, 83 starts, 34-48-1 as a starter, 1,855-of-2,967 passing (62.5 completion percentage), 19,449 yards, 103 touchdowns, 61 interceptions, 84.5 passer rating
The former Ram, Eagle, Viking and Cardinal will only be 32 years old this November. After leading the NFL in completion percentage (71.6) in 2016, Bradford has started just five games. He dazzled in the Vikings 2017 season opener, but a knee injury kept him out of all but one game the rest of the season. Bradford had a passer rating of 62.5 in three starts with the Cardinals, totaling 400 yards, two touchdowns and four interceptions. Arizona then turned to rookie Josh Rosen and released Bradford last November.