The Vikings will kick back and relax as the NFL playoffs get underway this weekend, but the players and coaches will certainly have their eyes on the NFC Wild Card games.
Minnesota, the second seed in the NFC field, will host a Divisional round game at 3:40 p.m. (CT) on Jan. 14.
The Rams are scheduled to welcome the Falcons on Saturday night.
A Los Angeles victory means the Rams will come back to U.S. Bank Stadium for a rematch of the Vikings 24-7 win in Week 11. If the Falcons win, Atlanta is headed to Philadelphia to face the top-seeded Eagles.
New Orleans will host Carolina in the Sunday NFC game in a battle of NFC South foes who will meet for the third time this season. The Saints swept the pair of meetings in the regular season.
If the Rams win, the winner of New Orleans-Carolina will play Philadelphia. If the Falcons win, either the Saints or Panthers will come to Minnesota for the next round.
Here's a preview of what to watch on Wild Card Weekend in the NFC: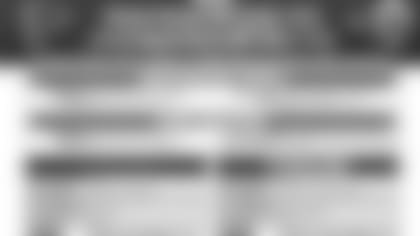 No. 6 Falcons at No. 3 Rams
National TV:NBC (Al Michaels, Cris Collinsworth, Michele Tafoya)
National Radio:Westwood One (Kevin Harlan, Kurt Warner, Scott Kaplan)* *
Rams running back Todd Gurley
As Gurley goes, so do the Rams. The running back has garnered MVP chatter this season as he racked up 2,093 combined offensive yards along with a league-high 19 total touchdowns in 15 games. Los Angeles was 6-0 when he rushed for 100-plus yards as Gurley also produced six multi-touchdown games. The running back will have his work cut out for him against a stout Falcons defense that ranked ninth against the run at 104.1 yards per game.
Falcons quarterback Matt Ryan
Ryan is a season removed from winning MVP honors and taking his team to the Super Bowl. And nearly all NFL quarterbacks would be happy to have his 2017 numbers — 4,095 passing yards and 20 touchdowns, to go along with 12 interceptions. Atlanta went 6-2 in games in which Ryan threw for 250 yards or more, while the Falcons were an even 4-4 in games when he didn't hit that threshold. If Ryan is on his mark (and connecting with wide receiver Julio Jones), the Falcons could be a tough out.
Los Angeles' defense forcing turnovers
The Rams feature a menacing defense, led up front by defensive tackle Aaron Donald, who has made four Pro Bowls and twice been named an All-Pro in his short four-year career. Yet when the unit plays together and forces more than one turnover, the Rams are almost impossible to beat, going 8-2 in such situations. More takeaways leads to more opportunities for a high-powered Rams offense that averaged a league-high 29.9 points per game. 
Atlanta's third-down offense
The Falcons led the NFL in third-down offense, converting on 44.7 of their attempts. It's no surprise, but success in that area led to wins as Atlanta was 8-1 when the Falcons converted at least 44 percent of their third-down tries. If the Falcons struggled in that area, as they did when the Vikings limited them to 1-for-10 in Week 13, it usually meant an Atlanta loss.
Fans in Southern California didn't have to wait long for a division title, as the Rams captured the NFC West in their second season since moving back to Los Angeles. Their reward is the defending NFC Champions, who enter having won six of their past eight games. The Rams will rely on Gurley and second-year quarterback Jared Goff to carry the show, but an added X-factor could come on special teams, where the Rams have perhaps the most complete units in the NFC, in spite of having to replace Pro Bowl kicker Greg Zuerlein because of injury.
It wasn't always pretty for the Falcons this season, who had a pair of three-game winning streaks but also overcame a three-game losing streak. Atlanta is in the dance nonetheless, and will hope a high-powered offense can find its magic in the postseason. The Falcons defense is fast and furious, as the unit held the Vikings to just 14 points in Week 13, Minnesota's lowest total in a win in 2017. Add it all up, and Atlanta is hungry to make a run for a chance at another Super Bowl appearance.
No. 5 Panthers at No. 4 Saints
National TV:FOX (Joe Buck, Troy Aikman, Erin Andrews)
National Radio:Westwood One (Kevin Kugler, Dan Fouts)* *
Disclaimer: As cliché as it may be, we'll keep an eye on the quarterbacks with the caveat that both teams have multiple players worth watching.
In addition to passing for 3,302 yards and throwing 22 touchdowns and 16 interceptions, Cam Newton led the Panthers with a career-high 754 rushing yards and tied for the team lead with six rushing scores. It was his third season with 700 or more rushing yards, tying a quarterback record set by Michael Vick. The 2015 NFL MVP was limited to an average of 175 passing yards and 33.5 rushing yards and totaled two touchdowns and three interceptions in two losses against the Saints this season.
Drew Brees ranked fourth in the NFL with 4,334 passing yards, extending his NFL-record streak to 12 consecutive seasons with at least 4,000 yards. He also reclaimed the league mark for completion percentage (72.0) in a season, edging out the 71.6 accomplished by Sam Bradford in 2016 with Minnesota. Brees has averaged 304.2 yards per game and thrown 13 touchdowns against three interceptions in his past five games against Carolina.
The Panthers ranked third in the NFL with 50 sacks this season and were the only NFC team to have two players record 10-plus sacks. Mario Addison and Julius Peppers each recorded 11. Carolina's pass rush will have its work cut out for it to get to Brees, who only took 20 sacks on the season (three by Carolina), helping New Orleans rank second in the NFL in sacks allowed/pass attempt (3.73 percent).
Rookie Alvin Kamara (1,554) and Mark Ingram (1,540) became the first running back teammates in NFL history to each record more than 1,500 yards from scrimmage (rushing and receiving). Kamara had 81 receptions, which is third-most by an NFL rookie running back and one ahead of Panthers rookie Christian McCaffrey.
The Panthers have a 24-22 edge all-time in the series, but the division foes have never met in the postseason. Carolina has no shortage of playoff experience, having garnered a berth in four of the past five seasons, and is just two years removed from the franchise's run to Super Bowl 50. Linebackers Luke Kuechly and Thomas Davis helped Carolina rank third in the NFL against the run (88.1 yards allowed per game) and will face a New Orleans attack that ranked fifth in the NFL with 129.4 rushing yards per game.
After three consecutive 7-9 seasons, New Orleans has recorded double-digit wins for the sixth time under Sean Payton (since 2006). The Saints swept the Panthers this season, winning 34-13 in Carolina in Week 3 and claiming a 31-21 contest at home in Week 12. Cameron Jordan, who is the son of Vikings Legend Steve Jordan, tied Everson Griffen and Ryan Kerrigan for fourth in the NFL with 13 sacks this season. Rookie Marshon Lattimore made quite the difference in the secondary, recording five interceptions to lead the team and all rookies en route to a Pro Bowl selection.