Vikings guard Pat Elflein is in his third NFL season but first under Minnesota's current offensive coaching staff.
Elflein believes this new system best-fits Minnesota's roster and gives its offensive playmakers a chance to shine.
The Vikings enter tonight's game ranked fourth in rushing yards per game (135.9), second in passing yards per play (8.03) and fourth in interception rate (1.21).
"It lets Dalvin [Cook] get the ball in his hands and pretty much run the ball where he wants to. It lets Kirk [Cousins] get out in space a little bit and take some shots, and it allows us linemen to run block … to really attack some defenses with the run game," Elflein said. "I feel like we're on the attack."
Asked what makes the Vikings offensive line group special, Elflein pointed to the coaches, as well as veteran left tackle Riley Reiff.
"Riley is our leader; I think it starts there – really having a blue-collar work mentality," he said. "Every time we come to practice or come to the weight room or go to meetings, we're locked in, and we're about our business. But we also have a lot of fun together, too. I feel like we have a good balance of both."
Added Elflein: "We take pride in that."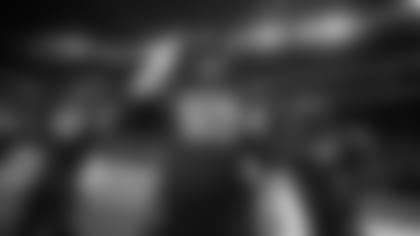 We caught up with Pat to chat about pounding the beef, spreading holiday cheer and – of course – mullets.
Q: Dalvin Cook is headed to his first Pro Bowl; how much pride do you take in that?
A: "We're so happy that Dalvin made the Pro Bowl. From where he's been … through injuries and a lot of things he's had to deal with, for him to come back from that and make the Pro Bowl, it's a testament to what type of person he is, what type of player, his resiliency, and just the flat-out talent he has. With and without the football, he's an incredible player. We're happy for him, and I know he's definitely earned it."
Q: How fun is it when he gives the football to a lineman to spike after he scores?
A: "It's awesome. Dalvin's sharing the love. He's scoring touchdowns, getting all that, and for him to give the ball to us to have a little fun with it, too, it just makes it fun. Something to look forward to, an opportunity to let a little personality show. And it's a bonding moment, too; we all get excited for each other when we score and get to do something like that."
Q: Has there been a top spike this season?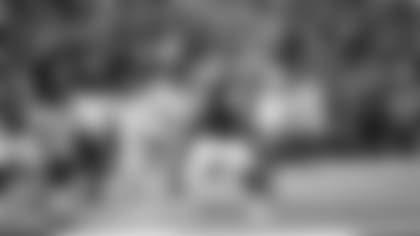 Q: 'Pound the Beef' has become a popular phrase – tell me about that.
A: "Basically, it just means pounding the rock, running the football. It just kind of evolved into what we do on Sundays when we're able to run the ball and really impose our will. Pound the beef. Pound the rock."
Q: And even Kirk gets in on it sometimes, right?
A: "Yeah. Sometimes he'll carry it, and he'll pound some beef, too. We'll let him know he's poundin'. Oh yeah."
Q: Christmas is soon; what's the best Christmas gift you've gotten?
A: "It had to be when I was a kid, and my mom got us an X-box; I was pretty pumped about that."
Q: Your last name is a fun one around the holidays; how fun was the Elf Line video last year?
A: "And we did one at the mall recently, too. Gettin' in the Christmas spirit is fun and something that I've always done, and as an O-line, we like to get into the Christmas spirit. I have the last name that kind of goes along with it, so anytime I get to play along with that and spread some Christmas cheer, I'm all about it. It's fun."
Q: Which is more fun? Dressing up as an elf or as Mario for the Kids Club Halloween party?
A: "Those were both pretty good. When I was Mario, [right tackle] Brian O'Neill was Luigi, so it was fun to kind of tag-team that one. But, we actually dressed up as elves together, too, at the mall. Dressing up as elves is pretty fun – everyone gets a kick out of that for the holidays."
Q: In all seriousness, why is a positive presence in the community important to you?
A: "It's an awesome community. As Vikings players, we feel the utmost support from the fans all season, even in the offseason. The city, the fans, the people here have our back – and it shows on game day. So … to make someone's day, to make someone's holiday, whatever we can do to do that, we love it. We love giving back. We did the Halloween party, we did the Thanksgiving turkey giveaway, we were spreading Christmas cheer at the mall. Anytime we get a chance to do that, we always take advantage."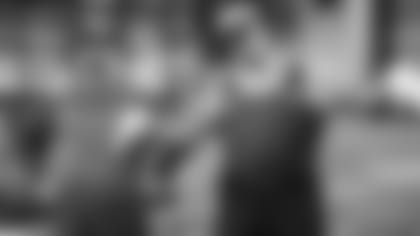 Q: Tell me a little about the facial hair you have going on here.
A: "Oh, the 'stache? It's just kind of grown into a style that I've been embracing this year. I don't really know where it came from, but I'm just rocking this mustache right now, and I feel like I can't shave it. I just can't do it right now. I like to get cleaned up, too, get a nice haircut and be clean-shaven – but right now, I just can't. I'm wearing this mustache until the time is right."
Q: Brian O'Neill told me to ask you about the mullet, too.
A: "Oh, yeah, I've got a mullet going, too, trying to grow the back out. I've always been a fan of Joe Dirt, and then the Kurt Dirt thing kind of came around, and I was just like, 'I'm growing a mullet.' So that's what I've been doing."
Q: Do you think you'll get to keep it for your wedding in April?
A: "Not a chance. There's a zero-percent chance of keeping it for the wedding. It'll be fun while it lasts."