EAGAN, Minn. – Zach Zarembinski will never play football again, but he's determined to stay close to the game that he loves.
The Vikings helped make that possible Saturday when they welcomed 18-year-old Zach to Twin Cities Orthopedics Performance Center for the team's morning walk-through.
Following practice, Zach was greeted by Vikings Defensive Coordinator George Edwards and several players, including quarterback Kirk Cousins, tackles Riley Reiff and Rashod Hill, linebacker Eric Kendricks, tight ends Kyle Rudolph and David Morgan.
The teammates spent time talking with Zach and his family and autographed a football for him.
"The players all seem very kind. They're a lot shorter than I thought they'd be in the NFL," quipped Zach, who is listed at 6-foot-2 and 308 pounds. "But no, they're all good guys, and they're just like us in high school. They look like they're all having fun."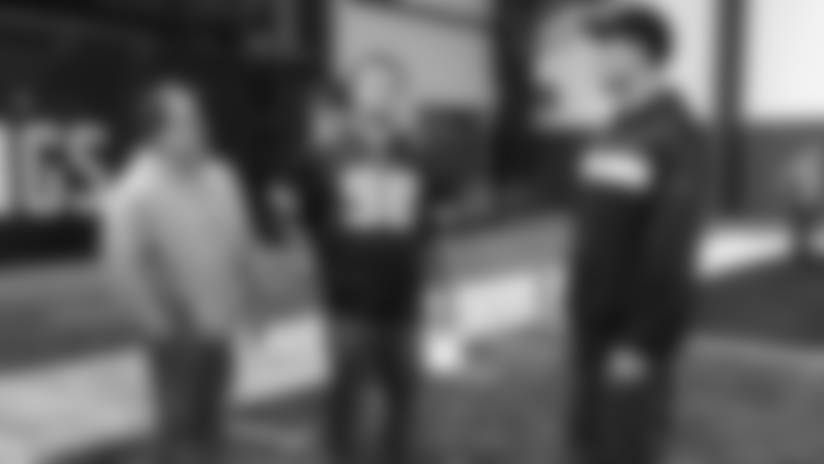 While he misses donning shoulder pads himself, Zach is simply grateful to be alive just two months after undergoing brain surgery. A senior defensive lineman at Hill Murray High School, Zach was playing in a game on Oct. 28 when he collapsed and was diagnosed with a massive brain bleed.
Just 45 minutes after the 911 call was made, Zach underwent an emergency craniotomy to remove the left side of his skull, which relieved pressure and allowed his brain to swell.
Zach was in a coma and put on a ventilator, which he was weaned off of on Nov. 5. Since then, he's taken tremendous strides in his recovery.
Hill Murray Head Coach Pete Bercich, who played linebacker for the Vikings from 1994-2000, said that Zach has applied the same drive to rehab that he has on the football field.
"Once he came out and was breathing again on his own, he got out of Intensive Care right away, spent two days in the rehab floor and then was sent home. It's as if we have to remind him, 'Hey, we were holding your hand and looking at you and not knowing,' " Bercich said. "We didn't really know because there are so many uncertainties with the brain swelling and all those things. But he had no idea about any of that. He just woke up and was like, 'Yeah, I've gotta get out of here.' And he went about like he is and did what he had to do.
"You see it with any injury … you have setbacks and things, but his attitude has been unbelievably positive, and I think that's been key for him," Bercich added.
Zach nonchalantly responded to a question about the difficulty of recovering from such a major surgery.
"For each setback, you just have to push through the first few days," he said. "It gets easier over time."
Zach's parents, Dan and Tracy, looked on as Zach stood on the sidelines of the Indoor Practice Facility and watched the Vikings practice.
"It's amazing," Tracy said. "It's been a lot of ups and downs, but he takes two steps forward for every step back – he always keeps moving forward. We're just thankful that he's alive."
Off the field, Zach is described by those close to him as a "great kid," someone who is caring and generous and always willing to serve others.
"He'll be hanging out at home and his grandparents might call him up, and he'll just get up and go help them," Dan said.
Zach loves going up North to hunt with his dad, and the two hope they'll be able to return to their favorite activities in the future.
"He's an outgoing kid. He'll tell you what he thinks," laughed Dan. "He's got more questions than Tracy and I do for the doctors in terms of [his condition and recovery]."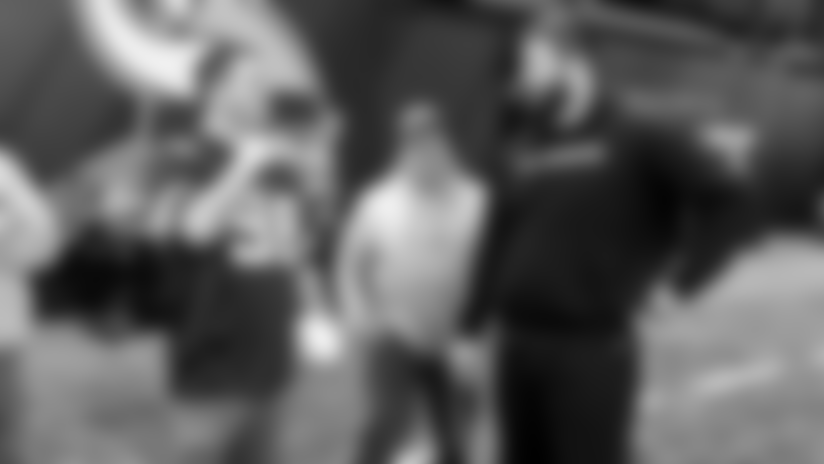 Bercich recalled a time when Zach was more quiet and reserved, but he saw him start to come out of his shell this past offseason. He connected with former Vikings long snapper Mike Morris, who currently serves as Hill Murray's strength coach, and dedicated himself throughout the spring and summer to developing into a stronger, faster player.
Bercich explained that he "got really strong," being able to squat 500 pounds without the assistance of a belt or knee wraps. Previously an offensive lineman, Zach transitioned to the other side of the ball.
"He was an All-District player for us and was a very, very good defensive lineman," Bercich said. "It was great to see him focus his efforts, get himself in shape and prepared, and then see it all come to fruition on the field. He was having a fabulous season for us."
Asked about Bercich, Zach called his coach "a goon" who's often joking around.
"He's a funny guy," Zach said. "But he's a great football coach and, more importantly, he's like a father to us. He's a great guy. He brings the team together, and we bonded as a team. He used football to teach us life lessons."
Bercich considers himself extremely lucky to coach at the high school level and invest in athletes like Zach, and he has empathy for a young man whose football career was cut short.
The former linebacker said he tells his players regularly that "football is the one sport where one day you put the helmet away and never play again" – not as a negative message but as a reminder to always be present and appreciate the opportunity to play the sport.
"Those who do well in football usually are the guys who love the game," Bercich said. "They love the working out, they love burning the film, they love the competition, the physicality – they love all those things.
"And once it's over and you know you're not going to play, it's hard to cut yourself off from the game that you love. I look at my case – I've been doing radio for 20-some years. I just can't get away from it; one way or another, I always come back. I've tried, but I can't," Bercich added. "And I think Zach's the same way – he loves the game."
Bercich expressed gratitude to the Vikings for giving Zach such a unique experience that allowed him not only to enjoy the game in the present but to get a "behind-the-scenes" look at the workings of an NFL football team.
In addition to the Saturday morning walk-through session, Zach and his family also were hosted by the Vikings at the Week 15 game against the Dolphins.
"When he's here, he gets an opportunity to see everything else that's around the game," Bercich said. "You can still be around the game that you love, but you don't have to play it. You can coach it, you can be on the media relations side, you can do management, you can do personnel. […] He's looking around and he's knowing, 'I can be a trainer; I can be a lot of different things and still be involved with the sport that I love.'
"I thank the Vikings, the Wilf Family and the organization from the bottom of my heart because I was here at a time when these things didn't happen," Bercich continued. "[The Vikings] didn't always do these things with the community. And I'm getting emotional thinking about it, too – to give a kid like Zach the opportunity to come out and see all of this, it's amazing."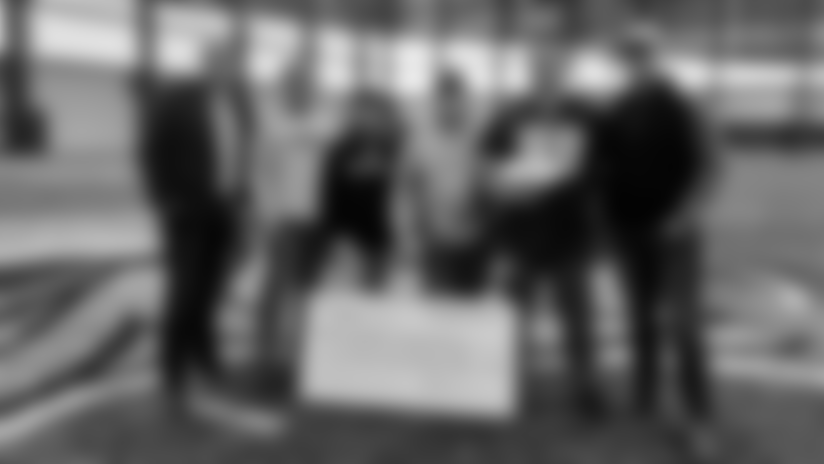 Following the Vikings practice, Zach was presented with a check for $7,500 from Birdies4Brains, a Minnesota-based organization that hosts an annual all-day golf event dedicated to raising funds for brain injury victims and their families.
Zach doesn't know exactly what will come next but knows he'll keep making progress. He originally had planned to play football for Bethel University and hopes to still attend and possibly be involved with the team in some capacity.
Standing on the 50-yard line near the Norseman logo, Zach looked around and smiled.
"It is hard to not be able to play football ever again," Zach he said. "But doing this is kind of relieving some of that pain of not playing. It's pretty cool to be able to be here."