INDIANAPOLIS — Frank Ragnow still has almost two months until he finds out which NFL team he'll land with.
But the Minnesota native and former standout at the University of Arkansas said he wouldn't mind ending up with his hometown team. 
"It would be pretty cool," Ragnow said Thursday afternoon at the 2018 NFL Scouting Combine. "I'd probably live with my mom for a while, and it would be awesome.
"I'm a Minnesota boy, and I take a lot of pride in that state," Ragnow added. "I grew up cheering for them, so it would be a pretty surreal moment."
The two-time All-State selection graduated from Chanhassen High School in 2013 before heading to Arkansas to begin his college career.
Ragnow passed over Big Ten schools such as Minnesota, Wisconsin and Ohio State to instead play in the vaunted SEC.
"I felt like the University of Arkansas would set me up for a better success, and it worked out," Ragnow said.
After playing in nine games as a freshman, Ragnow cracked the Razorbacks starting lineup as a sophomore and spent the entire season at right guard. He started all 13 games as a junior in 2016, a dozen of them at center and one at right guard.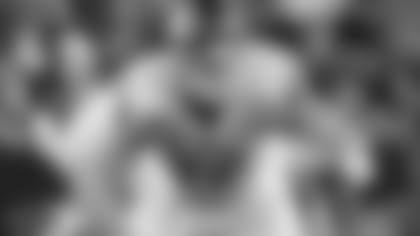 Ragnow was on numerous preseason All-American teams but injured his ankle against Auburn in October and missed the rest of the season.
He mentioned his medical background as something he wants to show NFL teams is a non-issue.
"I want them to know that my ankle is all right," Ragnow said. "Personality-wise, I want them to know I'm an intelligent football player with a high character."
Ragnow was one of the country's best offensive linemen over the past few seasons. According to his bio on the official Arkansas football site, Ragnow didn't allow a sack in more than 2,600 college snaps. 
Ragnow said missing almost half of his senior season was a tough pill to swallow.
"It was pretty devastating, I'm not going to lie," Ragnow said. "It took me a few days to get back up. 
"I felt like I was having a pretty good season and rolling, personally," Ragnow added. "It took a toll on me, but unfortunately I've faced a little worse adversity. You have to get up the next day and start working."
Ragnow dealt with a family tragedy during his junior season when his father, Jon, passed away unexpectedly from a heart attack at just 46 years old.
The 21-year-old Ragnow said he learned plenty of life lessons from the sudden loss of his father.
"Toughest moment of my life. I think it pushed me," Ragnow said. "I've really had to lean on football and lean on my teammates and things like that.
"I think I'm just trying to make him proud," Ragnow added. "Every day I think of, 'How can I make my dad proud?' "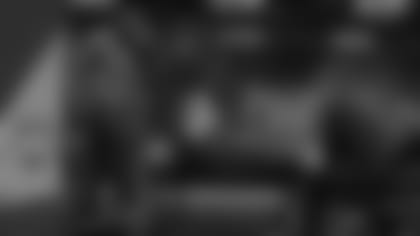 While he said he isn't paying attention to draft projections, Ragnow said he likes his chances of making it to the NFL.
He also said his versatility could allow him to play anywhere on the offensive line. 
"I feel like I can play all five [spots]," Ragnow said. "Obviously in college I played center and guard, but I have the length and the footwork to be able to play tackle, so I think that definitely helps me.
"I've been trying to put the blinders on. I've gotten a lot of praise, I guess, and I think a lot of people respect my game," Ragnow later added. "I think I've kind of been lost in the mix of things because of my injury, but I think teams do realize that I've shown what I can do and when I get back that I can be a pretty good football player."
Time will tell where Ragnow ends up in the NFL. But as he made it clear Thursday in Indianapolis, he hasn't forgotten his Minnesota roots.
Just ask him about his latest ice fishing adventure.
"I was ice fishing with my little brother over Christmas. I have an app called 'Deeper,' it's a fish finder on your phone," Ragnow said. "I caught a fish and my phone was on my lap. I stood up and it went down the hole.
"Brand new iPhone X. I screamed pretty loud," Ragnow added. "I had insurance but it was a big pain. I'd had it for two weeks.