EAGAN, Minn. — Saturday's Vikings-Broncos preseason game at U.S. Bank Stadium will mark only the second time that Mike Zimmer and Vic Fangio will face each other as head coaches.
They're plenty familiar with one another, though.
Both have been in the NFL coaching ranks for more than two decades, and they overlapped in the NFC North from 2015-18 when Fangio served as the Bears defensive coordinator.
Ahead of Minnesota's joint practice with Denver on Wednesday, Zimmer spoke with Twin Cities and Denver-based media members and was asked about coaching against Fangio in those four seasons.
"He was a terrific defensive coach [in Chicago]," Zimmer said. "He's always been a really good coach. His guys are really well-coached, they're disciplined. He's a guy that's very innovative."
He and Fangio have been working together to design practices for Wednesday and Thursday that will benefit both teams.
"They usually practice in the mornings, and we practice in the afternoons, so [Fangio] was fine with [practicing in the afternoon]. And they didn't want to do a couple drills, and I was fine with that," Zimmer said. "They just want the same thing we do. We want good work against each other."
Fangio spoke with Denver media on Tuesday and expressed similar sentiments.
Both known as defensive gurus with similar well-developed reputations of being hard-nosed, old-school coaches, it's fair to say there are more than a few similarities between Zimmer and Fangio.
"We're both old, I know that," Zimmer quipped. "He's pretty dry; I'm pretty dry, as well. Boring, I guess you could say."
"I've got some smart guys who enjoy playing football. I say 'enjoy,' I mean, they LOVE playing football. They love helping the young guys and making sure they're doing it right. We're a big family in that room, and we know we're competing against each other for jobs, but we all know that we're family and we go out and we help each other, and that's going to make us a better team."
— Vikings wide receivers coach Keenan McCardell on Minnesota's group
Here are two other takeaways from Wednesday's media session.
1. Status report on Westbrook
Vikings fans haven't been able to see Dede Westbrook in action, as the free agent addition is continuing to rehab from an injury suffered last season.
McCardell is happy, nonetheless, with Westbrook's transition to the team and grasping of Minnesota's offense.
"He's doing really well. He's learning. New system for him. The guys are helping him out, and they know his big thing is making sure he rehabs and gets his knee back, and I think he's taking it very seriously," McCardell said. "He wants to get back on the field as soon as possible. One thing I know about him: He loves to play football. He's a football player, and he fits right in with the room."
McCardell's prior experience with Westbrook in Jacksonville enables the coach to know where Westbrook can fit in and help the team, despite the fact that he isn't participating in team practices.
"I know what to expect from him," McCardell said. "But we as coaches, we also would love to see him on the field, and I think whenever it's time for him to get on the field, he'll get on the field and show people that he can play. He's going to be a guy that can help us."
2. Cousins' connection with Bridgewater goes way back
Kirk Cousins never overlapped in the Vikings quarterbacks room with Teddy Bridgewater, but the two first crossed paths long before they reached the NFL.
Cousins was asked about Bridgewater, who was drafted by Minnesota in 2014 and suffered a severe knee injury during the Vikings 2016 preseason. Bridgewater spent a brief stint with the Jets in 2018 before he was traded to the Saints. After two years of backing up Drew Brees, he signed with Carolina in 2020 to start for the Panthers. Carolina traded Bridgewater to Denver this spring.
"Everybody I know has spoken well of Teddy. I really go back with Teddy to 2011, I think it might've been," Cousins said. "He was a high schooler, and I was a college counselor at a camp. We were there for about a week together in Southern California; it might've been 2010.
"I remember he won the EA Sports video game tournament for the camp, and he just had that big smile on his face," Cousins added. "I remember him then and then following his career through college and to the pros, and everybody here speaks so highly of him and I think just the same."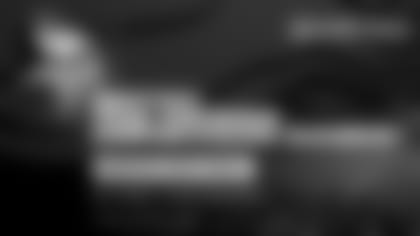 Watch Vikings Games Live
Start your free trial of NFL Game Pass today to watch Vikings games either live or on-demand.
Plus, you can watch condensed games, listen to live gameday audio, watch NFL programming and much more.