With day two of the NFL Scouting Combine well underway, college athletes from the around the country are going through athletic, medical and mental assessments to prove themselves to teams as eligible draft prospects.
Running backs, regarded as one of the deepest position groups in the fast-approaching 2017 NFL Draft, made their media rounds Thursday.
There's plenty of competition within such a talented class, leading to some players realizing they may end up being selected farther into the draft than they originally anticipated.
Texas running back D'Onta Foreman, who ran for 2,000 yards as a junior, said he's always dreamed about being drafted in the first round but knows how many prospects there are this year.
"If I went in the second round, I wouldn't be hurt," Foreman said. "I'd still be happy about that. Hopefully I get taken in the first round, but if I get taken in the second round, I'm OK with that."
One of the larger names that addressed the media was Christian McCaffrey, a running back out of Stanford whose father, Ed, is a former NFL receiver. Christian's older brother, Max, signed with the Raiders as an undrafted free agent in 2016 and is now with the Packers.
Christian described the combine experience as "surreal" after growing up around the pros and now being ready to enter them himself.
In addition to his father playing for the Broncos, Christian also has a childhood connection with Raiders Head Coach Jack Del Rio, who played for the Vikings from 1992-95.
"His son, Luke, was my quarterback in high school, and I remember he was in the stands with the Broncos," Christian said. "We would hang out and have dinner with their family. Looking at the Raiders side, looking at the Broncos side, just knowing that there's so many people here who I've grown up knowing, so it's pretty surreal that I'm here now as a player."
The podium sessions also featured Oklahoma running back Samaje Perine, who racked up 4,122 career yards to break the Sooners rushing record. The record was previously held by Billy Sims (4,118), and Adrian Peterson is now fourth on the list with 4,045.
Perine said he never imagined he'd surpass those types of benchmarks.
"With all the great backs there, you don't ever think that you're going in as a freshman and going to be the top dog by the end," Perine said. "It's still surreal, and I haven't really wrapped my head around it yet, but sooner or later that'll sink in and I'll just sit back in amazement. It just speaks volumes about my offensive line through the years."
Here are a few additional statements from some of the top prospects ranked by NFL Media's Mike Mayock and Bucky Brooks:
Pre-combine draft rankings: Mayock RB2, Brooks RB1
On making it to this point:"I really never dreamed about being in the NFL. I always played the sport, but I never knew it would take me this far […]. In ninth or 10th grade in high school, my coach sat me down and told me I had a great ability, a great talent to play this game. From then on, I took it seriously."
On which team might draft him:"It doesn't matter which team I play for. I'd love to go play for any team that picks me."
On who inspires him:"The person that has played the biggest role in my life is my father, and then since I had my daughter, it's just made me want to do better – make the right decisions, grind harder, even when I think or thought about quitting, just keep going." 
Dalvin Cook, Florida State
Pre-combine draft rankings: Mayock RB1, Brooks RB2
On what separates him from competition:"I can do it all. I can stay on the field all three downs, and I'm just a do-it-all back. I just feel like I am the best back in this class.
On playing for FSU Coach Jimbo Fisher:"Coach Fisher's system, that's really helped me transfer it over to the NFL level because when I'm in certain meeting rooms and coaches are asking me questions, I can relate very well. I think Coach Fisher has me very well prepared for this next level. His offense is very intense, it's a big playbook, and the NFL is the same way."
Christian McCaffrey, Stanford
Pre-combine draft rankings: Mayock RB3, Brooks RB3
On if he can be an every-down back:"I definitely believe I'd be an every-down back and a specialist, doing both at the same time."
On decision to not play in the bowl game:"I just tell them how it is when [teams] ask. I'm extremely honest with them, and then we move on to now and playing football […]. I made that decision. It was a career decision, it was a man decision to try to protect my dream of playing and succeeding in the NFL. Whether it gave me an advantage or not, I stuck with it, and I'm here now."
Pre-combine draft rankings: Mayock RB4, Brooks RB5(t)
On the way his role changed partway through the season:"Definitely a lot of opportunity given to me, and I took advantage of it – I tried to run with it and not look back. Now we're here at combine week, and there's a lot of buzz, and I'm just trying to embrace it all and take advantage of it."
On what he brings to the table:"I think my versatility and what I bring to the special teams game and what I bring catching the ball out of the backfield. There are a lot of things that I can do that can help an organization."
Pre-combine draft rankings: Brooks RB4
On who his running style compares to:"To be honest, no one. I feel like the way I'm built, just my size and speed and the way I move, I think I'm just unique. I don't really see anybody that I run like, honestly. I feel like I'm my own person and I do my own thing. But I'm definitely big on watching the NFL and college [level] – I watch some of these guys in here – their film and what I like from those guys. I just kind of take it all in, put it in my game and see what I can use and what I can't use."
On being one of few prospects from Texas:"It's going to take some hard work and dedication. Going into the season, I just wanted to be that guy. I was telling everybody, 'I don't want to just be the best player on my team. I want to be the best player in the nation.' That's just the mindset I took into every game, every practice, every offseason workout. I just wanted to be the best every time I stepped on the field."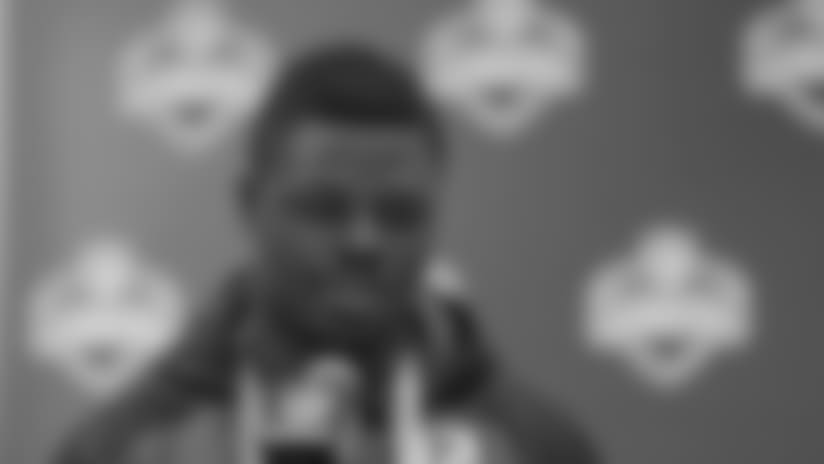 On what he wants to show teams:"Just that I have speed, the top-end speed that everybody sees; my agility; my hands out of the backfield – every aspect that a running back would want to see a coach to see."
On his retirement and return to Utah:"I've just been as genuine as I am, you know, explain the journey and my situation and everything […]. The passion never fizzled out. It was just the sense of owning up to what I needed to do in life, becoming more steady, and stepping back allowed me to fix some things that weren't right in my life. Coming back, I just had a renewed sense of consciousness and was able to go out there and do what I did."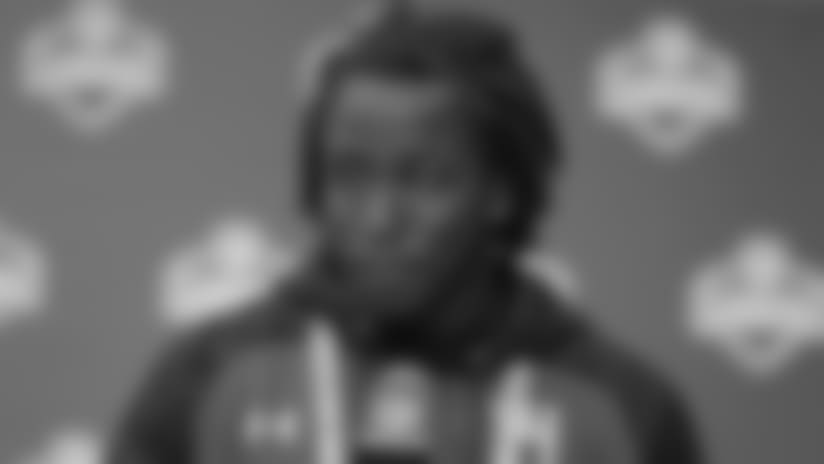 On benefit of participating in Senior Bowl:"I feel like it helped me out a lot, it showed I could really play with some of the best of the best. Honestly I get a lot of stuff about 'Toledo don't play tough enough competition' sometimes and I came in with something to prove and I'm going to keep a chip on my shoulder."
On ball security (one fumble in four years): "Honestly, I just take care of the ball. I take pride in that, I don't like having anything taken from me, and I'm not going to let anybody take the ball from me, or anything important to me. And the football's important. You can't get the yards that you want without the ball, and if I fumble on first down, that's two other downs I could've got the ball and I'm missing out on every opportunity."