Top offensive line prospects spoke with reporters on Thursday in Indianapolis as one part of the NFL Scouting Combine.
They also participated in the bench press and are scheduled to go through on-field drills on Friday.
The assessments of the prospects will continue and intensify in the buildup to the NFL Draft, which is scheduled for April 27-29.
NFL Media analysts Mike Mayock and Bucky Brooks ranked their top five players at tackle and their top five interior offensive linemen (guards and centers combined).
There was no consensus pick by the analysts, and some players are projected by one to play tackle and by another to kick inside.
Here are highlights from the players' media sessions:
Pre-combine rankings: Mayock 2nd interior offensive lineman, Brooks 1st tackle
Are you the top tackle at the combine? "Definitely, next question. I watch a few pro guys. I don't try to model my game after them. I watch two or three on a weekly basis and see what they do and incorporate that into what I do."
Why are you the best tackle? "It's what I believe. I believe in what I've put on film for the past three years. I think I've put it on film, and I don't have to talk much more about it."
Pre-combine rankings: Mayock 1st tackle, Brooks 2nd tackle
How is rehabbing your hip injury going? "It's been really good, it's been really positive. It's been eight weeks now of recovery, feeling really healthy, and I'll be back in California training and rehabbing after this.''
Did you get many questions about it from doctors at combine? "The surgeon was actually there for medical check-ups and he said it looks really clean, really good.''
How has it impacted your pre-draft work? "It cuts into, obviously, the lower body, I can't do any agility drills or heavy squats or anything like that. I'm still training upper body fully and getting some cardio, I can do cardio, so it's a good process.''
What do you anticipate about adjusting from college to the pros?"Going into the NFL, it's a huge jump, you're playing against the best players in the world, so I don't think it's easy for anyone to adjust. You've got to just put that work in, compete every day and make the most of it.''
Roderick Johnson, Florida State
Pre-combine rankings: Mayock 4th tackle, Brooks 3rd tackle
As you have interviews with teams, is it like being recruited all over again? "Yeah, it is. It's not as fun as recruiting. They really grill you in those interviews. What kind of person you are, and things like that. But it's all for the best."
What do you want to prove at the combine? "Show teams you're athletic, you can move, and have the skillsets to be a lineman. Showcase that in the drills. You can bend, move and be versatile."
Pre-combine rankings: Mayock 2nd tackle, Brooks 4th tackle
What feedback have you received from coaching staffs on where you'd fit in?"I know I can fit in anywhere. There's no typical offense that I feel like I can best fit in there. I believe I can do whatever it takes. If it's power schemes, if it's outside zone, inside zone, it doesn't really matter to me. I just know I'm capable of doing what it takes. And they're just really here just to get to know me. You know, later down the road and I visit the team like that, they'll probably teach my offense. But I just want them to know I'm a loving person and I love football. It brings the passion out of me, and I'm ready to work."
Are you worried teams will hold your age against you? "My age is a positive. I do not hold my age at all. I'm 24, and I've only played football for three years, and that's what I want people to know. I have so much upside, and I have so [many] things to improve on and get better. My better days are ahead of me, and so I know I can just continue to learn football in general and just continue to work hard."
What about your athleticism? "I just have a quick urge to get off the ball because I just want to punch the guy in the mouth and just do whatever I can to be successful. That's what I bring to the organization, is just a very person who just loves football. And I have the dog inside of me. And that's what I believe I have going for me. I have the dog, and I know exactly what I want to do. Working with [49ers tackle] Joe Staley, when I was down at Snow College (Utah), my junior college, two years ago and just watching him over and over and over again. He's one of my really good friends. We text each other all the time, and I just learned from him and hopefully one day I can be as successful like him."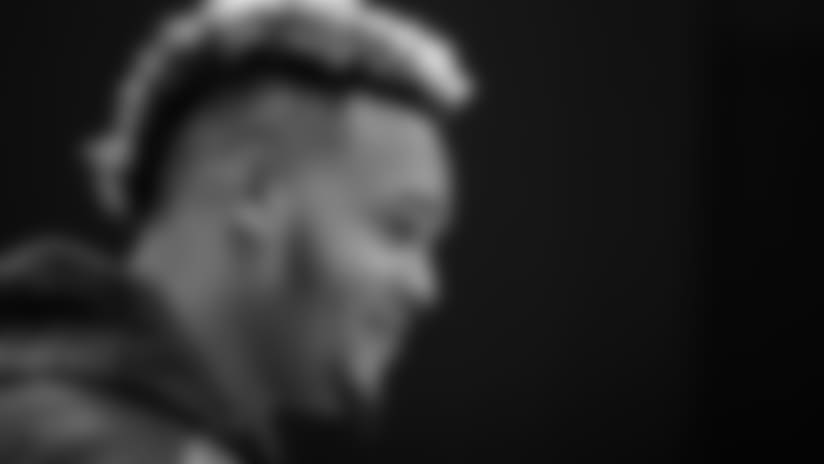 Pre-combine rankings: Mayock 5th interior offensive lineman, Brooks 5th tackle
On a matchup in college where he improved: "I would say my junior year when we started off the season against Penn State. It was one of those rival teams, and I just knew that their whole front were just guys and we had to be at our best every play to win that game. At that point, we were at our best."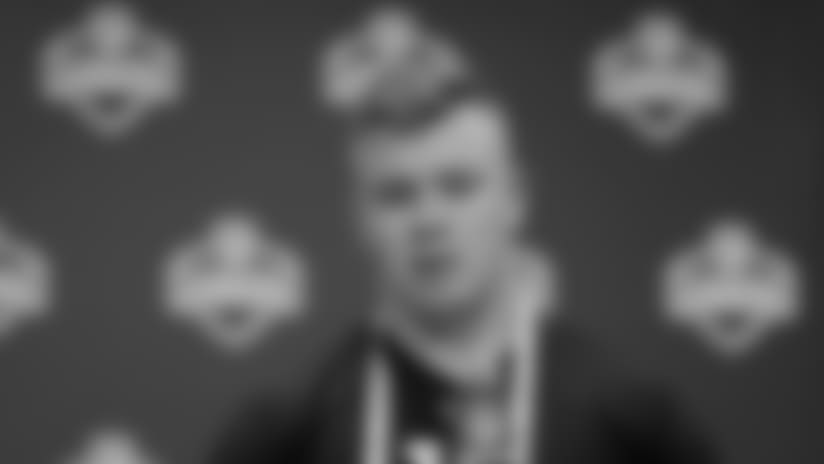 Pre-combine rankings: Brooks 4th G/C
On advice from former Buckeyes teammate Taylor Decker, a first-round pick by Detroit in 2016:"He's been prepping me a lot for this whole experience, pretty much taking me through what's going to happen each day, how the medical exams are going to go, how you are always on the move, you're going to be tired. [Him] letting me know what to expect has definitely been a big help.
On how much he's changed physically since the season ended: "I think I've definitely changed a lot. I've changed my eating habits completely, and I think that's mainly what it is. I've gotten leaner, stronger, and I'm healthier and in better shape. I feel great. This is the best I've ever felt.
Pre-combine rankings: Mayock 4th interior offensive lineman, Brooks 2nd G/C
On moving to fill gaps: "My freshman year, I was the backup center, started one game. Sophomore year, started at center due to a suspension of another player. When he came back in the lineup, I moved to guard and started at guard for eight weeks. I moved back to center when he got hurt. My junior year, all center. This year, all center, one start at right tackle and then a little bit of emergency left tackle in a two games."
Was it tempting to try to move to tackle?: "The thing was, people saw me as an interior guy, and the word was that people liked me on the inside, so no need to change it, but when scouts would come to practice, I would sometimes do a little tackle, just kind of on the run, not really practicing it much. Just knowing the system and knowing what to do and playing hard helped me when I played tackle, and I think I did a solid job."
Forrest Lamp, Western Kentucky
Pre-combine rankings: Mayock 1st interior offensive lineman, Brooks 3rd G/C
What pro film do you like to watch? "I liked to watch Ali Marpet, Zach Martin and Cody Whitehair from last year. Those guys were all left tackles who kind of got bumped inside, similar to what I've been hearing, so I liked to watch them this year."
Do you hope to stay at tackle because they generally make more than guards? "I don't care about the money. I want to play outside because that's where I'm comfortable. I've played 50 games there or whatever it is so that's where I'm most comfortable, but it doesn't matter. I just want to play football."
Taylor Moton, Western Michigan
Pre-combine draft rankings: Mayock tied for 5th tackle
On his versatility: "I can play tackle or guard, either side. I know I played right exclusively at Western [Michigan], but ever since the season ended, I've been training so I can play whatever position a team needs me to."
On switching from right guard to right tackle this season: "It wasn't that hard for me because I played tackle the years prior, but it's a whole different world at tackle, especially in pass protection. You're working on an island when you're at tackle."