MOBILE, Ala. — Isaac Asiata appreciated the opportunity to present himself to NFL teams at the Senior Bowl last month.
The cousin of Vikings running back Matt Asiata, Isaac followed has followed family tradition once by playing collegiately at Utah and is trying to make the jump to the pros.
Unfortunately for the guard, he suffered an injury that sidelined him for Wednesday and Thursday practices, as well as the game.
Vikings.com did catch up with Isaac during the media availability with players and asked him about the advice he's drawn from Matt.
"Matt's advice carries a lot of weight with me. When I was trying to decide what college to go to, Matt told me to go to Utah and carry on that Asiata name," Isaac said. "After my bowl game, he texted me when I started training and basically told me the same thing, 'Go out there and work. It's a business now. It's time to provide for your family and be another Asiata in the league to represent our family, our name and where we're from.'
Matt signed with the Vikings in 2011 as an undrafted free agent after finishing his college career third in school history for rushing touchdowns. He didn't make the roster that season but did return in 2012 and has been with the Vikings since.
Isaac said Matt's determination has been inspiring.
"Matt was very underrated his whole life, people saying he wasn't good enough or was undersized or whatever, and he proved those people wrong," Isaac said. "I've kind of fallen into the same thing where people say I'm not that great of an offensive lineman, so it's nice to follow his example of pushing that stuff to the side and focusing more on the work.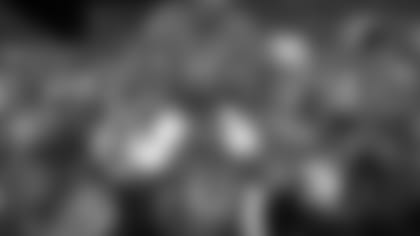 "It's not about what people are saying because that will never change your work ethic," Isaac continued. "It will never change how hard you want it. It came from wanting to prove people wrong to wanting to prove it to myself, to be great and make my name something great."
As for his style of play, Isaac said he takes great pride in physicality, particularly when he's asked to be the pulling guard on a run play.
"Physicality is kind of my thing. I like hitting people. I like getting hit," Isaac explained. "It's kind of like a shot of adrenaline. It's great. I love pulling. It's one of my favorite plays, power plays, and bringing that nasty attitude that you have to have in the NFL.
"You're basically going to be the person who clears the path for the running back," Isaac said. "I take a lot of pride in protecting not only the quarterback, but the running back as well, so it's up to you to make that key block that can turn a 4 or 5-yard gain into a potential 50-yard gain. I love turning the corner on people and running up to a linebacker and laying a blow, or if it's a d-end, kicking out the d-end. Getting that perfect hit is a hard thing to describe, but it's pretty sweet. It's nice."