MANKATO, Minn. –When Jordan Warren saw Adrian Peterson break through the Atlanta defense, he felt the score coming.
"He looked up, and about 10 yards down I was just waving my arms like, 'Come to me.' "
When Peterson scissor-kicked the final few steps into the end zone for his 99th career touchdown, Warren couldn't believe how close he was to his all-time favorite Viking.
Peterson celebrated the score before glancing up into the stands. Amid a sea of Falcons red, the running back spotted a purple-and-white jersey. Peterson flipped the pigskin straight to Warren's waiting hands.
"I was just ecstatic," Warren said.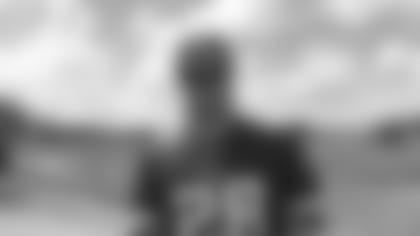 Warren has been a Vikings fan since before he can remember. A native of Spearfish, South Dakota, Warren and his family would take trips to a ski lodge in the Black Hills.
"He was 5 years old, and he was always wearing his Vikings parka," said Vanessa Warren, Jordan's mother. "You could see him coming down the hill – everyone knew it was him."
The Vikings became a representation of home for Warren, who spent five years overseas with the Marine Corps. He watched Brett Favre lead Minnesota to a 12-4 season and the 2009 Championship game from Japan. After the 2012 season, Warren mourned the Wild Card loss to the Packers from his station in Afghanistan – one of two tours he served there.
"It was rough times," Warren said. "But the Vikings were always there."
When Peterson joined the Vikings in 2007, he immediately became Warren's favorite player.
"I just love his work ethic," Warren said. "When he was a rookie, he talked about how he never goes out of bounds, and it kind of reminded me of Gale Sayers.
"He's always working so hard," he added.
After Peterson tossed Warren his 99th touchdown ball – in the same city he coincidentally scored his first NFL touchdown – Vanessa purchased Warren a glass case for the ball, which sits on the mantle of his Atlanta home. Recently, burglars broke into Warren's house and stole his televisions and other electronics. What they left, however, was his most treasured possession.
"They didn't even touch the football," Warren said, shaking his head as if he still couldn't believe it.
The souvenir became even more special Monday.
While Warren was visiting South Dakota for a family trip to Mount Rushmore, he received word that he may be able to get the ball signed by Peterson himself and promptly decided to make the nine-hour trip.
Warren looked down at the football in his hands, Peterson's autograph and "God Bless" in gold Sharpie stretching across one textured panel.
"We had to come down," Warren said, smiling. "I can't believe he signed it."
After attending his first Vikings game, Warren decided it wouldn't be his last. The die-hard fan already has first-row tickets to both the season opener in Tennessee and the home opener against Green Bay at U.S. Bank Stadium.
"Who knows," Warren said. "Hopefully I'll get something cool again."