MINNEAPOLIS –Long before Lindsay Whalen studied hardwood game film, she studied Vikings training camp previews.
She fondly remembers afternoons spent poring over *Star Tribune *roster previews in preparation for preseasons and making a handful of family drives from Hutchinson to Mankato to stand on the sidelines at training camp.
Whalen – a Minnesota native, Golden Gophers alum and current guard for the Minnesota Lynx – is a lifelong supporter of the Purple and Gold. Growing up, Sundays during the season were spent watching Vikings games with her dad. When the clock hit 0:00 to signal halftime, the pair would dash to the backyard to throw around the pigskin.
"I would run patterns," Whalen recalled. "I'd always be the wide receiver."
When the Vikings won, the father-daughter duo floated on air through the week. If the team lost, they would be "sad until Wednesday, when we could start thinking about the next game."
Some of Whalen's earliest memories revolve around cheering for Chris Doleman, Keith Millard and Joey Browner. Anthony Carter was Whalen's first favorite player, and she proudly wore her allegiance. For a string of Halloweens in elementary and middle school, Whalen alternated between dressing as Carter and former Minnesota North Star Mike Modano.
"I had the helmet, the jersey, the Vikings Zubaz, the whole bit," Whalen said with a laugh.
Whalen was a high school sophomore during the legendary 1998 season – Randy Moss' rookie year and a 15-1 run that came to a crashing halt in the NFC Championship game. She rode the emotional rollercoaster with all Minnesota fans and never wished it to end.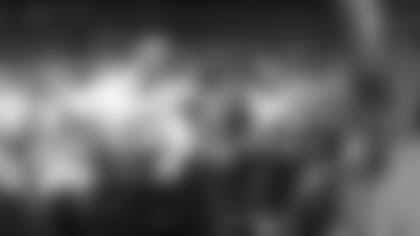 "My first dream was to play for the Vikings," Whalen said.
But It wasn't on the football field that Whalen turned heads.
A natural athlete, Whalen grew up with a basketball in her hands and bounce in her step. It wasn't until age 15, however, that the possibility of playing professionally in the United States became a reality. The first WNBA season tipped off in June 1997, and Whalen's childhood dream of playing for the Vikings transitioned to a more tangible goal of a career on the court.
After impressing at Hutchinson High School, the hometown hero went on to play at the University of Minnesota. The women's basketball program garnered national attention during Whalen's time with the Golden Gophers; average attendance at games grew from 1,087 during her freshman season to nearly 10,000 for her senior campaign. Whalen finished her career with 2,285 points, fifth-best in Big Ten history, and continues to hold a number of Minnesota career records. Following her final season, Whalen was the first female to be named Star Tribune Sportsperson of the Year.
"To win that award was representative of our whole team and our whole run. I just happened to be a senior, so they probably gave it to the oldest one," Whalen quipped. "But no, it was fun to be a part of that and to be someone who's a part of continuing to grow women's sports and opportunities not only in our state but nationally for women in sports and other areas, too."
Whalen was drafted fourth overall in 2004 by the Connecticut Sun and played there for six seasons before returning to Minnesota from the East Coast through a trade. In seven seasons with the Lynx, Whalen has played 229 games, starting all of them, and has averaged 12.4 points, 5.2 assists and 3.7 rebounds per contest.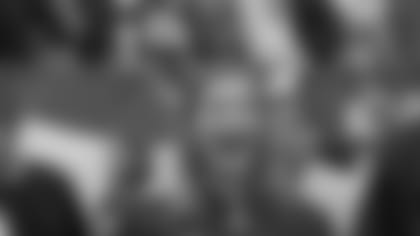 The Lynx are three-time WNBA champions (2011, 2013, 2015) on Whalen's watch. The team's second title earned Whalen not only a ring but also an opportunity to sound the Vikings Gjallarhorn prior to the Panthers game on Oct. 13, 2013.
For a lifelong Vikings fan, the experience proved unforgettable.
"I was really nervous," Whalen said. "You don't want to [sound] it too early or too late, and it's kind of a big responsibility. But it was a huge honor.
"People only get to do it once, so that was my one time," Whalen added. "I realized that afterward, so I'm like, 'I'm glad I didn't mess it up!' "
Whether watching from the stadium, her living room or a team hotel, it's a rare occasion that Whalen misses a Vikings game. Even during years that she's played overseas during the WNBA offseason, Whalen finds a way to watch. She recalled following the 2009 season from Prague.
"I stayed up and watched the NFC Championship game until like 5 a.m.," Whalen said. "I had practice the next day, but it was a later practice, which was good.
"There were a couple years when I was in Russia […] where I missed some games, and I hated that," Whalen said. "I had to follow [updates] on the computer, and it wasn't the same."
One thing Whalen does appreciate about the timing of the WNBA and NFL seasons is that they offset, allowing a number of Vikings players over the years to attend Lynx games and vice versa. Whalen said the Vikings support means a lot to her and her teammates.
"There's a nice connection there that I think our two organizations have built, and it's fun to see," Whalen said. "I know a lot of those guys played basketball growing up and loved the game, and now a lot of them have sons and daughters that want to come to the game. It's fun that we can be some female role models for them to see that they can play a sport professionally, too."
Teddy Bridgewater, Kyle Rudolph and Chad Greenway are among those players who have attended Lynx games over the past few years. Whalen is eight months Greenway's elder and has enjoyed watching his career journey alongside her own.
Whalen said Greenway's impact has been felt not only by the Vikings but by the Twin Cities community as a whole.
"We've accepted him even though he's a Hawkeye," she said with a laugh.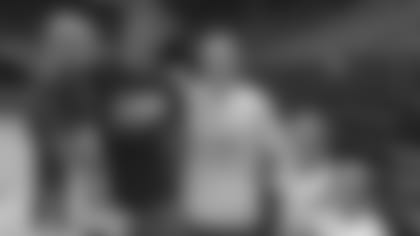 During the Lynx's 2016 season, Greenway and his wife, Jenni, and their children attended a game at the Target Center. The couple's eldest daughters, Maddyn and Beckett, are already showing talent on the court themselves, and Whalen appreciates having a platform to inspire young girls.
"Anybody that we can connect with and show that we're out here working hard and that 'You can do it too' is what we're all about," Whalen said. "Chad grew up [with the NFL], and he got to live out his dream. It's fun now for us to do that not only for his kids but for all kids growing up.
"If basketball is your passion and your dream, it's possible," she continued. "Twenty years ago, that wasn't the case. So it's great to be a part of it."
One of the ways Whalen hopes to continue positively influencing women and young girls is as a member of the newly formed Vikings Women advisory board. While she may not be donning a purple jersey like her original dream, Whalen couldn't be more thrilled to be collaborating with a team near and dear to her heart.
Whalen said she didn't hesitate to accept the invite.
"They want to have more women involvement in the organization, in the community, more outreach," Whalen said. "Any way that I can be of help to that, I'll do for sure. It's an organization that I've been passionate about my whole life, so I'm just very excited about that opportunity."
"It's really cool that the Vikings have taken this step. It's the first one, so there will be a lot of 'This has never been done before,' " Whalen added. "But that hasn't stopped any women or the Vikings before, so it should be fun."