EDEN PRAIRIE, Minn. –Joe Sokierka barely makes it through the stadium parking lot before a fan stops him and asks to take a photo with the infamous "Joe Viking," his moniker of choice. Joe pauses his shuffle and happily obliges, eyes sparkling beneath custom purple lenses in the likeness of Vikings helmets.
It's more than just the glasses, though. There's the cowboy hat coated in glittery, purple paint, a yellow Vikings logo secured to the front. The stark white vest and neatly pressed white pants, paired with a purple dress shirt, yellow tie and glossy purple shoes. Look closer, and you'll notice the Vikings-helmet belt buckle, Norseman lapel pin and purple buttons shaped like football helmets. Joe tells us they were originally refrigerator magnets, but he convinced his wife to turn them into buttons for his vest.
"I started with normal clothes, and after a year, I thought I wanted to get something different," Joe explains. "I got to be kind of a clothes hound. When I [go to the games], somebody always takes a picture of me. If I had a dollar for every picture they took, I'd probably be a millionaire right now."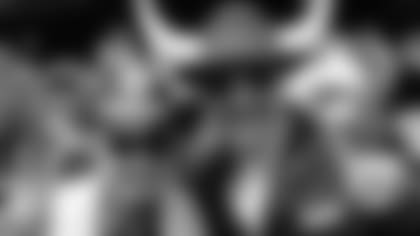 From head to toe, Joe is the most recognizable fan at most Vikings games. And he should be – he's been a season ticket holder for 53 years.
Originally a Canadian fan of the Winnipeg Blue Bombers, Joe moved to Minnesota in 1952. The rest is history.
"I just had one ticket," Joe says, recalling the first Vikings game he ever attended. "I walked into the stadium and couldn't even find a seat. I finally found it and watched the game – that was when the Purple People Eaters [were playing]. I got a kick out of watching them."
Shortly after, Joe had the opportunity to purchase a set of four season tickets from his dentist. Joe then went to games with friends or occasionally his children – his wife never showed much interest in attending.
"At that time you couldn't change the name on the tickets, so the dentist had to keep his name on them," Joe tells me. "After about a year or so, they gave one chance to change the tickets to your name. I was there before the office opened, and it cost me 25 dollars to switch the name. Since then, my name has been on those tickets."
Joe turned 90 on Aug. 18. Perhaps fittingly, his birthday fell just 10 days before the Vikings first home preseason game inside U.S. Bank Stadium. Joe's daughter, Karen, says it's an experience she can't wait to see.
"It's pretty special," says Karen, her eyes watering. She explains it was hard to see Joe miss a number of games due to cold temperatures at the University of Minnesota during the 2014 and 2015 seasons.
"The new stadium is something he deserves," Karen adds. "If anyone deserves it, he does. Him turning 90 and the new stadium opening up, it's a pretty good birthday present for him."
Karen can't remember a time when her dad wasn't sold out for the purple and gold. Growing up, she and her mom would find reasons to leave the house if the game wasn't going well.
"It was a very loud place if the Vikings weren't winning," Karen says. "He wasn't a very happy camper."
Joe doesn't focus on the losses, though. He's seen the Vikings lose four Super Bowls, but he's ultimately proud of his team for making it there.
"If a team can go to the Super Bowl four times," he says, pointing his finger at me, "they've been a pretty good team."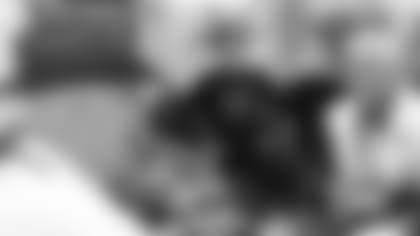 With as many Vikings Super Bowls as Joe's watched, he's seen twice as many head coaches rotate through, from Norm Van Brocklin to the team's ninth head coach, Mike Zimmer. Joe especially had an affinity for legendary Head Coach Bud Grant, whom he first watched with the Blue Bombers before Grant took over the Vikings in 1967.
Joe refers to Grant as a disciplinarian. He remembers watching Grant during the pregame National Anthem, when the coach would make sure each player stood at attention.
"He was a strong coach," Joe says. "What impressed me was, in the middle of winter he never let anyone wear any gloves."
Earlier this year, Joe had the chance to meet Grant, along with former offensive coordinator Jerry Burns, at an autograph signing at FanHQ in Eden Prairie. Joe, Grant and Burns were all born in the late 1920s. Seeing the three of them interact, they could have easily been mistaken as old friends who hadn't seen each other in years.
"I've been watching football for so long, I probably don't get as excited outwardly," Joe says about meeting the two coaches. "But I was excited on the inside."
Joe and Grant exchanged looks of admiration, as the former coach was quite impressed with Joe's ensemble. The two didn't exchange many words, but when Grant asked to try on Joe's purple cowboy hat, it spoke volumes.
"That was probably the biggest statement he could have made," Joe said.
When Joe watches the current Vikings team, Zimmer's coaching style reminds him of Grant's. He's not surprised to see the team doing well under Zimmer's direction, and he's sure more success is on the horizon.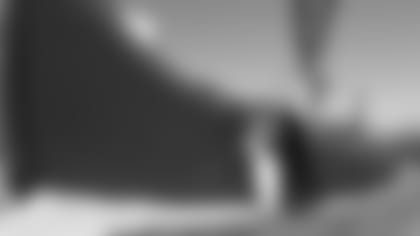 When asked if his beloved team will be Super Bowl contenders, Joe gives me a look as if to suggest it's a silly question.
"This team? I'd bet on it," he says confidently. "[If not] this year, then the year after. I just hope that if they do win and they have the Super Bowl here in 2018, the good Lord leaves me on this earth long enough to see that game. Then, he can take me if he wants."
Even at 90 years old, Joe isn't showing many signs of slowing down.
"It's like traveling with a rock star," Karen says of going to games with her father. "We have to keep a close eye on him, because he's always getting pulled away for pictures [with fans]. Just like a little kid, you have to watch him."
Joe settles into a brown leather chair as he talks about his beloved team. Filtered sunlight streams into the lobby of Winter Park and lights his face – aged, but happy. Fifty-three years of cheering for the Vikings, and it's his first visit to their practice facility.
Prior to the interview, Joe was given a tour of the building. As he's escorted through the halls and views rows of team photos, he stops and points at the black-and-white snapshot of the 1962 roster.
He smiles and touches the glass with his finger.
"Yep," he says. "I was there."