Electricity crackles from the photographs.
Image after image captures the energy and enthusiasm Everson Griffen brings to the field on every snap.
In one photo, he flexes biceps – 100% REAL inked across the insides – that have helped him net 70.5 career sacks (seventh in Vikings history).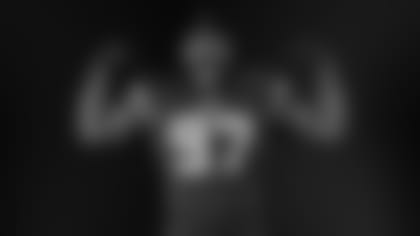 A click of the shutter freezes his mouth mid-scream, freeze-framing the intensity that ripples through each hype speech that he delivers pregame. A blur of gold against an all-purple backdrop in the next frame illustrates the side-to-side slide of the "Sack Daddy" dance he often performs after taking down a quarterback.
In another, he pounds a fist against the 97 that adorns his chest.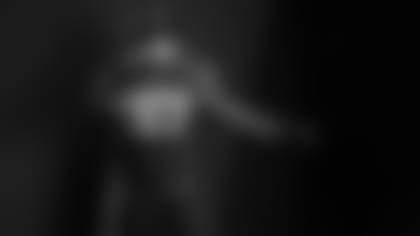 Next, the camera zooms in on his game-day stare, a white ring light reflecting in pupils that zero-in on offensive linemen and play-callers alike. Even his eye-black is purple, a smear from cheek to cheek.
Griffen is proud to don the Minnesota Vikings colors.
On Thursday night, the team will run through the tunnel of U.S. Bank Stadium in purple jerseys paired with purple pants. It will mark the team's sixth time wearing the combo in franchise history, and Griffen's fourth.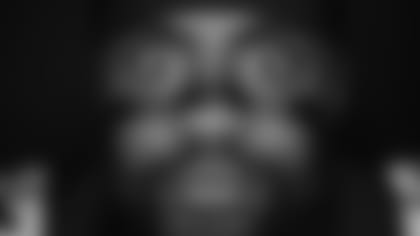 "I think guys like having the extra swag, I would say, or the extra style," Griffen said. "I think Minnesota Vikings, we're known just for our tradition – we don't really do too much throwback, we just wear our basic uniforms – but when we get to dabble in a little bit of [Primetime Purple], it's special. We love it.
"When you get the opportunity to wear purple-on-purple and go out there and represent the Vikings, it's awesome," he added. "It's another opportunity to support the team, the organization and just to enjoy the moment. You have to enjoy these moments, because they're not going to last long. Football ends for everybody."
Griffen knows that every NFL player's career has an expiration date.
But he's smack-dab in the middle of a pretty good run. After spending five weeks away from the team last season for personal reasons, he's back to full form – and isn't planning on slowing down anytime soon.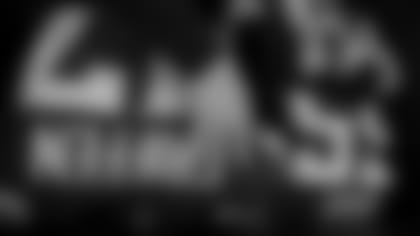 Seven games into his 10th season, Griffen is the longest-tenured player in the Vikings locker room.
"It's a blessing. Guys [rarely are] able to spend their whole career with one team, and it's special," he said.
When the Vikings drafted Griffen 100th overall, he entered a crowded defensive line group that included Pat and Kevin Williams, Jared Allen, Brian Robison, Fred Evans and Ray Edwards.
"I came into a hard room," Griffen said. "But I was always a hard worker, and they respected that work.
"They didn't respect me running my mouth all the time," he added with a smirk. "But they respected my hard work and taught me a lot."
Griffen did not immediately step into Minnesota's defense but rather started on special teams, where he embraced the role and gave it his all in a rare role: defensive end playing gunner.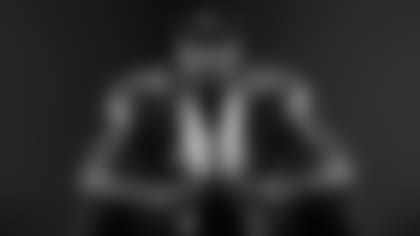 But Griffen was good at it. Really good. He continued to impress coaches not only on game day but on the practice field, where the young USC alum demonstrated the athleticism he had put on tape during high school and college.
Vikings Offensive Coordinator Kevin Stefanski was serving as assistant quarterbacks coach during Griffen's rookie campaign and took notice.
"I can vividly remember some plays where Adrian Peterson was running around the corner, and Everson's running step-for-step with him," Stefanski said of the former Vikings running back who tonight will suit up for Washington. "It was incredible. So, the athleticism just jumped off the charts.
"He's such a unique combination of size and strength and speed. He's a unicorn," Stefanski added. "They don't come around looking like him. So, to be able to line him up all over like we did early in his career was unique."
Griffen got his opportunity in 2014 and seized it, becoming a full-time starter and never looking back.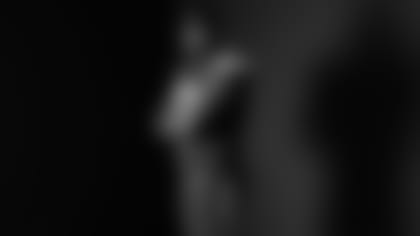 For Stefanski, the progression was no surprise.
"Physically, he had shown the ability," the longest-tenured Vikings coach said. "He was just very raw, and I think he worked so hard at his craft to develop a pass-rush arsenal.
"And then when you combine that skill with the effort, which was just a hundred miles per hour, nonstop – I mean, from pregame to the final whistle, he was just the Tasmanian Devil," Stefanski continued. "Once he refined that skill set, I think you saw a culmination of hard work combining with some really impressive skill."
Fast forward to 2019, and Stefanski doesn't hesitate to consult the 31-year-old "wily vet" who's become an expert in Head Coach Mike Zimmer's defense.
"He's got great input. He's been doing it for a while, so he's pretty much seen it all," Stefanski said. "I really think he's a great resource for our offensive guys."
Thursday night will mark Griffen's 140th regular-season game in purple and 81st start.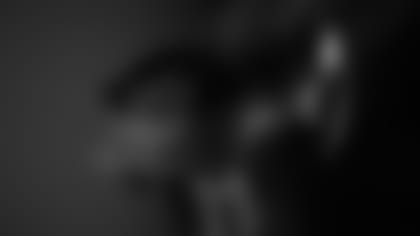 Before kickoff, it's not uncommon to see the defensive end delivering a passionate pump-up speech from the heart of the huddle.
"I don't know how he does it. I watch him during pregame, and I just wonder to myself, 'How is this guy not exhausted by kickoff?' " Stefanski laughed. "He has a reserve of energy that God blessed him with, which is so impressive, and his teammates feed off of his energy. He's always brought that to every game, and I think it's a great thing for his teammates to see that he's there on game day, ready to roll, and I think it just allows them to up their game."
But it's just as likely that in advance of firing up the team, he takes a moment as a father on the sideline. He kisses his wife, Tiffany, and sons — Greyson, Ellis and Sebastian — to let them know how much they inspire him.
"The number one thing I can do is go out there every day and grind for them and try to help this team win," explained Griffen. "We want to bring a Super Bowl here to Minnesota, and that's our number one goal each and every time we hit the green. When I get to see my family, that's who I do it for.
"That's why I do it," he added. "I do it for my legacy. My kids, my family."
Griffen is proud to have contributed significantly to the legacy of the Vikings.
The team hosted its annual Legends Weekend during Week 3, and more than 100 alumni watched the current team defeat Oakland at U.S. Bank Stadium. Among the notable names in attendance was Hall of Fame guard Randall McDaniel, who shares Griffen's hometown of Avondale, Arizona, and has stayed connected to Griffen throughout his career.
"The Legends, they laid the foundation for us to be able to play this game. They sacrificed a lot," Griffen said. "Back then, they had harder training camps, all of the injuries and things they suffered, they laid the foundation for us to be able to play this game, have the rules and be able to get paid like we do.
"It's always respect," Griffen continued. "I think a lot of guys are excited to see me back to form, and I think [Randall is] just proud of me, the way that I handled it and the things I'm doing to keep it there."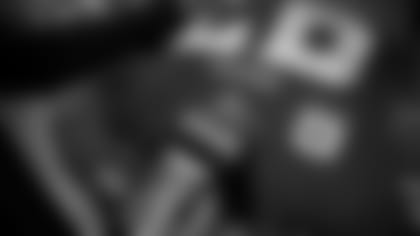 Looking back over a decade with Griffen in the Vikings locker room, Stefanski emphasized that he's "made himself invaluable" to the franchise and has earned every accolade he's received, including serving as a team captain since 2015.
"It's an honor he absolutely deserves. He's just grown as a man. I'm so impressed by the guy, I'm so glad he's on our team, and I think he represents what Coach Zim' wants this football team to look like," Stefanski said. "He provides such a great arsenal of pass rush on the field, but then off the field what he provides in the leadership role is so impressive.
"I think it's a special thing for someone to be able to put his roots down here, have his family here," Stefanski added. "And he truly has represented the purple and gold in a very impressive way."
Purple pants and purple jerseys. It's a uniform. But it means so much more to Griffen, who hopes to play out the rest of his career in the color he's represented for 10 years.
"It's just special. I'm happy. My family loves [Minnesota], my kids love being in school here, and I just love this organization with all of my heart," Griffen said. "As long as I just keep on doing what I'm doing, I think I can be in Purple for as long as I want to be in Purple."