EAGAN, Minn. – Breaking barriers, learning from the experiences of others and believing in oneself.
Those were the overarching themes that surfaced during a special Black History Month event that posed the following questions: Where have we come from? Where are we now? Where are we going?
Hall of Fame defensive tackle and retired Minnesota Supreme Court Justice Alan Page spoke Tuesday at the Vikings Museum during separate morning and afternoon panel sessions with high school students.
"Each one of us has the ability to impact the future by how we treat other people," Page told a group from Eden Prairie High School. "I think we need to look internally and ask ourselves, 'How about our own biases?' The first thing we need to do is eliminate those. We have to treat people not based on some stereotypical view of who they are and where they come from – but on what they do.
"Make sure that your feelings for other people are based on who they are and what they do and not on the color of their skin," Page added.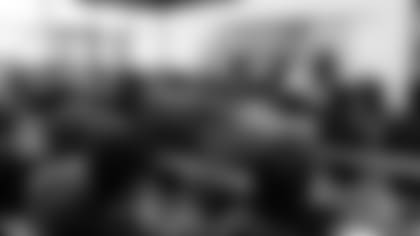 Page was joined by Vikings defensive end Stephen Weatherly for the first of two discussions, both of which were moderated by Vikings Senior Editor Craig Peters.
The second panel featured Page, fellow Hall of Famer Carl Eller and Vikings Co-Defensive Coordinator Andre Patterson. It was attended by students from Paladin Career & Technical High School, Minneapolis North High School and Focus Beyond School.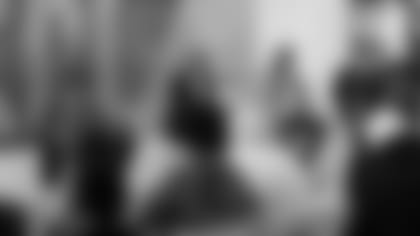 In both sessions, the guest speakers shared personal experiences of first encountering discrimination.
Eller, who was born in 1942 in Winston-Salem, North Carolina, recalled being a youngster and doing chores to save up some money for a restaurant he regularly passed on his way into town. When he approached the counter to purchase a hamburger, a young white woman working at the establishment told Eller that she couldn't serve him there but would serve him around back.
"The important thing for me was I had worked really hard to earn this amount of money to afford to go in there, and I wasn't about to jeopardize that by [being belittled] or degraded," Eller said. "So I kept the money in my pocket, and I walked away."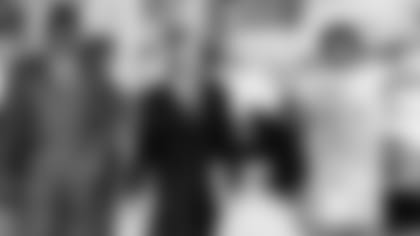 Page was born in 1945 in Canton, Ohio, where a bronze bust of him was enshrined four decades later.
And while he didn't grow up in the South that was forcibly segregated by Jim Crow laws like Eller, Page nonetheless encountered plenty of prejudices and was painfully aware of the way African Americans were treated across the U.S.
"There were large portions of this country where, by order of law, white children and black children could not go to the same school. Could not drink from the same water fountain. Could not eat at the same lunch counter," Page told the group of intent listeners. "Think about that. I suspect all of you have a hard time getting your heads around that. That was the world that I was born into."
Page and Eller resurfaced painful memories of hearing about Emmett Till, a 14-year-old young black man from Chicago who was brutally beaten, mutilated and murdered while visiting Mississippi in 1955 after being accused of making an offensive comment to a white woman in a grocery store.
"All because he had said the wrong thing to somebody who was a different race. That was the world I grew up in," Page said somberly.
For Patterson, born in 1960 and raised from the age of 2 in California, discrimination was a concept that didn't resonate with him until, at 9 years old on an annual visit with relatives in Meridian, Mississippi, his great-grandmother explained that he wasn't allowed to play baseball at certain parks that were whites-only.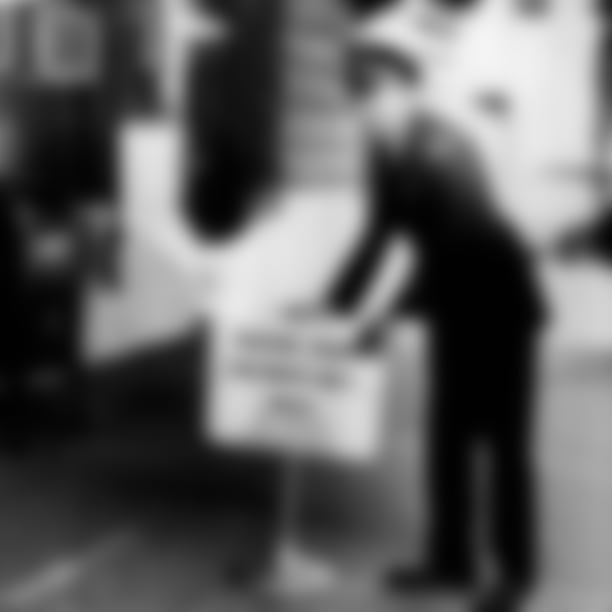 And in seventh grade, the ugly reality of racism truly hit home.
"We got bussed from our own little great community to an all-white middle school," Patterson recalled. "That was the first time in my life that I had truly experienced [being] someplace where they did not want me to be – just because my skin was darker than theirs. They didn't want us there, and we didn't want to be there.
"There was a lot of violence that took place during that year that we were there. It wasn't a great learning environment for anyone," Patterson continued. "But it was the first time for me that I experienced that there was a difference between being black and being white."
He noticed that even academic standards were set lower for students of color than for their peers.
"What [I was expected] to achieve in my life was different than what the expectation level was for the other white kids sitting in the class with me in the same grade," Patterson said. "For me, that's when I had to make a choice. I decided that I was going to do whatever I had to do to succeed. And fortunately for me, I had a mom and a grandfather that [emphasized education]. 'If you get an education, then no one can ever take that away from you.' "
Page also heavily stressed the importance of education, telling students that it allows them to be much more in control of their own destiny.
Page praised "dramatic changes" in society, partially in thanks to the Brown v. Board of Education case that took place in 1954, when Page was 8 years old. The landmark decision of the U.S. Supreme Court ruled that U.S. state laws establishing racial segregation in public schools were unconstitutional and paved the way for integration.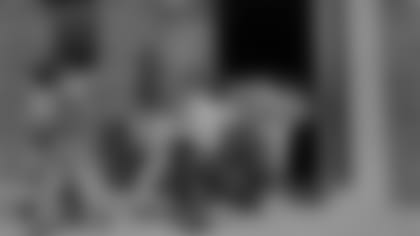 And while progress certainly has been made since the childhoods of Eller and Page – which overlapped with the Civil Rights Movement – and even since Patterson's upbringing, all of the panelists acknowledged that discrimination based on one's heritage still exists.
Stephen Weatherly was born in 1994 near Atlanta, Georgia, long after Page and Eller's NFL playing careers had come and gone.
Weatherly grew up in schools where students of all colors learned together, and the idea of separate water fountains is one he learned about from history books and his mother.
But the 25-year-old has been the target of racially charged actions – from being kept off a Little League baseball team in elementary school because he was black, to being called the N-word on Twitter following a controversial penalty called in a Vikings game.
Weatherly joked to "never read the comments" but took on a more serious tone in encouraging young people to know when to engage and when to walk away.
"You have two options. You can act on it or not," Weatherly explained to Vikings.com of his message to students. "Most situations require you not to [respond] because they're petty instances of that person trying to get underneath your skin to bring you down to the level that they're on.
"Other ones are other horrible injustices that need to be spoken on," he continued. "Not every reaction needs a grandiose gesture, but if something needs to be said and you are the person to say it, then please feel comfortable saying that."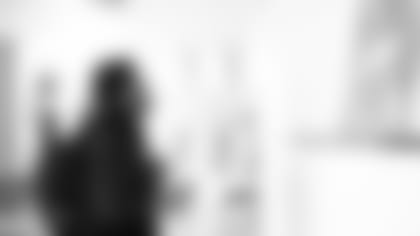 In a similar vein, Page urged young people to stand strong and to take responsibility for how they react to words that can be hurtful.
"Don't let those who would discriminate against you, don't let their conduct be your burden," Page said. "If somebody wants to treat you poorly because of the color of your skin, your gender, or whatever, that's their problem. It's not your problem.
"Don't adopt it as yours. Yes, confront it when you have to – because there are times when you have to confront it – but don't take on their burden," he added. "Because somebody who is discriminating against you for those reasons is really just trying to put you down and to raise themselves up. When you take on their burden, they win."
Weatherly and Page were asked by Peters during the first panel discussion a two-part question:
What is your biggest worry about today's society and, in contrast, what is your biggest hope?
"My greatest worry is forgetting about where we've been – not just in black history but as a society," Weatherly said. "With the increases in technology and things like that, we're becoming a lot quicker with our attention and moving from thing to thing, and I don't think we've taken that time to take a true step, pause and turn around and see where we've come from and where we started."
Page paused before speaking with intention and purpose.
"If you don't know where you're going, any road will get you there," he said.
"My biggest worry, quite frankly, and I don't say this as a political statement, but when we as a country have leaders who espouse divisions, who promote white supremacy, that's a problem. It is a big problem," Page said. "What it does is it makes [others] comfortable in their bigotry."
Added Page: "That is frightening to me, because that's taking us back down the road [to the world I was born into]."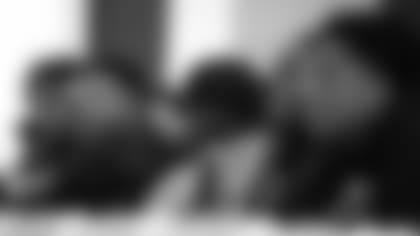 He and Weatherly shared a hope in the next generation of youth sitting before them, however.
"My biggest hope, my biggest source of optimism, is you young people," Page said to the group. "You, your energy, your curiosity, your willingness to get to know each other – that gives me a great deal of hope."
Weatherly encouraged the high schoolers to try new activities – to branch out and meet new people from different backgrounds, experiences and perspectives.
He called it "important for progression" to push oneself out of a comfort zone and seek to become a more well-rounded individual.
"We have to be intentional about how we treat other people. We are all in this boat together," Page said. "Whether your family heritage comes from Europe or Africa or Asia, or whether you're indigenous to this country, we are all in this together. We have to figure out how we live together. How we survive together."
---
---
Below are additional excerpts and personal stories from Tuesday's guest panelists: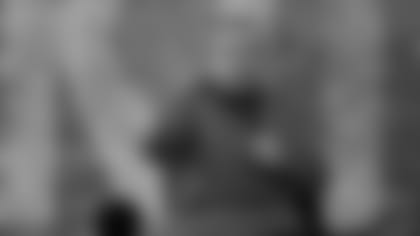 "I lived in two different worlds. In California, we knew that racism existed, but I didn't feel it. I went to an all-black elementary school. The stores I went into, all I saw was us. I could see it on TV; I could see Martin Luther King marching on TV. My mom, my grandmother, my grandfather, they would all tell me, 'You've gotta be careful.' And I would walk out of the house and say, 'No, I've got this. I've got this. Life is good.' And then I would go back to visit my great-grandmother in Meridian, Mississippi, and it would be a totally different world. I'd go and see a water fountain that said WHITES; I would see one that said BLACKS. I would see a bathroom that says WHITES. I would see a bathroom that says BLACKS.
"I could not understand that. I could not comprehend that. Because it wasn't my everyday experience. And I know that's what a lot of you feel right now when you hear these guys talk about their [experiences]. You're sitting there, and it doesn't compute because it's not your everyday experience. But it was a good culture shock for me to be able to see both sides of it.
"I think the biggest thing is that each one of you has to get to a point where you understand that you believe in you. It's not what someone else sees when they look at you; it's what you see what you look at yourself in the mirror every morning. That's what it comes down to – do you have a strong belief in you? And if you have a strong belief in you, then no one can ever knock you down."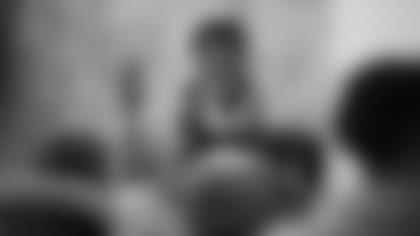 "I think the barriers are still there. I think until all the barriers are released … I [am 78] years old. So, I've had a long, long life. And my perspective has changed [multiple] times. … I look at these young men now and think, 'What's it going to be like when they get to be my age? What's it going to be like?' They have these same barriers to cross. … I would like to see these children not have to go through that. "I would like to see that the barriers would have moved. Yeah, there are [changes] now; you can go to the same bathroom and can go to the same water fountain. But really in your heart – really, in your heart – what's there? … You have to decide what you want. You have to decide your future."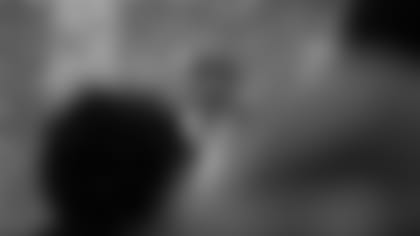 "One thing that we tend to forget is that one of the ways we make ourselves better – I'm a better person because I learned from other people. I learned from other people's experience. … Your experience helps me grow and develop. My experience helps you grow and develop. We all think that we're all individuals and everything we do is predicated on that individuality. But my experience on the [Minnesota Supreme] Court, I was a far better justice because I had the opportunity to listen to six other people; their thoughts forced me to learn more about what I was thinking and how I was thinking. So don't lose sight of that. We can push others away, but we do that to our own peril."
"I would also note that I used to be a runner – and now a walker – but it hasn't been so long since the last time I was out on a run and somebody used the 'N' word. … Not that long ago. And not that long ago that my wife and I stopped at a bed-and-breakfast in La Crosse, Wisconsin, and were turned away because of the color of our skin. … I suspect what many of you face, maybe not on a regular basis but occasionally … we've come a long way, but we still have a long way to go."