Dalvin Cook is thankful for so much.
The opportunity to play a game he loves, the support of family and …
Following pregame warmups at Buffalo, Cook sat in the locker room beneath a temporary nameplate and grabbed the brand-new pair of socks from his purple duffel.
The running back peeled off the pair he currently was wearing and dropped them back into the bag. Upon arrival back in Minnesota, they will be washed with his jersey and saved for next week's practice.
Later that afternoon, Cook quick-stepped his way past the pile, picked up a key block from Justin Jefferson and left the only defender with a shot at him on the ground, bursting free for a career-long 81-yard touchdown run that sparked a Vikings comeback and outlandish overtime win over the Bills.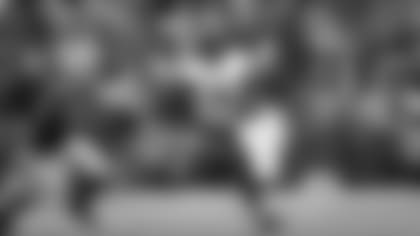 "That was perfect timing. K.O. (Vikings Head Coach Kevin O'Connell) dialed something up. Up front, they did a great job. [Justin Jefferson] … that was probably his best block of the game," Cook said. "[Jefferson] got on the safety, they put me on the corner and sprung me free. If they block it like that, I've gotta run right at them."
The one aspect he didn't mention during his media session? The socks.
But Cook is grateful for the little things. And in this case, it's donning a pristine pair of socks before every kickoff, as routine as pulling on his shoulder pads.
"I don't think my cleats or anything will fit the same without these," Cook said. "My cuts and stuff won't feel the same without these on my feet. It's, like, mandatory that I have these on. I've gotta have 'em on."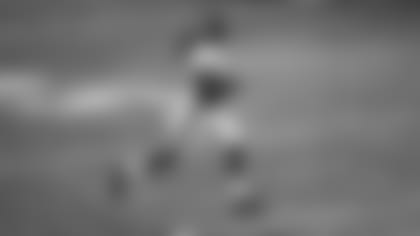 The running back still remembers the first time he found "the" socks.
Cook had just arrived in Minnesota after being selected by the Vikings in the 2017 NFL Draft.
The running back met with longtime Vikings Equipment Manager Dennis Ryan and his staff, including assistant equipment manager Adam Groene, to be fitted for his NFL uniform: new jersey embroidered with his first number, 33; brand new, matte purple helmet; pants and cleats.
And then, to select socks.
There were plenty to choose from, but Cook bypassed numerous boxes overflowing with the latest models. Instead, he pulled a pair from a small, cast-off box in the back corner of the equipment room.
"I was like, 'Let me try these.' I put them on, put my cleats on, and they just felt perfect," Cook recalled. "You're trying to find what makes you the most comfortable so you can just go out and perform.
"You know, my feet are most important, and that was number one for me. To get in and know what cleats I wanted to wear, know what socks I wanted to wear," he added. "Ever since I got to Minnesota, these have been my go-to socks. They've been doing me so well."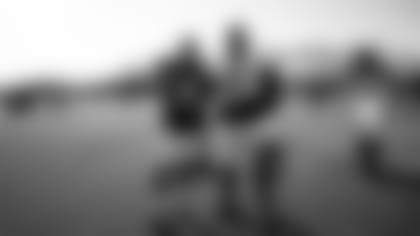 In his five-plus seasons with the Vikings, Cook has started 65 of 66 games played and racked up 1,174 carries for 5,619 yards and 45 rushing touchdowns. He also has 204 catches for 1,645 yards and four scores through the air.
Truthfully, they're nothing special to look at: white, ribbed, crew-style that reach to his lower calf. An orangish-red seam runs across the toe.
They likely wouldn't draw attention from a casual observer.
Except for quarterback Kirk Cousins, who earlier this season noticed the sock style after having a fashion-forward discussion with Adam Thielen.
"Adam was telling me how sock lengths matter in your look and your 'fit, and you've gotta have the right sock length, and that I wasn't doing it right," Cousins said. "So I started paying attention to other guys' socks, and I noticed Dalvin kind of has his own unique sock and the way he wears it. So on the way back from Miami, I asked him about it – and there was a way bigger story there than I ever thought possible."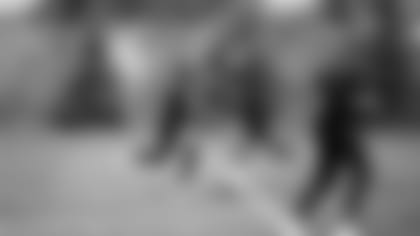 When Cook arrived at Twin Cities Orthopedics Center last spring for workouts, he noticed the box of socks had been, labeled, returned to the back of the room and shelved high and largely out of sight.
"Adam comes and tells me, 'Yeah, there's a shortage on your socks,' " Cook said.
"I was kind of in a panic," he added.
Groene detailed the dilemma:
"Through the years, that's been Dalvin's sock. We had a good supply of them, but last year I noticed we were running low," Groene said. "But when we called the company, they don't make that sock anymore."
Groene leapt into action, making sure no other players delved into the precious supply.
"Justin [Jefferson] had started wearing them a little bit, but then when we found out they don't make them anymore, I pulled them off the shelf. I was like, 'Sorry, Justin,' " Groene quipped. "It wasn't his thing, like it is Dalvin's."
So now, the endangered sock species is stored away and managed strictly by Groene.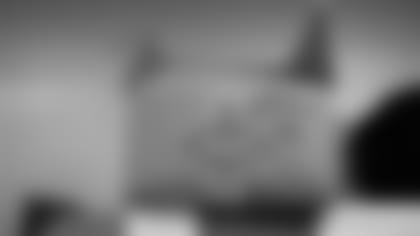 Cook receives a new pair of socks for every game day. That pair then gets re-used for warmups of the next game; and finally, the pair is retired for practice use only.
"They're on a loop," Cook said, smiling.
"He'll wear socks with holes in them to practice just so he doesn't run out," Cousins added. "Dalvin's socks just make me chuckle … he's consistent, though."
Groene probably never thought "Official Sock Rationer" could be added to his résumé, but Groene has been willing to go the extra mile for players since he started with the Vikings in 2005.
"For any guy that has specific preferences, we just want to make sure they're set in the way they want things done," Groene said. "If you can do that, great. There are times where you can't, and then you try to find the alternative for them.
"It's something that you kind of pride yourself on, that you can handle business and make sure they're able to do their job," he added. "It feels good to see them succeed."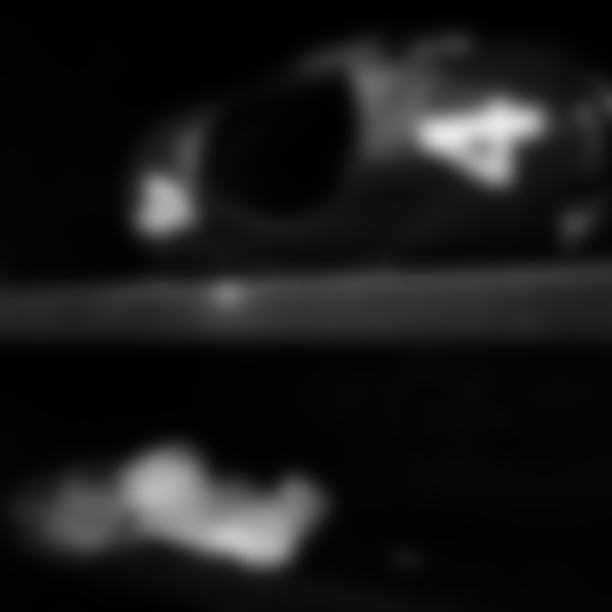 Cook, of course, isn't the only player in the NFL who knows what he likes and sticks with it. Far from it, actually.
According to Groene, vets in the league typically have more specific uniform requests because they grew attached to an older model of something.
"They might only want to wear a certain type of cleat, or they'll only want to wear a certain type of glove. There were many years where you had o-linemen who only wanted to wear one glove, and they stopped making it," Groene said. "And then there's wide receivers who only wanted to wear one style glove. Well, they stopped making that one and went to a newer style, and they don't like it. So we have to go find the older style.
"There's also other equipment guys in the league who are also trying to find the same stuff – they're having the same problems with different vets," Groene laughed. "They're trying to improve on the cleats; they're trying to improve on the socks. But once a guy feels good in something, he doesn't want to change because it just feels right."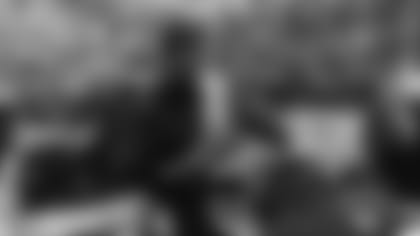 Being part of an equipment staff could appear to be a thankless job. And sometimes, it is. But players all throughout the locker room are incredibly grateful for the Vikings crew.
"They're behind-the-scenes people who just get the work done. If you picture a house getting built – the people who did the dirty work to get it up – those are my guys," Cook said. "I treat them like brothers. Much respect. I come in and they're the first people I see. … They make everything about work so special. And me and Adam [Groene] have that connection because that's my hype guy with these socks right here."
Cousins feels similarly. While he may not be facing a sock scarcity, he's supplied with the types of gear he prefers.
The quarterback is particular about the compression shirt he wears under his jersey. He wants the sleeves to go down to the elbow – not a short-sleeve, and not three-quarter-length – and appreciates that his preferred shirts are always available.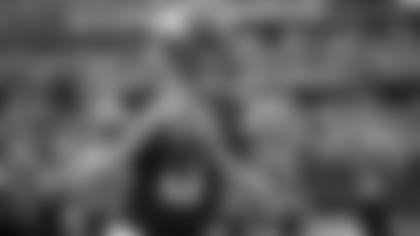 "Then the way I wear my socks [and] my tights – I pull a long sock that does not have a bottom to it, so it's just the tube sock, over my shins … then I put my socks on, my regular socks, so it can feel more normal. That's just the way I do it," Cousins noted. "I wear a little shin guard in my left ankle under my sock, like a soccer player would, just because I've been kicked and cleated so many times in my lead leg, where I throw, that I thought, 'You know, I'm just gonna put a shin guard there.' So I've been wearing a shin guard there for about five or six years, and it's worked really well in protecting me.
"The one thing is, once I find something that works, similar to Dalvin, I like to be consistent with it and not change," Cousins added.
Cook said he's thankful for Groene "dealing with my sock situation" daily.
"I thought it was interesting how he has a system. I thought that was the coolest part … It's pretty good," said Thielen, who is quite particular about his gloves and cleats.
Asked if Cook could manage his own sock inventory, Thielen laughed.
"Oh no, no, no. No chance that he would be responsible enough," he good-naturedly quipped of his teammate. "I just don't think he would have the ability to – he's not gonna keep them at his house, he doesn't have enough room in his locker – but it's good to have the equipment staff taking care of that."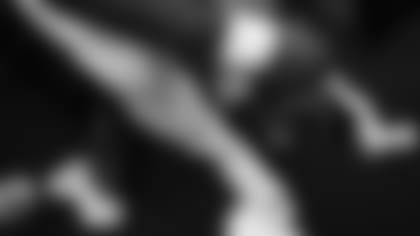 Cook never expected something has simple as socks to garner this much interest, but he's pleased to discuss what makes his feet happy.
"Adam and Kirk and J.J., those guys really peeped what I was doing," he said. "We just got into it, how I rotate my socks, the communication me and Adam [Groene] got, and it was just kind of funny to where my socks meant so much to my performance."
Some might think they're just socks; but to Cook, they're more than that.
He referenced Like Mike, a 2002 film starring Lil' Bow Wow as 14-year-old Calvin Cambridge dreaming of making it to the NBA. When Calvin happens upon a mysterious pair of old sneakers inscribed with faded M.J. initials, he laces them up and (you guessed it) finds himself playing alongside the likes of Allen Iverson and Dirk Nowitzki.
For Cook, it's his shoulder brace and socks that act as the ratty shoes that may or may not have belonged to Michael Jordan.
"But I feel like these are more important than the brace," Cook laughed, holding out the pair of socks being packed for Minnesota's trip to Washington. "You ever see Like Mike? When he lost his shoes? It's like the same thing. I need my socks. They make everything so perfect."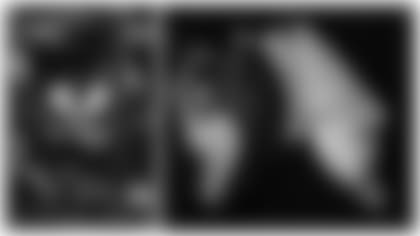 Which means it doesn't matter if they don't necessarily fit with all the latest fashion trends.
No-shows. Mid-calf. Quarter. Knee-high. Low Cut.
It's a lot to keep track of, but Thielen stays on top of it – and keeps Cousins in the loop.
"We kind of explained the progression of sock lengths to Kirk," Thielen said. "Now it's kind of the quarter that's in. … Unless you're Dalvin, of course."
Wait, why does he get an exception? Because he's Dalvin Cook, of course.
Cousins admitted he found himself confused after the style lesson from Jefferson and Thielen.
"When I was asking Adam and Justin, 'Well, you told me that I shouldn't wear my socks like this, but Dalvin kind of wears them like that.' And they said, 'It works for Dalvin; Dalvin pulls it off. Not for you,' " Cousins recounted. "So sometimes it sounds like the fashion rules can be arbitrary but also based on the person.
"It's become Dalvin's look," Cousins added, smiling. "I mean, I've just come to know him as the guy who wears the white socks halfway up for every practice, and then he just pulls the tights over them for games. If he ever did go out there in low-cut ankle socks, he wouldn't look like Dalvin to me."