To the eyes of many, Robert Smith has it all.
A first-round NFL Draft pick, two-time Pro Bowler and member of the 50 Greatest Vikings, Smith played eight seasons for Minnesota before walking away from football on his own terms.
He's excelled in academics, authored a book published in 2004, has appeared as a guest on ESPN's Outside the Lines and currently works alongside Chris Myers as a FOX Sports NFL analyst. Above all else, ask Smith his favorite role and he'll tell you it's being a dad of two.
But contrary to what an observer might believe, life hasn't been smooth sailing for Smith.
He recalls being a 7- or 8-year-old in his Euclid, Ohio, home saturated by substance abuse and domestic turmoil.
"A violent, addicted house," Smith calls it now. "With active drug use, drug dealing. The consequences? Prison, rehab facilities – for both of my parents."
Smith saw at a young age the impact of mental illness and addiction. He also watched his mother, who previously worked as a psychiatric nurse, in her field.
"In both ways – indirectly from her work and talking about it, to directly dealing with the stress of being in a household like that – I've just understood the importance of mental health," Smith told Vikings.com. "In every aspect of your life. From your general happiness, to work performance, to relationship health. All of those things, it's just so important.
"Anytime I have an opportunity, especially to talk to young players about it, I think it's crucial," he added.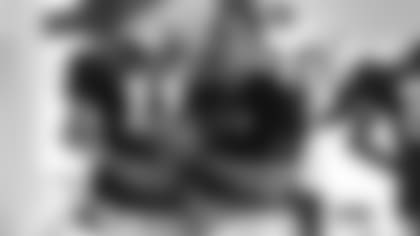 Smith last week visited Twin Cities Orthopedics Performance Center to speak to current Vikings about mental health awareness, addiction and navigating post-NFL life.
Vikings Team Clinician Brownell Mack helped moderate the discussion and spoke afterwards of its significance.
"I think it's incredibly compelling for current players to hear from a legend like Robert because he has clearly walked in their shoes," Mack said. "He understands the potential pitfalls of life in the NFL first-hand, and he generously offers ways to avoid them, which begins by accepting your vulnerability, setting down any belief that you can or should overcome adversity on your own.
"At the same time, Robert knows the journey for every player is unique, and his message encourages them to identify their purpose so their impact on the world can last well-beyond their playing days," Mack added.
Smith first opened up about his personal experience with addiction about a decade ago and has since been open about his journey to sobriety.
An important realization for Smith, and now messaging that he emphasizes, is that addiction really is a form of mental illness itself.
"The saying as an alcoholic, as an addict, is, 'It's not your fault, but it is your problem.' Like, it's something that you have to deal with," Smith said. "And I think the more people understand it's a [brain] chemistry, it's a mental and physical difference that you have from other people, so trying to outthink it, trying to just manage it, it doesn't work.
"I think the more people understand it's not something that goes away, and we need to treat it as an illness like cancer or diabetes, something that needs some outside interventions that people are more comfortable seeking out, [it helps] living the solution," Smith added. "Because there isn't 'finding' a solution. You don't get cured of it. It's something that you live with."
Acknowledging his dependence on alcohol and the mental hurdles he faced was a major step in Smith's recovery.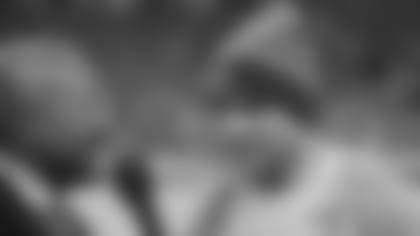 He noted there are many sayings around addiction, but two things stand out most to him: (1) you have to surrender to win and (2) if you want to maintain recovery, you've got to give it away.
"You're [accepting] the notion that it's not something you can handle on your own," said Smith, who further stressed the importance of "giving away" recovery in the form of educating and opening up about personal experience. "That's really powerful. Because it keeps it fresh in your mind, and you're helping other people. You're getting out of self … which is the ultimate problem with addiction. It's ego."
Though stigma continues to exist around mental illness, Smith has been reassured by the changing tide over the past several years.
The light shined now on mental health advocacy and resources is drastically brighter than when Smith played in the league (1993-2000).
"I've been encouraged with the changes that I've seen, in [seeking help no longer seen as a weakness]," he said. "I think it helps if people think about it in reverse – that happier, healthier athletes make better athletes. You make better students, you make better husbands, you make better fathers. All of that. So having a way to kind of change the narrative, I think, has been extremely helpful.
"People are more open to talk about it. And even if they're not talking about it, they're still more comfortable seeking the help – which is the important part, right?" Smith added.
He pointed out unofficial mental health ambassadors throughout the league, from Dak Prescott and Ryan Tannehill to Eric Kendricks and C.J. Ham, who have openly talked about mental health and utilizing therapy.
"I'm sure so many people, you have millions of fans, and somebody said, 'Wow, if they're talking about this, then I don't feel so bad going to seek the help,' " Smith said. "You could literally save a life."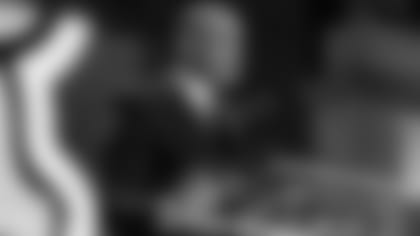 Smith's message to the team is, of course, not the first time the Vikings organization has provided mental health resources.
The topic continues to be an area of focus for players, coaches and staff, and Smith is grateful that's the case. He complimented Vikings Owners Mark and Zygi Wilf, as well as General Manager Kwesi Adofo-Mensah and Head Coach Kevin O'Connell, for fostering a culture that prioritizes the whole self.
"People will get into coaching for a number of different reasons, but I think the very best coaches understand that a good coach makes you a better player, and a great coach makes you a better person," Smith said. "Looking at everything that you do in and out of the meeting rooms and on the practice field, that's what it's about. It's about developing people, not just building better athletes, [and that's what Coach O'Connell is doing]."
Smith doesn't take his opportunity in front of the team for granted.
You never know how hearing it from another perspective, especially one of an NFL Legend, will drive the point farther home. It also reminds people that no matter someone's perceived success, background or experience, it's nearly impossible to know what that individual may be going through or might have overcome in their past.
"In forums about mental health, like the conversation we had with the team last week, I make the point that there is often a large gap between what we think we know about people and what they have actually experienced in their lives," Mack said. "Robert's story is an illustration of this fact. We readily recognize his gifts, his charisma, his intelligence, his athletic prowess. He's someone who would appear to have the world on a string. Yet as thousands of people cheered his excellence on the field, he was suffering quite privately with the emotional consequences of childhood trauma."
If Smith can make any level of impact by sharing his personal story, he'll continue to do so.
He believes it "makes a huge difference" to hear from someone who's traveled the path ahead of others.
"I think it's even more powerful for them," Smith said. "And of course not everybody's going to get it. It's the nature of the beast. It's human nature, right? But just one. That's the goal. Just imagine one life. One life improving. One family living happier. One child growing up more peacefully because the message was delivered. That's all we can hope for."