On this Martin Luther King Day, we remember and honor transformational Black leaders who fought social injustices in their communities. @allsquare's Randall Smith left a legacy that will continue to impact generations.
After every game, win or lose, Eric Kendricks knew the text message would be waiting for him.
The correspondence from Randall Smith was always there. Whether it followed a thrilling win or crushing loss, the tone was usually the same from a newfound friend.
"Randall texted me after every game [for the past year or so]," Kendricks said. "Me and him got closer over the years.
"He would text me after the game and say, 'Good job,' or 'Get 'em next time.' Just something nice and encouraging," Kendricks added. "I have a couple people who text me after games, and he ended up being one of those people."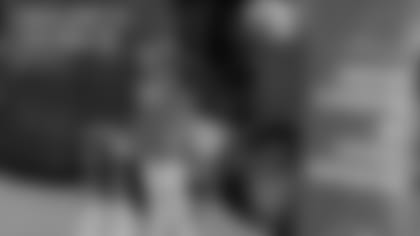 Kendricks misses those texts. And he misses his friend, too.
Smith was shot and killed while sitting in his car in downtown Minneapolis in mid-November. The father of two was 41 years old.
His passing was a crushing loss for those who knew him, especially for friends that became like family at All Square, the Minneapolis nonprofit social enterprise that includes a craft grilled cheese restaurant, professional development institute and blossoming Civil Rights law firm.
Smith helped found All Square's Fellow & Fellow Alum Fund, which supports formerly incarcerated individuals in their efforts to rejoin society.
Kendricks first connected with All Square in November 2019 when he and teammates visited to listen and learn from the challenges that formerly incarcerated individuals face when they try to rejoin society.
Further moved by the murder of George Floyd in May 2020, Kendricks strengthened his efforts to promote social justice, which included forming bonds with All Square fellows shaped by Smith.
The news of Smith's tragic and sudden passing hit the Vikings linebacker hard, especially during the middle of a stressful football season.
"I was obviously shocked. It was upsetting, but it was also kind of hard for me in the sense that we were in the thick of the season," Kendricks said. "It seemed like everything kept moving around me and I had to stay focused on football and things like that … I couldn't really put as much time into that as I wanted to.
"It wasn't advantageous for timing, and obviously you can't expect the timing to ever be good," Kendricks added. "It was just messed up, you know?"
Kendricks had just seen Smith in person a few weeks earlier, when Kendricks surprised Smith and his co-workers with a hefty check for $150,000 for the Fellow & Fellow Alum Fund from the Vikings Social Justice Committee, of which Kendricks is a member.
Smith later revealed All Square would make a sandwich in Kendricks' honor (something they did in November), but Kendricks had one final surprise for his friend: a pair of tickets to Super Bowl LVI at SoFi Stadium in Los Angeles on Feb. 13, 2022.
"Randall, shoot, I've known you for a few years now," Kendricks said in late October. "You're a leader, man, for real. And we want you to keep it up."
It took Smith, who served as the Community Director for All Square, a few moments to catch his breath.
"I usually have something thoughtful to say," Smith said. "But this is pretty incredible.
"I never envisioned we would partner up with the Vikings or anything like that," Smith added. "At first, [All Square] was something small. All of this is just a blessing."
Smith also commented on his growing friendship with Kendricks.
"I'm grateful for you and for All Square and the partnership that we've developed," Smith said. "It means a lot to me, for real."
That partnership between Kendricks and All Square has continued, even in the wake of Smith's passing.
Kendricks recently hopped on a video call with another surprise for four people Smith held near and dear to his heart.
"Obviously, we lost one of our brothers in Randall, and we had invited him to the Super Bowl," Kendricks said. "In his honor, we wanted to invite you four in his place.
"I think he wouldn't have it any other way to honor him and his legacy that he left on all of us," Kendricks added. "It's not under good circumstances, but we're going to make the best out of it and honor him."
The quartet who will instead attend the Super Bowl are Onika Goodluck (All Square's restaurant manager), Sara Stamschror-Lott (All Square's Wellness Director), John Goeppinger (an attorney at All Square) and Kevin Reese (one of Smith's close friends and a member of Until We Are All Free, a local human rights organization).
Smith had a deep and personal relationship with each of them.
"This is who I want representing All Square [at the Super Bowl]," said Emily Hunt Turner, the organization's founder and CEO.
Kendricks said that Smith's passing "no doubt" will inspire him to continue to advocate for change in the Twin Cities community, whether it be at All Square or elsewhere.
It was Smith who helped present Kendricks with a custom jersey in the fall of 2020 that announced he would be the Vikings Community Man of the Year and also nominated for the Walter Payton NFL Man of the Year Award. (Kendricks, by the way showed up with a check from the Social Justice Committee for $250,000 that day).
In a way, there was something about surprises — and making a difference in the community — that drew Kendricks and Smith together.
All Square shut down for the month of December to grieve Smith's passing. But its work will continue, and it will be as important as ever to keep Smith's legacy alive.
Kendricks said he isn't going anywhere, especially after the passing of his friend. If anything, he's more motivated than ever to help All Square continue to thrive and grow.
"I just want to be there for them. They are a great organization," Kendricks said. "I think the impact that Randall left on that organization is felt.
"He was there, he was working. He was a huge part of their story and their success," Kendricks added. "I think, for them, it's carrying on his legacy and understanding they are doing the right work, the kind of work that needs to be done but also isn't necessarily the easiest kind of work. But it has to continue."