Twelve-year-old Eddie Yarbrough couldn't be bothered with frivolous after-school affairs.
Invites for video-gaming or weeknight sleepovers often were declined, as Yarbrough had his sights set on just one thing: making it to the NFL.
"I can remember being in middle school and people being like, 'Eddie, let's go do this' or 'Let's go do that.' And I was like, 'No, I can't do that. I've gotta get to the League, and I don't think this is gonna get me there,' " Yarbrough recalled. "Kids are like, 'Dude. It's a random Wednesday.' … I'm like, 'No, I can't do that. I've gotta set these habits now.'
"That was my goal: 'I won't stop until I get there,' " he added.
Not cocky, but confident. The latter is a quality instilled in him at a young age by his parents – both of whom work in law enforcement in Colorado – and his uncle, Raymond Jackson, who spent six seasons with the Bills and Browns.
Yarbrough remembered attending youth football camps where coaches cautioned youngsters of "slim-to-none" chances of ever playing pro. But the low likelihood truly didn't compute for him.
"Thinking back to that, instead of my parents or my uncle saying, 'Well, that's kind of far-fetched. I don't know if you're going to be able to do it. We'll see.' No, without even blinking their eyes, they said, 'A hundred percent. You've got this. It's going to be hard. You're going to have to work for it,' " Yarbrough said. "Having that wind beneath my wings from my parents, it made all the difference.
"After having that conversation with my dad, which I think probably was elementary school," he continued, "you could have asked me in fifth grade, seventh grade, 10th grade, 12th grade, sophomore year in college, 'Hey, Eddie, what are you going to do?' [I'd answer,] 'I'm going to play in the NFL.' "
---
---
Full Support for Unified Sports
Eddie maintained that laser focus, and very few things vied to share his attention.
A student and standout athlete at Grandview High School in Aurora, Colorado, Yarbrough caught wind from a few peers and the assistant principal of the idea to become a Special Olympics Unified School.
This time, Yarbrough didn't turn down an invite.
"I was like, '100 percent. Let's do it,' " he recounted.
As one of the school's star competitors, would Yarbrough have the time and capacity to commit to such a program?
"I'll make time," he told administrators. "This is bigger than Xs and Os or film on a Sunday."
And so, Yarbrough helped Grandview establish the Unified Sports program to help break down barriers that separate students with and without intellectual disabilities.
He recalled anticipating the positive impact such a program would have on students facing unique needs and challenges.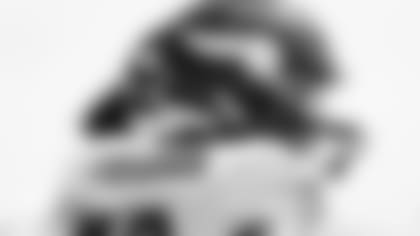 What he never quite expected, though, is the way it would change him.
"Selfishly, I think I got more out of it than they did. It was just so fun and rewarding," Yarbrough said. "In high school, I've made plays in football games. I've had the crowd go wild after a touchdown or a big sack. But for my guys like Sugar Shane, Monjou, Marcus – my guys like that were never afforded the opportunity to hit the game-winning shot or to have the community go crazy for them, so [it was incredible]."
Heading into Grandview's first Unified basketball game, Yarbrough and the other organizers made sure the experience would be as authentic as possible – regular jerseys, a running clock and scoreboard – "the whole nine," he noted. Even so, they assumed parents of the athletes and possibly a few friends would make up most of the crowd.
They couldn't have been more wrong.
"The whole community came out. It was [like] an all-state, double-header game – packed. And I think the final score was, like, 12-9," Yarbrough laughed. "But if you would have heard when one of those shots went in, you would have thought we won the natty. It was insane. But oh, it was such a phenomenal time."
It's clear that Yarbrough has a heart for this special community of individuals. The passion, he said, began as a middle schooler who regularly fell victim to bullying.
"I told myself, 'If I ever get to the point where I can be king of the hill, I will be sure to let people who don't necessarily have a voice, people who are maybe overlooked, I will never stand by quietly," Yarbrough explained. "I heard 'unified,' and I was all-in."
---
---
What you do for other people
He gradually became more and more involved, not only within his school program but with the Special Olympics organization as a whole. He participated in multiple events as a linebacker at Wyoming where, just like he did in high school, Yarbrough strived to make everyone he came into contact with feel seen and valued.
His intentionality with those around him – Special Olympics-related or not – does not go unnoticed, as evidenced through a recent Tweet DJ Johnson posted of his son.
Snapped in 2013 following Wyoming's 56-23 defeat of Air Force, the photo depicts Yarbrough and his teammate, Sonny Puletasi, who stopped to chat with 10-year-old Andrew.
Now seven years later, Andrew has accepted a full-ride scholarship himself to play for the Cowboys he grew up admiring.
"For the players to take that time out, a lot of them don't understand the influence that they have on younger kids. But those kids literally dream about being them and playing on the field," DJ Johnson said. "That's why I really like that picture of Eddie. Andrew worked so hard to earn a scholarship and then get rewarded with a full ride to Wyoming. It's like his dream come true. It's really come full-circle."
A simple social media post further emphasizes Yarbrough's motivation behind it all.
"You've got to think, in that moment, just taking the time to be present and to have that exchange with him after the game, it made all the difference," Yarbrough said. "It takes me back to literally one of my favorite quotes: 'People forget what you did, but they'll never forget how you made them feel.'
"If for those five minutes, 10 minutes, that I gave that kid – [seven] years ago – that's what makes it all worth it," he added. "Because at the end of the day, it's about what you do for other people, not what you do for yourself."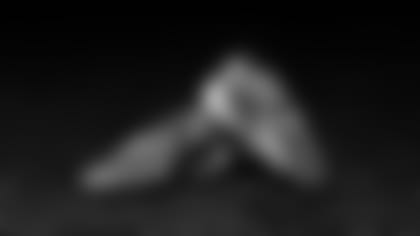 ---
---
Making the League and making a difference
He carried that same mantra throughout his NFL career.
Yarbrough's commitment to Special Olympics and bettering the lives of others has remained strong, even throughout the ups and downs of his career path. The dedication that 12-year-old Yarbrough showed to his NFL dream equaled the dedication level and drive of 22-year-old Yarbrough.
Out of Wyoming, he signed with his home-state Denver Broncos as an undrafted free agent in May 2016 but was waived in September. That whole next season, Yarbrough didn't receive any tryout offers from teams.
But he didn't give up. He couldn't. This was his dream.
On Sept. 10, 2017, Yarbrough met his childhood goal, playing for the Buffalo Bills and recording three tackles on 11 defensive snaps. He played in all 16 games that season, making six starts. He spent three seasons with the Bills, and in December 2019 the Vikings signed Yarbrough off of Buffalo's practice squad.
After going through Vikings Training Camp this summer, he officially made the Vikings 53-man roster, a victory he documented in his journal.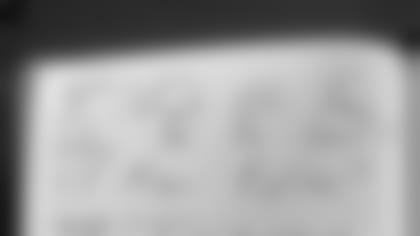 Minnesota waived Yarbrough in October and re-signed him to the practice squad. And while his ultimate goal was always to return to the active roster, he consistently wore a signature smile daily and has been just as involved in the community as ever.
As he said, it's really about the people.
"It's all about giving back. At the end of the day, I could have 100 sacks in a season. But in 12 years, 10 years, truly – who's going to care?" Yarbrough said. "But if I can affect 100 people's lives, or even 10 lives … If I can change their circumstance for a day … that's worth more to me 60 years from now than having 100 sacks in a season ever would.
"I think that's truly why I'm so passionate about it," he added. "It's just part of me now."
Yarbrough hasn't let the COVID-19 pandemic and ensuing restrictions slow him down. He joined the Vikings Kids Club Virtual Halloween Party last month, as well as filming a video message for participants of a Special Olympics Punt, Pass, Kick challenge. In September, he helped host a virtual Bingo event with 40 Special Olympics athletes.
"I was really just doing the color [commentary] for it," said Yarbrough, who also fielded questions from the young people. "We were calling out numbers, and then when somebody would hit BINGO, I would lose it. … I get easily excited. Especially in Bingo.
"Who doesn't like Bingo? It's like hitting the lottery but just a little bit smaller," he added with a laugh.
Yarbrough's involvement with Special Olympics, for which he now serves as a Champion Ambassador, has helped him see athletics from an entirely different perspective. It's easy, he noted, to complain about a difficult practice, decreased playing time or a roster move. But friends he's made through Unified sports, such as his pals Dalton and Sugar Shane – "his name's Shane, but I call him Sugar Shane" – have taught him to see the beauty in the smallest things.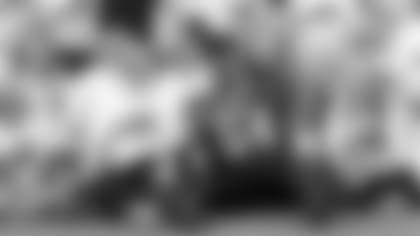 "When my guy Dalton made a layup, you would have thought he won the Super Bowl," Yarbrough said, smiling. "I could make 100 layups, and I'm still like, 'Man, I missed three shots.' Or, 'Man, I'm not the starting point guard.' It puts into perspective how truly blessed you are.
"I still carry that with me today. Even though the circumstances might not be exactly how you want them to be, it might not look exactly how you want it to look, you still have a seat at the table. I'm still able to participate. To lace up my cleats. To go out there and have fun," Yarbrough continued. "As [Bills linebacker] Lorenzo Alexander used to say, 'We get paid a king's ransom to play a child's game.' To take that mentality – 'Man, there's people who would [give anything] to be in the position that you're in, to play one down of your sport – it would be an injustice to not carry that lesson or that perspective with me in my everyday life."
It's a mindset hard to miss if you spend any time with Yarbrough.
His carefree, unassuming demeanor comes through even during a FaceTime interview that stretches to nearly 45 minutes. He's relaxed and conversational throughout its entirety, on several occasions leaning back and letting out a hearty laugh. He wears a black baseball cap emblazoned with simple white text – There is no magic pill – designed from the hat LeBron James wore after winning the 2018 Eastern Conference Finals.
There is no magic pill, but perhaps for Yarbrough the closest thing is his authentic, positive attitude for which he credits his parents.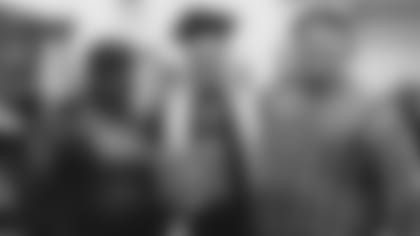 "I would say it comes from an array of places, but [my family is so upbeat]," he said. "With my mom being a police officer and my dad working for the feds in Denver, just seeing how hard they work [inspires me].
"And I've always just been a guy that sees the glass half-full. Especially in this crazy thing called life, you never know exactly what's going to happen or for what rhyme or reason," he continued. "But what I've learned in life is, as long as you've got a positive outlook or put a positive spin on it, you're going to be better off than the other half that's sulking or sad or is 'woe is me.' "
Yarbrough admits that 2020 – with societal unrest, racial injustices and a worldwide pandemic – has managed to test his attitude at times.
But still, he finds the silver linings.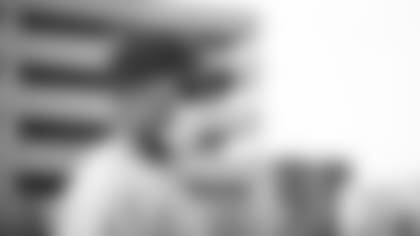 "People are having extra time to be at home with their families. For me, having some time to sit back and reflect. Time that I wouldn't have otherwise because you're [always running]. So just putting that positive spin on it," he said. "It's been challenging, definitely, but it's kind of ingrained in me now to always put that best foot forward and always just think, not necessarily that it can be worse but, 'I'm blessed in the place that I'm in, and I'm grateful to be in the place I'm in.' "
On Saturday, the Vikings elevated Yarbrough to the active roster.
He recorded three tackles in Sunday's overtime win against Jacksonville, including a third-quarter stop of rookie running back James Robinson en route to a Jaguars punt.
Perhaps fittingly, the outing also provided Yarbrough the opportunity to showcase his custom-designed Special Olympics kicks for the NFL's My Cause My Cleats initiative.
Eddie Yarbrough, defensive end for the Minnesota Vikings.
But he's so much more than that. He's an advocate, a friend, an encourager. He's a ukulele-playing, travel-loving fisherman.
While the pandemic thwarted Yarbrough's 2020 tourist plans, his favorite trips thus far have been Toronto ("a true melting pot") and history-filled London.
"I'm just a sucker for – if we're on a walk together and there's a plaque, I'm going to stop and read that plaque," he quipped. "It could be about nothing; it could be about why the sky is blue; but I'm going to stop and read that plaque."
On his bucket list are destinations like Greece, Spain, Italy – he blames two older sisters for falling in love with the rom-com Under the Tuscan Sun – and Brazil.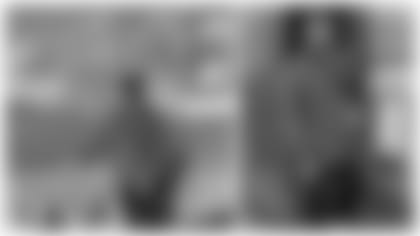 He loves to fish, and he loves live music. He's an old soul, he'll tell you; don't waste his time with a night out "just to talk."
"I'm a huge jazz guy. Huuuge jazz guy," Yarbrough said. "Live jazz, some saxophone. Any instrument. Live jazz? You could just leave me there for the rest of my life, and I'll be happy."
And as for the ukulele? Just one more example of his relentless nature. Growing up, Yarbrough always wanted to learn an instrument, and every December "probably until seventh grade" he topped his Christmas list with a drum set.
"Every single year, No. 1 on my list was a drum set. Not like a little fake one – no, I wanted a real drum set. I never got a drum set," he said, pausing for effect, "Ever."
But several years later, Yarbrough finally learned a musical instrument thanks to his Wyoming teammate, linebacker Siaosi Hala'api'api, who played the ukulele.
"I was like, 'Dude. That's sick. You have to teach me how to play.' And he told me, 'No.' But I'm a very persistent person," Yarbrough said. "Eventually, I finally got him to give in … So yeah, he taught me how to play. And I've been playing since 2013. You could almost say I'm a veteran of the ukulele."
The name of the game for Yarbrough is persistence.
Whether learning the ukulele, making it to the NFL or continuing to live out his dream while impacting the lives of others, don't ever count him out.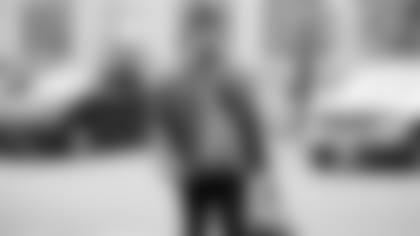 As the Vikings head into the final stretch of their season, Yarbrough says his approach is always the same.
"It's to always be a thermostat and not a thermometer … There are going to be highs, lows, the ups and downs of life. But the way I'm built – and really, the way I was raised – is that you try to be the most consistent person you can possibly be," he said. "Consistency breeds excellence. If you're going to be happy, upbeat, smiling, go the extra mile, put your best foot forward every day during the good times – you have to also do that same thing during the bad times.
"Every single day, I'm going to wake up, put a smile on my face and really try to take advantage of the day," Yarbrough continued. "Everybody wants to have that story, that fairytale where everything's always perfect and gravy, but me being an undrafted guy and kind of a blue-collar guy, sometimes that's not the case. But as long as I keep working hard, keep putting my best foot forward, something great's going to come out of it. That's always been my mentality, so I'm going to stick to it."