Entering his fifth NFL campaign, Vikings running back Dalvin Cook has 33 rushing touchdowns in regular-season games to his name – and to match his jersey number.
Cook is a student of the game and no stranger to film study; but the goal is usually to better prepare for an opponent. Vikings.com, however, got Cook to run it back and self-critique all 33 scores.
Cook settled into one of the roomy, leather chairs in the team's theater-style meeting room, and the lights dimmed. He smiled in anticipation, grin glinting in the video screen's soft glow and video-production lights.
The only thing missing was popcorn as he reviewed the past four seasons.
Cook reminisced, reflected, and he laughed – a lot.
The first touchdown occurred in Week 3 of 2017, against the Buccaneers. It's an important play that will forever remain in Cook's memory – and partially because, had he made it a yard further the previous week, he would have been starting with a score at Pittsburgh.
In Week 2, Cook had run up the middle, cut sharply right, sprinted, cut back to the left and dove into the end zone for his first NFL touchdown. … Except, it wasn't.
The 25-yard play was reviewed, and slo-mo playback revealed that Cook, grasped at the ankle by Steelers safety Sean Davis, had indeed touched a knee to the grass short of the goal line.
On the very next play, it was instead Vikings fullback C.J. Ham muscling his way across the white line for six points.
It was Cook's second NFL game but the rookie's first "welcome to the NFL" experience.
"I was thinking, 'If I was in college, they would have just given me my touchdown," Cook said. "That's how I knew I was in the NFL at that moment. Like, 'Give me the touchdown.' But I didn't mind. If it would have been a jump ball or something like that, I would have been mad. But giving it to C.J., that was special.
"But that was my wake-up call to the NFL," Cook added. "Everything gets reviewed. The little things matter. That's how I knew I was in the league. It was fun."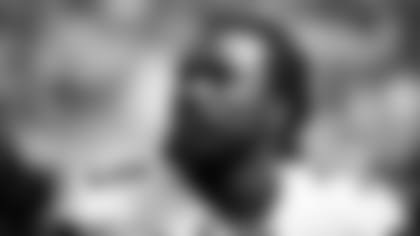 Although the next week's play also was scrutinized before finalized, Cook was credited with his first NFL touchdown.
Former Vikings guard/center Joe Berger was on the field when Cook scored after stretching over a pile of Tampa Bay defenders.
"I think we all recognized it would probably be the first of many," Berger recalled.
Even from afar, Cook caught the attention of players across the league – including Seahawks All-Pro linebacker Bobby Wagner, who at the time was a five-time Pro Bowler (that number has now increased to seven).
Wagner didn't play against Cook until 2018, but he already knew plenty about the former Seminole.
"The first thing to me that stood out was the … way he was hitting the holes. When he saw a hole and hit it, it was almost like you did not want him to get a full head of steam, or it was over," Wagner told Vikings.com. "Just his vision, the way he was reading the blocks and hitting the holes and kind of pulling away from guys when he turned up the speed was something that stuck out.
"You're watching him hit the hole and watching him change games and change momentums, the way he was running the ball," Wagner later added. "And you could definitely tell the team really fed off of that."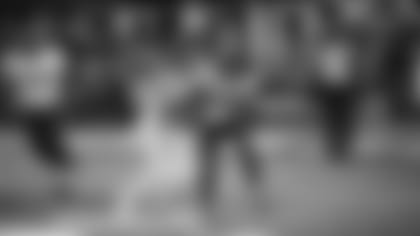 It's rare to run errands or visit a park or mall in Minnesota without seeing at least one person repping Cook's number. And at a grocery store the morning of a game? Many, many more.
Cook's impact on fans matches the impression he's made on Vikings teammates.
"He came in, and all he wanted to do was really work his butt off," former Vikings tight end David Morgan said. "He was a personable guy. He was a guy that hung out and stayed late; he was there early to … just talk about life. Just be a good friend.
"A good guy to listen to, talk to, hang out with – a good overall human," Morgan added. "He was such a positive leader and a character in the locker room. … "It's not about him. It's not 'The Dalvin Show.' He wants to bring everyone along. He wants everyone to have fun."
Vikings linebacker Anthony Barr recalled Cook's early days on the team.
"He was just really quiet. He was really about, just, 'work hard.' Most running backs when they're developing, in my experience, they're not practicing too hard – obviously because they take a lot of hits, so no fault to them – but Dalvin practices like he plays," Barr said. "He practices full-speed, and he talks his talk, too. … It makes us better as a defense to see that in practice every day."
Berger, a stoic and generally silent leader of Minnesota's offensive line room, also was impressed by the young Florida State star whom the Vikings drafted in the second round.
"He knew how good he was, but he didn't have to tell us. He waited until he got a chance to get on the field, and you could tell early on that he was special," Berger recalled. "I really appreciated that. … He didn't feel the need to come in with a big mouth and tell everybody about how good he's going to be. He just waited and let us see. And it was pretty evident pretty quick."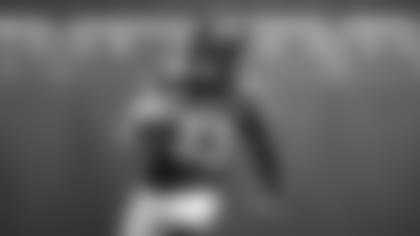 That's just who he is. From his first rushing touchdown in Purple to his most recent.
"I actually didn't know [I had 33]. If you asked me my career numbers, I actually wouldn't know. I wouldn't know one number," Cook said with a smile. "I don't count my [stats] – I just go play football. It's just fun playing this game. I feel like if you start counting stuff and adding stuff up, you're out of the [mindset] of playing football.
"I'm just here to help us win, to score touchdowns, to have fun and be Dalvin," he added.
Below are Cook's candid comments on his 33 career rushing touchdowns.
1. 1 yard vs. Buccaneers | Sept. 24, 2017
"Look at me. Look at me. Hold up. First of all, this is my first touchdown of my career. And I wasn't supposed to be doing this – diving over the pile. KP (running backs coach Kennedy Polamalu) had told me, 'Don't do it.' And I dove over the pile, and I thought I lost the ball. You can see me indecisive on the ground right here. I don't know if I scored or not. I'm nervous – just look. I'm nervous. I don't know.
"I'm like, 'This is my first touchdown. I can't …' Look at me. 'Did I score?' Touchdown. Touchdown."
What did Coach Polamalu say to you on the sideline?
"He asked me if I scored. And I told him, 'Yeah, I scored.' That was the first one. This one right here means a lot to me."
Morgan: "That sounds just like KP. That was our rule: Never extend the ball unless it's fourth down or end-of-game. … Dalvin was super excited. Scoring your first touchdown, there's really no feeling like that. … It's an overflow of emotion."
2. 5 yards vs Lions | Oct. 1, 2017
"Case [Keenum] motioned me in – this is the one where I jumped in the end zone. I remember this game. I got hurt. This is the game I tore my ACL. Time to jump! This is when we were cooking early, right there.
"That little celebration right there? Hold up, hold up. We've got to start this over. 'Get the pot ready; stir us up.' Let's go! I like that one."
Was that your first 'Chef' celebration?
"It was. It was kind of something we thought of – [Stefon] Diggs was like, 'Stir the pot. Stir the pot.' And then Adam [Thielen] was saying the same thing. So I'm like, 'Let me get the pot ready.' It was funny."
3. 13 yards vs. Dolphins | Dec. 16, 2018
"Playing the Dolphins always meant something to me. My home team – it always meant something to me. These touchdowns. … My brother and my mom were at this game. It was just one of those moments. My mom has only been to a few games because my brother plays [college football], so it was fun."
"It was my first [rushing] touchdown back from my ACL. It was special to me because when you're coming off an ACL, you're unsure what's next for you. You don't know what the next step is. 'Is football in front of me again? Am I gonna be safe?' You question a lot of things, and me going back out there and scoring a touchdown, it's kind of like a security blanket. Like, 'Yeah, you're good. You can play in this league. Let's go play. Just go be you.' So my first touchdown coming off that ACL was probably the most meaningful one."
4. 21 yards vs. Dolphins | Dec. 16, 2018
"This is probably one of my most creative touchdowns right here. … (Laughs, watching himself run into the end zone while holding up two fingers) … 'Deuces.' I miss those fans, man."
Morgan: "This game was just a testament to his faith and belief in himself and putting in the work and trusting that everything is going to come back. You see a lot of guys who come back from injury and are completely fine but are kind of timid when they get out there. He believes in himself as much as he can, and that's a positive thing. … It's one thing to just rehab and say, 'Oh, I feel good.' It's another thing to go strap it on in the NFL and go score two touchdowns after an ACL tear. It's validating. It truly is."
5. 19 yards vs. Falcons | Sept. 8, 2019
"Oh, yeah. Good block by Adam. Let's go! I got in trouble for this celebration. … The ref said, 'Don't you slap that goal post again, 33.'
"It's always fun when you get [Chad] Beebe making blocks, when you get Adam making blocks."
6. 7 yards vs. Falcons | Sept. 8, 2019
"Oh yeah. This is the one where Irv [Smith, Jr.] walked me in the end zone. Irv said, 'Follow me. Follow me. Follow me.' … Irv is my private escort right here. That's my boy. Irv? He's a blocker. And he's a [receiver]. When blocking means a lot to a tight end, that's how you know you've got a good one."
7. 75 yards at Packers | Sept. 15, 2019
"Sometimes when I break long runs and there's a safety – I don't know if people ever do this – I look the safety right in the eyes. And if his eyes are a little bit bigger than mine, he's in trouble. Or you get some guys who are just back there flat-footed and just looking at you. I got him, too, because I'm gonna run past him. It just depends. Before, three years ago, I probably would have gone up on the safety and just tried to give him a move. Now, it's just like, 'If he catches me, he catches me.' The odds of him doing it are slim. I'm just gonna try to run past him.
"Some of my runs lately, the past few years, that's what I've been thinking about. 'Don't give him a move. Just see if he can really bring you to the ground.' At that point, I know I'll be gone. And you've got to make up in your mind – don't get caught. 'Cause that's like, you're on TV and you get run down, people back home be calling your phone. And you're on Instagram and Twitter and stuff like that. We can't make those types of plays. We can't put that out there. That's bad film."
Vikings DE Stephen Weatherly: "Once he gets into his stride, there's not many guys on the D-line that can keep up with him or catch him. I don't know if there's many guys who can catch him, period, because there's guys in the secondary that can't catch him. You try to get him early and get him corralled, because if he gets out, he's out."
8. 1 yard vs. Raiders | Sept. 22, 2019
"Oh yeah, I remember this. They thought I didn't score. Crazy. Touchdown! Yeah, I scored this one. I knew I scored this one. This is one of those plays … we'd been calling all year. 'Toss Dalvin to the right, toss Dalvin to the left. Let him get to the edge. Let him make a play.' That was basically what we were doing that year. I had like eight touchdowns off of pitch plays that year. It was fun. Touchdown! Watch me. Touchdown – let's go."
9. 2 yards at Bears | Sept. 29, 2019
"We needed this one. We couldn't go out of there with a shutout. This was just one of those touchdowns where it's like, 'End of the game, we need it. We can't leave here without it.' Chicago was playing some good defense that game."
10. 1 yard vs. Eagles | Oct. 13, 2019
"Oh, this is the one where I throw the ball in the stands. … They sent me a letter, told me, 'Don't do it no more.' So I just started throwing it in front of the stands instead."
"No, they just warned me. They just told me, 'Don't do it no more.' "
11. 8 yards at Lions | Oct. 20, 2019
"Watch Irv. … Good block by Irv. He knew it, too. … Look at Irv out there. I knew I had scored that one. The next touchdown is the one that put it away."
12. 4 yards at Lions | Oct. 20, 2019
(Laughs and pauses the video during celebration)
"So look – Before the play, Rudy (Kyle Rudolph) was like, 'Man, if one of you scores right here, we're going to end the game, we're going to take a group picture.' And that's how it worked out. I scored, we took our little group photo, and life went on."
13. 4 yards vs. Washington | Oct. 24, 2019
"I'd never played in a Thursday night [game]. This was weird. … We were beat up that night.
"Just knowing where the end zone's at – and I always had a good feel for that, knowing where the end zone's at. But a lot of times I've got to be cautious of sticking the ball out.
"I like that little kiddie moment – B.O. (Brian O'Neill) jumping on the next offensive lineman, like 'You're how many pounds? You're 6-5, like, c'mon!' That's funny right there."
You often celebrate with your teammates and hand the ball to one of them to spike. Why is that important to you?
"It's fun. At first, they never knew who I was going to give the ball to spike it, so everyone was kind of like, 'Is he going to give it to me?' Now they expect it. 'Here comes the ball.' It's fun seeing them get that enjoyment. People don't realize, once we score a touchdown, the O-line has to get back for [the extra point], so they really don't get the chance to celebrate with us. So that little 10 seconds – or however many seconds it is – to get them the ball, if I can, it's fun just to see them be big kids, act like me. I act like a kid."
14. 2 yards at Cowboys | Nov. 10, 2019
"This one right here was a big play. Clock running down, 2 seconds, fourth-and-goal."
You didn't really get touched on that play.
"And they were all right there, too. They were right there. Check 'em out. They're all over there. … Yeah, let's go. That was a big touchdown right there."
Anything else that sticks out about that game?
"At the end when Zeke (Ezekiel Elliott) ran a little out route and [Eric Kendricks] knocked it down. What I remember from this game, because this was really my first time ever coming into this stadium and it being packed with fans, and me seeing the [mega videoboard] lit up, and I feel like Dallas does a good job of letting that be a distraction for a lot of players. It really was a distraction because you catch yourself looking up sometimes, the play's about to start or something. It's funny, man. Just being in that stadium, it's good vibes, but it's a fun stadium to play at. I wouldn't mind playing there – beating them again and sending them off. I wouldn't mind it. I liked it."
15. 3 yards vs. Broncos | Nov. 17, 2019
"Oh yeah, this is the game we came back in. This was one of those touchdowns we needed, to be honest, to put us back in the game."
"Scoring a touchdown, for me, it gets me going in so many ways. I feel like as a runner, once you get going as a runner, you feel the team get more [momentum]. That's what I'm saying."
16. 2 yards at Seahawks | Dec. 2, 2019
"This one, too. This is what I'm talking about – it's one of the same plays we were running. It's the same play we just ran against Dallas.
"Playing against the Seahawks, scoring anytime against the Seahawks is fun because you've got a linebacker like Bobby Wagner. He's so smart – calling the plays out before the game, before the snap, and doing all that – and just to go score, it's fun."
Wagner: "When he's on his game, I just think that helps [Minnesota] out a lot, period. You have to account for him. You have to put extra people in the box, [on] play-action you'll bite him a little bit harder because, again, you don't want him to go crazy.
"Preparing for him, every time we prepare for [the Vikings], he's definitely someone we lock in on and focus on, and try to make sure he doesn't have a good game. Or doesn't have that many yards. But again, how special of a player he is, he can have a game where he doesn't have a lot of yards but still finds a way to get into the end zone. He's definitely a dynamic player and somebody I have a tremendous amount of respect for."
17. 3 yards vs. Lions | Dec. 8, 2019
(Laughs) "This should be a toss to the right. Toss to the right! Told you. That year, we – there you go, gotta spike! Look at [Lions Head Coach Matt Patricia]! Look at the coach!"
18. 1 yard vs. Packers | Sept. 13, 2020
"We always knew Green Bay had a problem with stopping … that play. That was wide-open."
"He's scared of C.J. I would be too, really."
19. 3 yards vs. Packers | Sept. 13, 2020
"Oh yeah, I definitely remember this. … The Packers. I hate losing to the Packers."
"If we don't win, I don't enjoy it; but if we win, that's a thousand-percent plus. I never want to lose to the Packers ever again."
20. 3 yards at Colts | Sept. 20, 2020
"This was a good touchdown. But touchdowns like this one, yeah, it's good for my stats, but it's also good for us going into the next week. This game was over with, 28-3 [with five minutes left]. I feel like that was the only team last year that really dominated us [on offense]. … This was one of those touchdowns, like, 'Yeah, we're going to fight to the end.' That's the type of team we are. We're going to keep fighting, no matter what."
"Indianapolis did a great job of coming out with a good game plan."
21. 39 yards vs. Titans | Sept. 27, 2020
"Watch Irv Smith. Good block – that's all we need."
(Laughs) "Look at Conk' (Tyler Conklin) – Conk's like, 'I don't know how to dance.' "
That celebration wasn't planned ahead of time?
"I ain't gonna lie – that's why I stopped, paused and thought about it. And then I was like, 'Damn, just do something.' But if it's predetermined, you're really gonna know. When the celebration's planned, they're coordinated."
22. 5 yards at Texans | Oct. 4, 2020
"This is one of those games we needed to run the football. Just had to get going early in this one, and we definitely did that."
23. 7 yards at Texans | Oct. 4, 2020
"It was hard to defend this play. That was a good play."
24. 8 yards at Seahawks | Oct. 11, 2020
"Ahh, man. Scoring in Seattle is always fun. Always. Because of him – 54 (Wagner). He's the smartest man on the field.
Is he much of a trash-talker at all?
"Low-key. Like, so low-key. He's so low-key with trash-talking, but it's fun. He elevates my game."
Wagner: "I saw [that clip] – when we play each other, there's definitely some trash-talking, for sure, and it's fun. (Laughs). When you play against a guy like that, it raises the level of your game because you want to be on your game just as much as he wants to be on his.
"You can do a lot of things right, and he can still find his way to the end zone because he's that talented. Playing a dynamic running back like that is always fun, and I look forward to each matchup we have, for sure."
25. 21 yards at Packers | Nov. 1, 2020
"There I go! Look, let me pause this. I've always wanted to do this (the Lambeau Leap), my whole life. Once I realized that I was coming to Minnesota after being drafted, I started digging deep into the history of rivalries. It was the same thing with college. Once I went to Florida State, I dug deep into the Miami rivalry. Oh, man. The Lambeau Leap – this was all I needed, right here. It was on."
26. 1 yard at Packers | Nov. 1, 2020
"This was good. That's a Hammer (C.J. Ham) Spike right there. A Hammer Spike. He [basically] scored the touchdown. Yes sir."
"C.J. C.J.'s got it. … I ain't gonna lie, C.J.'s got it down pat. Garrett [Bradbury's] got a good spike. Now we've got to get some of these young guys to spike it now. That's the goal right there, Lindsey. Get some of the young guys."
Morgan: "He understands what it takes, and he respects and truly appreciates when guys in front of him are busting their butts like that. … Those O-line guys are never on the highlight film or anything like that, but for Dalvin to do what he does – he loves those guys up front. He loves the big guys, he loves the tight ends, he loves the fullbacks. Those are his brothers."
27. 1 yard at Packers | Nov. 1, 2020
"Oh yeah, I did score three times." (Smiles) "I remember on this one, Garrett was like, 'Come right behind me. Come right behind me.' … That was Ezra [Cleveland's] first spike, right there. Look at Garrett – oooo, Garrett got that thing wide open. He told me to follow him."
Berger: "Most offensive linemen don't necessarily need [the spotlight] in the media or vocally, but just to know that he respects what you do, understands the work that you're putting in so that he can be successful. And it's a two-way thing. He was also a guy that would make you look good. So he maybe would run over a guy that you missed. He wasn't in the media talking about that play – he was talking about how the offensive line worked well for him."
28. 5 yards vs. Lions | Nov. 8, 2020
"This is our former guy right here, 42 (Jayron Kearse). He's gonna try to make a tackle right here. Touchdown. Touchdown. Touchdown. … I knew where the goal line was at when I reached the ball out. I'm trying to see if the ref's on the same page as me. Like, we just did all this work, and you're talking about no touchdown? … That's just awareness right there. I like that."
29. 70 yards vs. Lions | Nov. 8, 2020
"We got our guy (Kearse) again. … Check out my boy (Ham). There goes my boy, coming to get his spike in. BOOM! I think that was probably one of the best ones of the year right there. … Ah, man, we gotta get us a couple more of these long runs again this year."
Did you say anything to Jayron?
"Yeah, me and Jayron had personal conversations."
Barr: "Man, Dalvin's the best one in the league, without a doubt. I think his vision and his patience, and once he sees where he wants to go, he gets there. He gets from A to B so quick – his acceleration to the hole is unmatched. Because those holes close up quickly, but he sees a spot before it opens, and he gets through it before it closes, and that's what separates him from the rest."
30. 1 yard vs. Cowboys | Nov. 22, 2020
"I got hit pretty hard right here. I broke my [face shield]. Look at it – it's broke. He (Cowboys DL Antwaun Woods) hit me pretty hard on this one. That's why I spiked it myself. I was mad. He hit me hard, this dude. He's gonna throw an elbow – watch him. Damn. But as long as my quarterback loves it, I'm good."
31. 1 yard at Buccaneers | Dec. 13, 2020
"This one was meaningful. They haven't really let anybody rush the football in there. So this one [was big]."
32. 1 yard vs. Bears | Dec. 20, 2020
"We don't like seeing Coach Zim' mad. Oh yeah, on this one, Garrett told me to follow him again."
Did you get banged up there?
"I mean, you've got a lot of stuff going on. You've got [Akiem] Hicks on me, a lot of stuff. A lot of people."
Barr: "I'm happy for all the success that Dalvin's had; he's earned every dollar, every yard. It's been earned, it's never been given."
33. 15 yards at Saints | Dec. 25, 2020
"This is a 'get big' touchdown. Get big. It's a statement. That sums all my touchdowns up. I try to make it a piece of art. All of my touchdowns are art. Just getting it to the end zone – there isn't no better feeling than that. And seeing the other team's reaction, just walking away, there ain't no better feeling in the world.
"That's why I like scoring touchdowns. And it just shows hard work. It shows the hard work of my receivers, my o-linemen. I like to celebrate with my guys, Lindsey. (Puts the remote down). And we're going to do a lot of celebrating this year."
What has it been like to watch every rushing touchdown back?
"It was fun. … You forget some, and then others mean a lot more to you. Then you remember some by the celebrations, or by some of the close games you were in. But I've never really gone back and seen all my touchdowns, so that was kind of cool. To see all the things that went on, all the touchdowns, and how much I called some of those touchdowns in my head just by seeing the formations or seeing who was playing.
"It's fun to see this. I wish all my o-linemen were here to see it, too. … We're just getting started here."