The popular Vikings series "96 Questions," hosted by former defensive end Brian Robison, is returning in 2023 for its final season. In honor of the grand finale, we're taking a look back at the show's success.
There was never any question who the host would be.
When Vikings Entertainment Network's Jordan Struck started brainstorming in 2014 about a new, player-driven content series, he knew immediately who he'd have to line up: Brian Robison.
Robison, the 2007 fourth-round draft pick with flowing locks and a gregarious personality, was a natural fit for the role. The Texas native had established himself as a favorite of fans, coaches and teammates; he'd already dabbled in on-screen work for Fox Sports North through a segment called "On the Job with B-Rob."
Struck approached Robison with the idea – a Vikings-centric series set in the locker room that pitched funny questions to players and generated even more humorous responses.
Slapstick humor with a stick mic?
Say no more. B-Rob was in.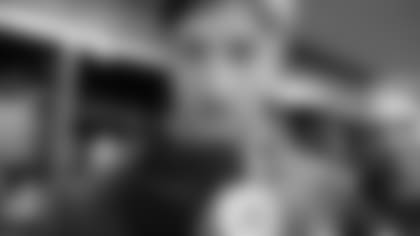 "He could do everything on camera. He was comfortable with it," Struck recalled. "He didn't necessarily have a ton of experience, but he got along with everybody. He was a lot of things to a lot of people. He could play well with the offensive linemen, and he could play with the defensive line and the DBs. He was just the all-around great guy."
And just like that, 96 Questions was born.
The show debuted early in the 2015 season, the pilot episode asking players how nervous they were for the season-opening Monday Night Football game. It generated some laughs and introduced the concept, but something was missing.
Robison called an audible. If the series was to be a success, it had to have a little more fun with the questions.
"The first few episodes, it started slow," Robison said. "We started out trying to do run-of-the-mill questions. Jordan and I had the idea to spice it up a little bit and have some of those off-the-wall questions that you wouldn't think to ask. We kind of ran with it that way, and it ended up being a huge hit."
"Who on the team can you best impersonate?"
"Which teammate is the biggest suck-up to Coach?"
"Which teammate was the ugliest growing up?"
"What's your guilty pleasure song?"
"Which teammate would you least like to date your sister?"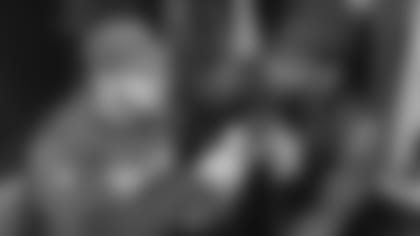 Some episodes toed the line a bit, giving players the opportunity to jab at a teammate. Responses were always in good fun, though, and players have emphasized the difference between true harassment – which wouldn't have been tolerated – and good-natured ribbing.
"We spend more time with each other during the season and during spring ball than we do with our actual families," Robison explained. "We have deep conversations, we have shallow conversations, we have political conversations. Real-life situations that face us every day that we can open up and talk to each other about, and we also joke with one another.
"At the end of the day, we look at each other as brothers. We look at each other as family," he continued. "That's what makes the locker room dynamic so special. I've said for years and years that if the outside world could just get a peek into how we live in a locker room, the world would be a better place. I truly believe that. We can pick at each other, and nobody gets offended. We can get into a fight with each other, and 30 minutes later we're laughing, joking, hugging.
"None of us looked at 96 Questions and got offended," Robison added. "None of us looked at it as bullying. We looked at it as something fun that we could relate with one another on."
In honor of the series finale planned for the upcoming season, we took a peek into that locker room to explore the history of 96 Questions.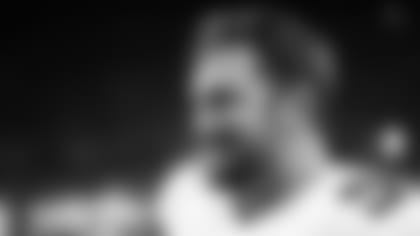 ---
---
What were your earliest impressions and memories of 96 Questions?
LB Anthony Barr: "At first when I realized what was going on, I was trying to avoid it because I didn't want to talk to him. … It was like, 'Ahh, I don't know.' I was still pretty young and trying to figure my way around. But once I did the first one … it became something I really enjoyed. So I made it a point, every Thursday, to be in the locker room at that time."
OL Jeremiah Sirles: "When I got there in September 2015, I didn't really know anyone, so I was like, 'Who's this random guy walking around with a microphone on Thursdays?' But as I started to get more of an understanding of the locker room and who B-Rob was, I realized it was actually a really funny bit. It really gave a chance to dive behind the curtain with the team, which is always so fun for people outside of the locker room to see."
DE Stephen Weatherly: "When you get into a groove as a rookie, you learn that when the media comes in after practices, everyone goes straight to the training room or the cafeteria and just avoids the locker room like crazy. But on those days at Winter Park when B-Rob would be there, it seemed like more people would be in the locker room. I always thought that was dope. People wanted to watch, but they didn't want to be on it. Which, as a young guy, I didn't learn that right away, so I'm on it all the time."
While many players would playfully dodge Robison in the locker room, most ended up being good sports and joining the show – and others sought it out as a favorite weekly activity. There were a few, though, who avoided participating at all costs. Take, for instance, the episode where Robison found CB Trae Waynes hiding behind sweatshirts in his locker.
Waynes: "Once I got his pattern down of when he did them – I'd see him walking in, he had the mic, he had the camera crew with him, that's when I'd try to time up when I'd be in the shower or when I'd be walking to meetings, getting a snack. … I knew with B-Rob and his personality, you never knew what kind of question he would ask. Once he got the camera in your face, you were kind of on the spot and at the mercy of whatever he had for you that day. It kind of became a cat-and-mouse game between me and him."
Struck: "It became a bit to try and have Trae on."
Robison: "I would come in and interview a few people, and then as soon as I saw Trae turn his back, we rushed him. You have to get in front of his face because then at that point, he has no choice. You've gotta know who you're dealing with."
What made B-Rob the best fit to host the show?
Ask anyone who's had a part in 96 Questions over the years, and they'll tell you Robison was truly the only man for the job.
Sirles: "Anyone who has ever met B-Rob knows he has an absolute enormous personality. And in order to do that show, you have to have a big personality, but you also have to be well-liked by all your teammates. If you're a turd of a teammate, no one's gonna answer your question, right? He was a great teammate. He led the Bible study at his house Thursday nights; he was the guy that did the team prayer … He was also the guy that gave the pump-up speech before the team."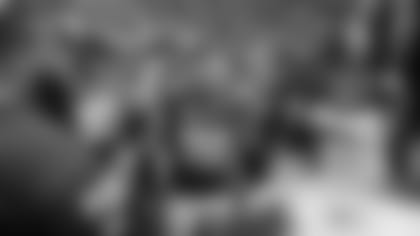 Waynes: "He was one of those guys who everybody respected. He'd been there for multiple years already, and he was almost just a big kid. He was one of those guys that, when it came to practice, games and getting the job done, he was serious, but he knew how to have fun with it, too, which I think was a big part. He was welcoming, especially with the rookies and young guys. He was a leader; he was that locker room leader. … he was just a fun big brother, uncle, kind of deal – and he had that personality where he could ask the goofy questions, the uncomfortable questions, but still keep it fun."
Weatherly: "B-Rob had a crazy knack of meeting people where they were. 'White Chocolate,' he could easily talk to anybody about anything – that's easily his gift. That's what helped him be a leader, in my eyes. If there was anyone who needed the whole locker room to laugh or get on the same page about an idea or funny topic, it was definitely B-Rob."
S Harrison Smith: "He's a unique guy who mixed it up with everybody on the team. He had interests in everything, had a really good sense of humor but also was really well-respected. He wasn't a clown, but he could be funny. And he was smart, and he was witty, so he could work on the fly. He was great. It was awesome. I miss it."
---
---
Which episode is your favorite, and why?
Of the 52 episodes of 96 Questions that have aired, "Which teammate would you least like to date your sister?" remains one of the fans' – and players' – all-time favorites. So much so that it resulted in a 2017 episode asking the same question first posed in 2015.
Players gave hypothetical permission to specific teammates who COULD date their sister, and favorites were Teddy Bridgewater, Marcus Sherels, Adam Thielen and C.J. Ham – "As long as it's a good, genuine guy who walks up to the doorbell – we all right," Dalvin Cook said. They were then asked who they WOULDN'T let date their sister.
Stefon Diggs was good-naturedly the overwhelming answer.
Waynes: "I tried to avoid them as much as I could, so I didn't catch a lot of the episodes. But a fun one was, if I remember correctly, who would you not let date your sister, and everybody said Diggs. That was pretty funny."
QB Case Keenum: "One of my first memories of 96 Questions was the whole 'Who Would You Let Date Your Sister?' That's probably the highlight. That's gotta be one of the best questions there was."
Smith: "The one where we all said we wouldn't let our sisters date Diggs was the one everyone remembers the most. There were a few where one answer just dominated it, and those answers got funny."
Robison: "No doubt about it, hands down, Diggs was the most widely talked-about player on the show. That is for sure. It's funny because, you know, it wasn't being mean, it wasn't picking on anybody or anything. It just happened that be that some of the questions we asked, they were just set up perfectly for him."
While Diggs certainly is remembered for that episode, the infamous answer came from Barr, who said he'd rather go on a date with his own sister than let his teammates date her.
(Editor's note: Barr does not have a sister.)
Barr: "Hmm, yeah. That was an interesting response. No regrets, but maybe I could've answered a little differently."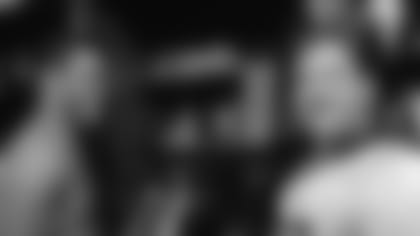 RB Jerick McKinnon: "There were so many crazy questions. There was the one about which teammate you wouldn't let date your sister? … Diggs is my guy. That's my guy to the end. But – if you know, you know. (Laughs)
"Who's the ugliest on the team, that was a good episode."
Lindsey Young: What about impersonating a teammate?
McKinnon: "Yeah, I kind of got ate up on that one."
Weatherly: "He asked us to do impersonations, and I did Griff' (Everson Griffen). That was hands-down my funniest, my favorite one."
Sirles: "My favorite episode was the impressions one. Just because it's so funny to hear the way others portray their teammates. I know I did Alex Boone, and I just was screaming curse words … I just got off the phone with Alex before this interview, and hearing his voice took me right back to that episode."
To some watching, questions could be seen as crossing a line into bullying; what was it about the show that made it a safe space?
Weatherly: "I never looked at it as bullying. Prior to him calling me ugly, Diggs had talked to me like, 'Keep your head up. Keep fighting.' He was a good person, which made him a good potential friend and even better teammate. His first interaction with me wasn't [calling me ugly on 96 Questions]. We had [a relationship] before that. We were cool. And even immediately afterwards, he came and checked in on me, 'You good?' … Within the locker room, you earn that respect. The ability to speak to each other in that aspect that, viewed from the outside, it could be, 'Well that was rude; that was disrespectful.' But we put in a lot of equity together. Pain, sweat, tears. Springs, training camp, practices. … When you put those moments together to build that shared connection, brotherhood, it's only when that's strong enough that you can joke around and do things like that."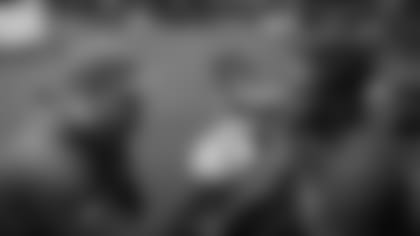 Smith: "There's always a line you're not crossing. You want to have respect for your teammates, and there's guys you know better than others and relationships that have been longer and things like that. But ultimately, it's treating guys with respect. And within that, you want to have fun and joke around, and it's cool. The whole age of bullying and hazing is not, I don't know, it's just not good for anybody. It's not fun for anybody. I never really understood that. But having fun and joking around? There's still plenty of room for that."
Smith was able to have a laugh at the expense of his younger self when Robison scored a college photo from the all-everything safety's time at Notre Dame.
Rocking (or not rocking, depending on who you ask) some version of an emo shag, the younger Smith pictured received quite the reaction from teammates. Some laughed uncontrollably at the never-before-seen 'do, while others didn't quite believe the photograph was actually The Hitman.
Sirles: "You're in a world of 53 who all look at themselves as alphas, right? You have to be an alpha to play in the NFL; you have to feel like you're the top guy. Big personalities can clash, so how do you have fun with that? You just understand you're always poking fun at each other, and nobody gets that offended by it. That just shows the closeness of a team. When you're able to poke fun … and they're poking back at you. There's no animosity there. There's no anger; there's no bad blood. It actually bonds you together even more with your brothers. It's kind of a sibling relationship."
McKinnon: "As NFL players, some people might have egos – but in the locker room? Nobody has an ego. It allows everybody to be themselves. … We went through everything together. If someone was going through something, someone else on the team probably had already gone through it. I think that just allows everybody to let loose, joke around with each other and, at the end of the day, not feel any type of way about it. Go out, practice, have fun and do it all over again the next day."
Keenum: "It's a fun way for players to kind of show what the locker room is like without, you know, actually letting fans into the locker room. … We all just kind of mess with each other and laugh and joke and have a good time. And love on each other.
"I honestly love the NFL locker room. It's such a Petri dish of so many different backgrounds getting thrown into one. Very close quarters, where we're getting to know each other intimately every day. It's cubicles without any walls. We're all in each other's business all the time. … It's fun to have the wide-ranging backgrounds and all sorts of different cultures brought into the locker room. We become a family."
---
---
Who was your favorite 96 Questions character?
One of the unique things about 96 Questions is the way it introduced under-the-radar players to the Vikings fan base. Guys didn't have to play a flashy position to be featured on an episode. They didn't have to be a starter. Because 96 Questions wasn't about football. It was about the people.
Struck: "It gave more light to players who weren't as popular or who weren't considered the all-stars. We had Adrian Peterson on it sometimes, but he wasn't the favorite character. Antone Exum, Jerick McKinnon, Jeremiah Sirles, Aviante Collins, Stephen Weatherly – it gave more of a glimpse into those guys' personality. Maybe they weren't your favorite players on the field, but it gave them a shot to become your favorite player off the field, personality-wise."
Robison: "Fans of 96 Questions absolutely loved Antone Exum. I remember after the first time we had him on, they were like, 'Dude, you've gotta have more Exum on there. You've gotta get him on more.' I had tweet after tweet of that coming across my feed. … Some fans chose their favorite player strictly through the avenue of 96 Questions, which I think is pretty awesome."
Smith: "Antone was hysterical. He's one of those guys where the fans might not know him, but on a daily basis, if you're having a bad day, just go hang out with Antone and you're gonna be good.
"There are guys in the locker room that, if you watch a game, they might not be the focal talking point. They may not be an Adrian Peterson, a Justin Jefferson, a Kirk Cousins. But on a day-to-day basis for us, they're guys who are kind of center stage. They're cracking jokes, keeping guys positive. Just good friends, good teammates. It's good when more than just the faces of the franchises can get some exposure."
Barr: "Favorite is definitely Antone. Antone or 'Jet' (McKinnon). Jet, no matter what he says, he's always funny because of the way he talks. Just the way he says it. So he can say anything to make you laugh. And Antone always had a good buildup; he had very calculated answers. Those were my top two."
Weatherly: "Young Jet at Winter Park was always good for a sound bite, for sure. I'm gonna go with Jet."
McKinnon: "I'd probably say 'Sha-Money.' Shamar [Stephen]. Because we came in together and his locker was right next to mine. That's my guy. Everybody knows that's my guy right there."
Robison: "Hands-down, my favorite by far was Anthony Barr, because you never knew what he was going to say. Sometimes he'd say stuff and it was like, 'Are you sure you don't want to edit that out and maybe do something different?' And he'd say, 'No, just roll with it.' … And then Antone Exum. And Griff (Everson Griffen)."
Smith: "But honestly, I've gotta give it up to B-Rob. To have the consistency to put that on every week … Because within a season, if you have a bad game or things aren't going the way you'd hope they'd be going … it's easy to think, 'You know what? I'm shutting my life off except for football.' You're tired, and you just want to go eat lunch. You don't want to host 96 Questions. I can't even imagine doing it. There's just no way."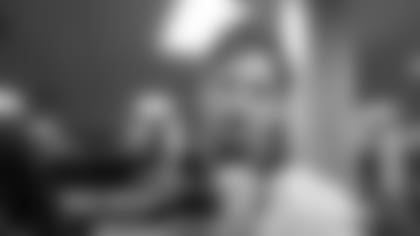 ---
---
Carrying on the '96 Questions' Legacy
When Robison's playing days came to an end, so did 96 Questions … initially.
"It would be suggested to have B-Rob hand off the mic, and I never wanted to do that," Struck said. "The fans that enjoyed 96 Questions so much, B-Rob was obviously the big part of that. Him, his personality, even the title of the show was centered around him.
"I just didn't want to do the series with someone else because it was all his," Struck added.
So from 2018-21, no new episodes were created. But fans clamored for a reboot, sending in emails and posting on the Vikings social media platforms; the series remained among the team's top-performing content pieces on YouTube.
Last season, Struck and Robison, along with the organization's support, returned 96 Questions with its host.
Robison traveled from his current Texas home back to the Twin Cities, which had been a second home for 11 years, to interview former teammates and new faces alike.
"I worried it might be awkward," Struck admitted. "Your veteran players – Harrison, Dalvin, all those guys – they knew what it was right away. But there were a few players that were young enough that knew exactly what it was because they'd watched it as fans. That was cool. It was honestly a crazy moment for me."
Added Robison: "Surprisingly, it was like it never missed a beat."
For Robison, it was a special way to reconnect with the fanbase he'll forever love.
"Anytime I can get back to Minnesota, I'm gonna jump at it," he said. "It's a place that's always going to be so embedded in my heart.
"The fact that fans wanted it back, that they were so outgoing and adamant about bringing it back, that's special to me on a personal level. And not only that, but it gave me the opportunity to get back in the locker room with the guys," Robison continued. "We started off getting the older vets that I knew, and as I did that, the younger guys said, 'OK, these vets are cool with these guys; we can start getting on there, too.'
"We created that camaraderie that they felt getting comfortable on camera with me," he added. "We're just gonna ask some funny questions and let the fans get to know you. That's what 96 Questions is all about."