Mike Priefer is a planner, schemer and executor.
One who gathers information, processes it and decides how best to use it.
Focused and detail-oriented, it's hard to believe his attention span could flutter.
One sight, however, that is joined by a familiar buzz, can.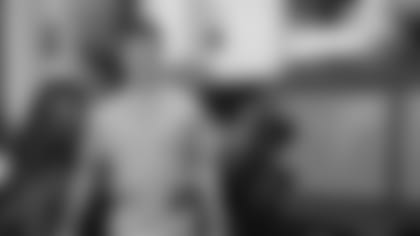 When Priefer sees blades spinning and hears the hum when a helicopter propels through the Minnesota sky, the Vikings Special Teams Coordinator is taken back to his first career as a pilot in the Navy.
"Any time I see a helicopter, especially on a beautiful Minnesota day and the sky is clear, I kind of forget about what I'm doing for a couple of seconds," Priefer said. "I know what it's like to be in that aircraft, but I think about that."
After graduating from the U.S. Naval Academy, where he was a quarterback and receiver on Navy's junior varsity and lightweight teams (1985-88), Priefer flew helicopters for six years (1989-94) with tours on USS America in the Persian Gulf and Mediterranean Sea.
Priefer was engaged on his first tour, then married to his wife, Debbie, by the time of his second deployment. The couple also had their youngest child before Priefer's second trip overseas. His assignments did not take him into combat, but he was willing and prepared if needed. Priefer was promoted to Lieutenant and considered becoming a "lifer" in the military but became a graduate assistant for the Midshipmen, launching a career that's taken him to eight states including Minnesota, where he arrived in 2011.
He holds the same position with the Vikings that his father, Chuck, held with Green Bay from 1984-85, which led to Priefer graduating high school from Abbot Pennings High School in DePere, Wisconsin. The elder Priefer also coached special teams for the Chargers (1992-96) and Lions (1997-2006).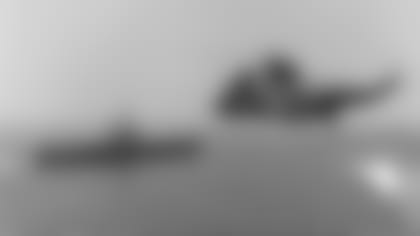 Priefer believes his time in the military has helped his coaching career in multiple ways.
"I think one of the things is leadership, how to be a good leader and how to treat people," Priefer said. "We were always taught to praise in public and criticize or constructively criticize in private. That's what I try to do. Sometimes you get on guys in meetings and try to make them better or hold them accountable. At the end of the day, I'm not out to embarrass anybody, whether it's being an officer in the Navy or being a coach in the National Football League."
Priefer led a diverse group of men in the military who were from across the country and "all walks of life."
"I grew to appreciate what other people went through, how they grew up, and that's really helped me in my football career," Priefer said.
Case in point: Cordarrelle Patterson is a South Carolina native who was drafted in the first round of the 2013 NFL Draft. Adam Thielen is a homegrown Minnesotan who signed as an undrafted rookie free agent that season. The two have become close friends, and both had a job to do at a critical moment in Oakland Sunday.
As Patterson gathered the ball off the ground from a squib kick, Thielen went to "**find work**" as a blocker and provided the key obstacle to spring Patterson, who capitalized with an explosive cut before accelerating down the field during the 93-yard score.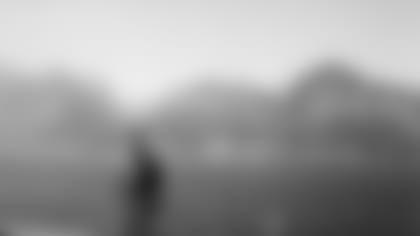 It was the 10th special teams touchdown by the Vikings since Priefer's arrival — the most in the NFL in that span that includes three kickoff returns by Patterson and two by former returner/receiver Percy Harvin, three punt returns by Marcus Sherels and returns of blocked punts by Thielen and Everson Griffen last season against Carolina.
The goal is to give players — who encompass the breadth and depth of the roster — the greatest chance to be successful in games. In a regular week, players have Tuesdays off, but that's when game plans are developed by coaches.
Priefer, a "Civil War buff" by age 14, loves the tactical aspect of Tuesdays. It offsets the feeling of an empty nester that descends on the father of four (one daughter through college, one son in college, and a son and daughter with college approaching soon). But come Wednesday, when players return to Winter Park, "it's like my kids are back in the building and ready to go after another opponent."
"[Assistant] Ryan Ficken does a great job on preparation work with me. I kind of love it," Priefer said. "We think of (our office) area as the laboratory. It's our special teams lab, and we come up with all the different schemes and personnel groupings and things to attack the opponents and hopefully take away some of the things that they do well, put it all on paper, put it all on PowerPoint, put all the video together and organize the meetings as such where our guys know what to do when they come out to practice as we prepare for Sunday."
Players look forward to finding out the plan and their roles each Wednesday, then refining them in preparation for games.
"It's good. It obviously works. He expects a lot out of everybody, and you better be on your game," Thielen said. "Otherwise you're going to know about it and he's going to correct it and make sure that you're doing the best you can.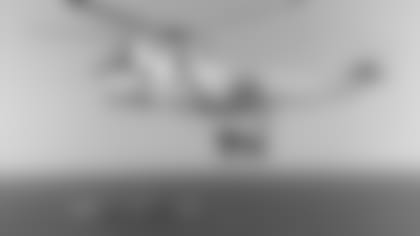 "He's extremely thorough with what he wants to get done and also the communication between everybody," Thielen added. "There's never anything that's unclear. It's always clear and cutthroat and simple. That way we can go out there and play fast."
Priefer's leadership in the Navy returns in special teams meetings. He doesn't talk about his service often, but when he does, it's to communicate a message about "preparation or intensity or being successful and how to continue that."
"That's another reason why my time in the military helps," Priefer said. "I get to share some of my experiences with these guys and because I was a pilot and flew helicopters — a lot of guys think that's pretty cool and helps bring the point across."
Punter Jeff Locke, who was born at an Army hospital in Germany while his father served in the U.S. Air Force and has been a strong supporter of veterans and current members of the military said "it's an honor to play" for Priefer.
"He almost never brings (his service) up," Locke said. "He's not the kind of guy to gloat about his past or what he did, but when he does and tells you stories about when he served, I can't not listen.
"I'm so enamored by what he went through, and I think he'll tell you the same thing," Locke added. "It makes him a better person, a better coach. It kind of makes all of us under him that much better people and players, him passing along his knowledge and experience from his service is a huge benefit to us as specialists."
Locke and the punt coverage team, which includes the work of gunners like Marcus Sherels and Trae Waynes and other hustling players, lead the NFL in punt return average allowed (4.3 yards per return).
That effectiveness, when combined with a defense that ranks second in points allowed (17.1 per game) and an offense that leads the NFL in rushing (147.2 yards per game), is a prong of complementary football that has helped the Vikings (7-2) win five straight and have the opportunity to defend first place in the NFC North against the visiting Packers (6-3) on Sunday.
The Vikings have placed significant emphasis on special teams in two seasons under Head Coach Mike Zimmer, who said Priefer "does a good job" of communicating the importance and working with different types of players.
"We have talent on this football team, and I think we have depth," Zimmer said. "They all want to contribute and get out there. Sometimes your role is defined as being a good special teams player until you can do something more, but they take a lot of pride in it. Mike does a good job."
Priefer said working with the entire roster is one reason he enjoys his job so much.
"I thank God every day for the opportunity I have when I'm driving into work every morning," Priefer said. "I'm leaving my beautiful wife and family and on the road to come to work, I'm so very grateful for the opportunity I have to coach with the Minnesota Vikings and coach the young men that we have on this team. I love what I do. I have a passion for it, and one of the reasons is the players, the guys who keep me coming to work every day get me fired up."
Priefer's gratitude spins 360 degrees 365 days a year. He's appreciative of the opportunity to serve, as well as those who enlist and serve now to protect freedoms. He also enjoys seeing the NFL's annual "Salute to Service" campaign that helps members of the military, veterans and their families.
"I'm very fortunate. I have had two phenomenal careers," Priefer said. "I had an awesome time as a pilot in the Navy, being around men that I got to lead and work with and be led by. I got a lot out of that experience and to be able to do this has been a Godsend."