Earlier this summer, Vikings.com released a digital content series called **_"Letters to Bud"_** that highlighted notes and messages received by the Hall of Fame coach. In response to the series, we were made aware of a story in which Coach Grant was the one who did the writing – and impacted the life of a very special young man.
Lonny Stephens never got the chance to meet Bud Grant, but a letter received by the Vikings head coach filled his last weeks with joy.
Soon after Lonny's birth in 1972, Betty Stephens recognized that her newborn son was unable to keep food down, didn't seem to be breathing properly and cried incessantly. It wasn't until Lonny was 2 months old that Betty was given a definitive diagnosis from the University of Minnesota Hospitals, and it wasn't hopeful.
Lonny had Chronic Granulomatous, an immune disease that affects various body parts and can differ from one individual to another. In this case, Lonny's liver was five times the normal size. 
Doctors told Betty that her child likely wouldn't survive the week – and he surely wouldn't see his first birthday. But somehow, he kept fighting.
"Six months came, and then a year," Lonny's older sister, Terri Solem, told Vikings.com.
A year became two; two became five. And soon, Lonny was 10 years old.
Because his liver was the affected part of his body, doctors were able to remove portions of dead tissue from the organ bit by bit without killing him. Through surgery after surgery, Lonny continued to survive and exhibit an unfathomable strength.
His tenacity earned him a nickname that stuck.
"Everybody called him Tiger," Terri said, her smile evident over the phone. "Half the people didn't even know his real name. He was just known as Tiger."
Even at a young age, Lonny understood the rare disease that was, slowly and inevitably, killing him.
"As soon as he was old enough to understand, he knew he was dying. And he knew that he was going to Heaven," Terri said. "He never, ever said 'Why me?' Never once did I hear him say that. He was always the opposite. He was like, 'Oh, don't you worry about me. I'm good.' He was always the one to make everybody else laugh and smile."
Throughout all of his treatments and in and out of hospitals, one of the things that never failed to make Lonny smile was the Minnesota Vikings, a passion he shared with Terri.
Recalling their fandom now, Terri sometimes chuckles to herself. There really was no reason for her and Lonny to be such football fanatics. Her parents weren't fans; no one else in their extended family watched the game or taught them about the Vikings. And yet, Terri and Lonny loved the team more than most anything else.
"He just loved his Vikings," Terri said. "Every chance we got, we'd watch them. He'd scoot over, and I'd sit up on his hospital bed with him. We'd eat popcorn and watch the Vikings. That was our thing. That was something that nobody else in our family understood. It was just something that we shared."
In August of 1983, Betty drove Lonny to the hospital, one of countless trips they'd taken over a decade. This time, however, was different. On the drive to the cities, Lonny looked at his mother and calmly said, "This is my last trip. I won't be coming home again."
"He just knew," Terri said.
Lonny spent the next six-plus months in the hospital, where his condition worsened by the week.
To celebrate his 11th birthday on Dec. 30, police officer Herb Bergson – who had befriended Lonny and later went on to be the Mayor of Duluth – arranged a party of magnificent proportions at the hospital. Among nearly 500 guests were Twins players and members of the U.S. Olympic men's hockey team.
The Ronald McDonald House, which Terri emphasizes supported the family throughout Lonny's entire illness, set up and provided ice cream for the hundreds of visitors. 
"In our hometown of Duluth, they called him the Minnesota Miracle Baby," Terri said. "They wrote an article every year on his birthday, that he had lived another year."
But it wasn't the grand party that proved the biggest surprise for Lonny.
A few weeks prior to his birthday, a letter was mailed to the hospital. Written on official Minnesota Vikings letterhead and signed by none other than Grant, a portion of the message read the following:
I'm sorry to hear of your illness, Lonny. I have several sons, and I know how important athletics and the physical freedom to compete in them are to a young boy. However, you sound like a young man who is making the most of the situation … by keeping your spirits up and remaining interested in many things.
We hear quite often that football players must be very brave and courageous people. I have a feeling that very few football players are as brave as you are.
We hope you'll be cheering for the Vikings this season, Lonny. We'll be cheering for you.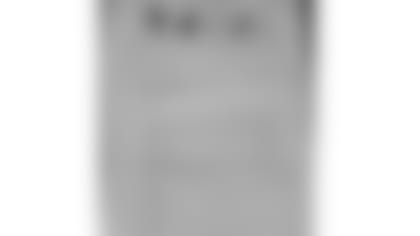 At the point that Lonny was shown Grant's letter, his condition was dire.
His weight mirrored that of an average 3-year-old, resulting in the harsh jutting of his ribs and elbow bones that literally broke through his skin. Medication administered to ease Lonny's pain affected his spinal cord, so he was placed in a halo and was entirely immobile.
"He was in a coma, sometimes for days at a time. But I will never forget the day my mother and I showed him that letter," Terri said, her voice breaking. "It will always be one of the most amazing memories to see the joy on that child's face.
"The pure, innocent joy that the letter brought him in his last days was unbelievable. He looked at me and said, 'Can you believe it? He knows me. He knows me, T.J.!' That's all he could say," Terri added. "The games after that were 100-times more special because every time the camera showed Bud Grant, it was, 'He knows me.' It was just unbelievable."
Lonny passed away at the hospital on Feb. 17, 1984, at the age of 11.
It's been more than three decades since Grant mailed the letter from his office in Eden Prairie, Minnesota. The significance of his gesture hasn't lessened over time for Terri, however, who was 15 when she said a final goodbye to her only sibling.
To this day, Terri has a respect for the Hall of Fame coach that's difficult to articulate.
"He's known for being so rough," Terri said. "But to know that he did this for a dying child, it's amazing. People just cannot comprehend how much that means to me."
It was Grant's letter that ignited Terri's already-passionate support of the Vikings.
Over the years, she has developed a massive memorabilia collection that includes hundreds of autographed helmets, cleats and photos. Among Terri's collection are two helmets signed by Hall of Famer Randy Moss, a glove autographed by Adrian Peterson after he signed his rookie contract, and two custom Vikings jerseys used as a "guestbook" at her Vikings-themed wedding that bear the signatures of those closest to her.
And yet, the most priceless piece of Terri's collection is a discolored piece of stationary hanging in a simple frame on the wall.
"I'm asked all the time, 'If your house was on fire and you could save one Vikings item, what would it be?' And it's the same answer every time: the letter from Bud Grant to my brother," Terri said. "Not only did Bud Grant make an impact on Lonny, but that has created more of a fan in me because of what somebody in the Vikings organization did for him all those years ago."
Before Lonny passed away, Terri made a promise that she intended wholeheartedly to deliver on.
"He always wanted the two of us to go to Green Bay and watch the Vikings play the Packers at Lambeau," Terri said. "Someday, I will go to Green Bay … and I'll have an extra seat next to me."
Upon hearing Lonny's story and the way he was impacted so greatly by Grant, the Vikings worked to help Terri fulfill her childhood promise to her brother. A Vikings employee gifted Terri three tickets to Sunday's game at Lambeau Field … and beside her and her husband, Paul, was an empty seat in Lonny's memory.