Head Coach Kevin O'Connell and General Manager Kwesi Adofo-Mensah won't be suiting up for the Vikings-Jets matchup.
They will be donning a portion of the day's uniform, however.
O'Connell and Adofo-Mensah will join their team in wearing custom-painted shoes for the NFL's My Cause My Cleats initiative.
For O'Connell, this will mark his third year using his footwear to highlight a cause close to his year. He spotlighted the National Pediatric Cancer Foundation in 2020; he pivoted last year to the NEGU (Never Ever Give Up) group and the Jessie Rees Foundation, which he's again highlighting this season.
"I'd been working with them for a few years, dating back to when I'd just gotten done playing," O'Connell explained. "I just thought it was something really special to be able to do, and I ended up sending the shoes to the foundation to be auctioned off, and it's something that I'll do again this year."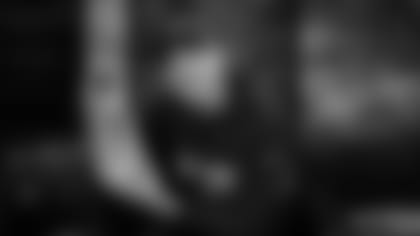 After he hung up his cleats, O'Connell joined a national quarterback camp called The Elite 11, through which he was able to visit children's hospitals and give out "Jessie's JoyJars" to young people battling cancer. Each jar is age and gender specific and filled with new toys and activities.
"We were just trying to be any kind of pillar of positivity and put smiles on kids' faces. I did it a few times, and it always stuck with me just how something as small as that can have an impact when somebody – especially children – are going through a plight like that," O'Connell said. "It's always kind of stuck with me, and I haven't been able to be as active since I've picked up in my coaching career, but it's something that I'd like to do again, and to keep connecting people with."
"When I used to be holed up in my office doing analytics, I wasn't really the best person to get any message out," Adofo-Mensah quipped. "But obviously as I've coming to this position, it is more public-facing, and I think one of the great things about this is we can use that face time, that platform, for something good.
"[Mental health] is something I'm really passionate about," he added. "I'd love for – my impact, Kevin's impact, the Vikings impact to be not just on the field but also helping people and leaving this world a better place."
BEAM is a national training, movement-building and grant-making institution that is dedicated to the healing, wellness and liberation of Black and marginalized communities.
"Growing up, there was maybe a perception in communities I was around that these issues don't affect us – we're somehow above them in certain ways. And I kind of fell trap to that," Adofo-Mensah said. "And as I grew and got older, I knew that there's not any weakness about it. It's really, when you learn about it, it really ties into my curiosity as a person and really understanding all the events in my life and how they impacted me, and how I've decided to move forward. And really understanding why I am the way I am and how that impacts my behavior.
"When you get to that place, these things still happen, but it's a sense of control. I know what caused what them, I know why they happened, so even when they're happening sometimes good, sometimes bad – I feel like I'm in control," Adofo-Mensah continued. "It's been a great awakening for me. I read so much about it, I talk to a life coach, all those things. You have so many deeper conversations with your friends, with your family; with your coworkers, to be honest."
He noted that a general manager sometimes can double as a quasi-therapist, and having had dialogue around mental health in his own life has helped him grow as a leader.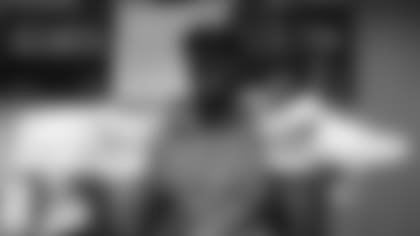 "I think this is so important," Adofo-Mensah said of the growing awareness around mental health. "I think, honestly, this is the next frontier we go. We've done all this with technology and different things, and I think we really need to focus on the human, the person themselves, and really work on that and understand how they tick and how we can all live the best life to the fulfillment we want."
Adofo-Mensah and O'Connell are equally proud of their players' off-field efforts as they are the on-field work that's helped them be 9-2.
"We talk a lot about the foundation and the platform that these guys have – not only locally here in the Twin Cities but, in a lot of ways, nationally," O'Connell said. "I don't shy away from talking to our guys about really using that platform to help people.
"We've got some unbelievable guys on our roster who have been doing it for a long time and have really set the standard for some of the young guys on our team and shown them the way," he added. "I fully expect our team to be really impactful in a lot of aspects."
Adofo-Mensah emphasized the importance of learning about players' experiences, passions and cares beyond their football career.
"You really get to learn about people's lives outside of a draft report or scouting report and really understand how they tick," he said. "I'm excited to see the causes but also just to ask them, 'Hey, tell me about this.' 'Why is this so important to you?' In those moments, you really get to learn a lot about people, and a lot of times, you'll see a common ground.
"You'll see something that impacts you and maybe inspires you towards their cause," he added. "This will be my cause this year and obviously something I'll always carry about, but next year maybe I'll be inspired by something different, and I hope that will come from my dialogue with the players."