EAGAN, Minn. — "Kirko Chainz," meet "Lil' Kirko Chainz."
Actually, "Lil' Kirko Chainz" is Lincoln Gustafson from Denver, Iowa. Last Thursday, Lincoln and his family drove three hours to Minneapolis to attend Minnesota's Thanksgiving game against New England. It was Lincoln's first Vikings game.
And he had the perfect thing to wear.
After seeing videos of Minnesota quarterback Kirk Cousins dancing with several of his teammates' chains around his neck on the team's flights home from road games, Lincoln decided to pay homage to "Kirko Chainz" from the stands.
He donned a purple Vikings stocking cap, glasses, four plastic chains and no shirt — similar to the look Cousins sported after the team's 20-17 victory in Week 9 against his former team, the Washington Commanders.
Lincoln was shown on the videoboard at U.S. Bank Stadium. He started to dance as a "Captain Kirk" graphic flashed below on the screen. The crowd loved it so much that Lincoln was featured on the board multiple times in the fourth quarter.
The Vikings went on to earn a 33-26 victory against the Patriots. After the game, Cousins said he was impressed by Lincoln's ensemble.
"The young kid in the stands who was shirtless, that was just tremendous," Cousins said. "We may have to hire him as a team mascot. That was awesome. We had a TV timeout and the guys in the huddle are just loving it. We may have to come up with a name for him, get him some tickets, bring him back."
On Thursday, Cousins sat down for a video call with Lincoln and his family.
"Hey, it's so good to meet you, man!" Cousins exclaimed. "Were you shirtless the whole game?"
"Yeah," Lincoln responded. "Except for the half."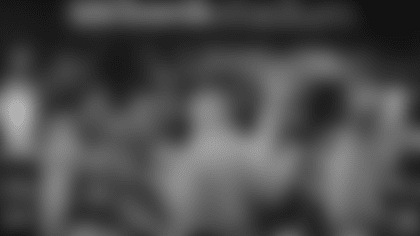 Lincoln also briefly took the chains off at halftime, citing they became a little heavy.
Cousins empathized with the young second-grader.
"As a guy who's worn some chains around his neck and has a little bit of experience, it does get pretty heavy around the neck," Cousins said. "I understand your dilemma of it getting pretty tiring."
In addition to the call, Cousins invited the Gustafson family to attend Sunday's game against the New York Jets, which happens to fall on Lincoln's eighth birthday.
"Eight is a great number Lincoln," Cousins said as he held up his practice jersey. "That's my number. I love it!
"You're going to have a great birthday. We're excited to have you at the game," Cousins added. "Thanks for the joy you brought to us Lincoln and to the whole Vikings fanbase. We appreciate you."
"Good luck," Lincoln told Cousins.
After the call, Cousins said it was a great experience getting to meet Lincoln and his family virtually.
"Yeah [it was] fun to meet him," Cousins said. "Obviously I saw him on the stadium videoboard last week, so it was fun to invite him to the game against the Jets. It's just so fun to see someone as young as 8 years old passionate about the Vikings so much that they would stand there shirtless for most of the game with chains around their neck."
Cousins added that part of the inspiration for the chains and the continued rise in popularity of the look was the team's ability to win, but also the unique bond between the players.
"I think a part of it has to do with winning. When you're winning football games, there's a lot of momentum and it's a lot of fun. That's why we've got to keep it going," Cousins said. "It's a great team, and I think that's really what inspired it in the beginning was just having fun together on the plane ride home and being a team and being together, and that's really where it all comes from."
Cousins said it'll also be another special memory for Lincoln and his family Sunday.
"It will be a lot of fun, and it'll always be a great memory, the joy that he brought to the whole stadium that night and [will] again on Sunday," Cousins said. "I'm looking forward to having him out there and hopefully bring another win."