Kirk Cousins prides himself on continually expanding his football I.Q., but his knowledge of dinosaurs? He's got nothing on 6-year-old Edison.
The Vikings quarterback met virtually this week with Edison and his dad Edward. The father and son are experiencing homelessness and staying at People Serving People's shelter in Minneapolis while Edward works to get back on his feet. Edison's mother passed away two months ago.
Edison and Edward were just two who were supported by Cousins and his wife, Julie, along with young sons Cooper and Turner.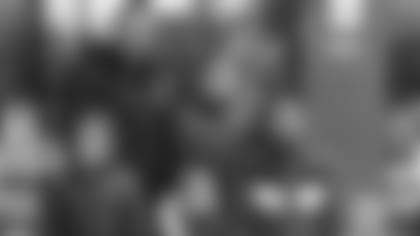 The Julie and Kirk Cousins Foundation recently made a generous donation that went directly to the families living at People Serving People's shelter. The donation allowed parents from 60-plus families to select holiday gifts for each of their children, an opportunity that some may take for granted.
Cousins spent time via video conference with two of the families to connect with them and see them open some of their gifts.
"I hear you like dinosaurs," Cousins said to Edison.
"Yep! My favorite has to be the indoraptor," beamed Edison, referencing a fictional dinosaur breed featured in the film Jurassic World.
The youngster proceeded to tell Cousins about various types of dinosaurs before opening his gifts, which included a Halo action figure, a robotic snake, Spider Man mask and, of course, a dinosaur figurine from Jurassic World: Fallen Kingdom.
"Oh my gosh!" Edison exclaimed. "It has a moveable toe claw! Wow!"
Cousins laughed before asking, "What kind of dinosaur is that?"
"It's a velociraptor," Edison responded with no hesitation.
Edward watched his son proudly, sharing with Cousins that Edison hopes to one day be "an animal doctor" but also "a regular doctor on the weekends."
Edward and Cousins spoke casually about their experiences both growing up in Michigan, and Edward said he'd been following the quarterback since his days at Michigan State.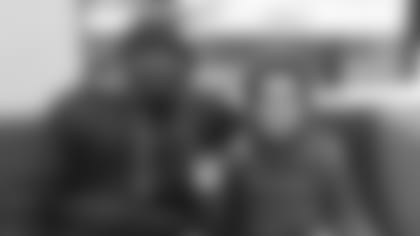 The two men also connected over their shared Christian faith. Despite the difficult circumstances Edward and Edison are experiencing right now, the family remains steadfast.
"I never question, Kirk. I never question," Edward said with a smile. "God never gives you too much that you can't handle."
The Cousins' donation joined the efforts of the Twin Cities community that comes together annually to brighten the holidays for families experiencing homelessness. Individuals and groups from across the metro donate hundreds of toys for families living at People Serving People's emergency shelter. The community donations – which often include repeat and annual donors – make it possible for shelter staff and volunteers to operate a toy shop that provides gifts for every child at the shelter. There has been a massive outpouring of community support especially throughout the COVID-19 pandemic, and this year's toy drive has been no exception.
Experiencing homelessness takes away many choices that parents would typically make for their families: where to sleep at night, what to eat for dinner and how to celebrate special occasions. The Cousins' donation affords families a level of normalcy and holiday cheer as they work to find stable housing.
"In this crazy time, I wanted my son to still have Christmas. He's 6. He doesn't [understand]. All he knows is that it's Christmas," Edward said. "When they came to me with this, I was just like, 'Oh my God, I'm honored.' They took me to [a store] to let me get what I know Edison wants. … It was beautiful."
Cousins also connected virtually with Sasha, a single mom of four children. Her main focus has been helping her two sons and two daughters with their schoolwork. Distance learning has been difficult to accommodate while staying at the emergency shelter.
For the past two years, Sasha and her children have been unable to do much for the holidays, and she was excited to provide presents thanks to the Cousins family.
While tearing colorful wrapping paper from boxes, one of the young daughters shouted happily, "Thank you, Mommy! Thank you, thank you!"
Cousins' expression wore emotion as he observed the moment.
"Mom did a good job, didn't she? She knows you guys well," Cousins said.
"I'm blessed to have met you [all], and I just pray you have a blessed Christmas," he added.
Cousins told Twin Cities media members Tuesday that he and his family have enjoyed partnering with People Serving people, starting in 2019 when they hosted a Halloween Party at Twin Cities Orthopedics Performance Center.
"People Serving People does a great job here in the Twin Cities, helping families that have come across tough times and need someone to step in and provide help and support, a roof over their heads," Cousins said. "We were able to help last year with Halloween, just in a small way, and have some fun with the kids, but this year, Christmas, also able to help partner with the parents. Those parents love those kids and know their kids well and what gifts those kids want. They did a great job picking them out.
"It's just fun for Julie and I to participate in a small way," he added. "It's truly more blessed to give than receive, and to watch the joy on the children's faces as they opened their presents and thanked their parents was a real treat for us."
During both video calls, Cousins received smiles and genuine gratitude. Edward repeatedly and authentically thanked the quarterback for spending time with him and Edison.
"This man is a professional athlete who just had a game [on Sunday], he has another game on Christmas on Friday … and he takes time out to Zoom with me? That's beautiful. That's priceless. I feel honored," Edward said. "Ten years from now, I'll tell people that my son met Kirk Cousins on a Zoom call. No shame in the game – I'll share why he met him and the situation, because my son met an athlete. And a good athlete, at that. A good man, too."