Kimberly Keenum found out firsthand that her now-husband, Case, could be cool under pressure … icy-cold, to be exact.
During her senior year of high school, Kimberly was attending a Fellowship of Christian Athletes event and spotted a familiar face across the room. She and Case had crossed paths a number of times, but being a grade apart and attending different schools, they hadn't formed much of a friendship.
Case had already established himself as the Wylie Bulldogs standout quarterback – and that night at FCA, he went for the big play off the field.
"He asked me to go get a snow cone with him," Kimberly tells me. "That's kind of where our story started."
Kimberly pauses to sip from the latte cupped between her palms, then laughs at the recollection of two high schoolers finding love over faith, frozen sugar and frugality.
"It really started with a snow cone," she says. "One of his buddies worked at a snow cone stand, and he would invite Case to stop by. So we went and got snow cones after an FCA event, and ever since then, we've been together."The connections between Kimberly and Case date back to elementary school.
Kimberly's family attended the same church as the Keenums, and the two young athletes crossed paths as third and fourth graders. In fifth grade, Case's mother was Kimberly's physical education teacher.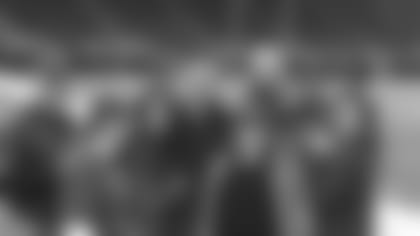 The two competed in sports throughout their youth – Kimberly thrived on the volleyball court and as a pole vaulter for her school's track team. While she never took to playing football herself, as some girls in the area did, Kimberly doesn't remember a time when she wasn't around the sport.
Her two older brothers were active on the gridiron and had the constant support of their sister.
"And I remember being up late at night with my dad, and we would always be watching football on TV – we'd both get excited if it was a close game," Kimberly says. "I was part of student council, so we would get to go on the field before the game and be part of the coin toss. It's just something that was part of my life."
If you ask Kimberly, there's nothing quite like high school football in Texas.
The scenes and atmosphere depicted in the film and identically named TV series, *Friday Night Lights, *are more than entertainment to the Texas natives. It's real life. So much so that game footage from Kimberly's high school, Cooper, was used in the movie.
"That's what you did on Friday nights," Kimberly said. "You go to the football games."
When Case led the Wylie High School Bulldogs to the state championship as a junior in 2004, Kimberly was in the stands – but she really wasn't watching the quarterback. As a senior, Kimberly was close friends with the older guys on the team and attended the game to support them.
It was Case and Kimberly's mutual involvement in FCA, however, that formed the strongest connection.
Kimberly became a student leader of FCA in seventh grade, and she immediately was drawn to the program's mission and work.
"I just loved it. I felt like it was a way that I was able to share my faith through sports, and it gave me a great platform. We would have different events, and I would get to go share," Kimberly explains. "It was a thing that my brother and I did together, too, and I loved that."
Kimberly said it's been a shared faith that has helped her and Case view the twists and turns of the football journey – from high school, to the University of Houston, to ups and downs in the NFL – as a fun ride along.
"I've seen a lot of his successes, and then I've seen a lot of the people that are naysayers – thinking he's not tall enough or doesn't have a strong enough arm, or whatever," Kimberly says, sitting up a little straighter as she speaks proudly of her husband. "It's been a journey, but it's been great."
Kimberly later adds: "It's always been for a purpose why we've gone through whatever we've gone through – we may think it's this negative thing going on, but it ends up being so much better than we ever could have imagined."
She remembers sitting with Case at the home of dear friends during the final day of the 2011 NFL Draft. Every detail of that day remains etched in her mind: watching the final selection of the draft without hearing Case's name called, walking to the backyard with him and standing near the pool when Case received a call from the Texans.
He was going to be able to start near the comforts of home and see how far he would go.
"To see him go from U-H to the Texans was a dream come true," Kimberly recalls. "We kind of always thought the NFL would take us on this huge journey – and it has now – but it was really cool to be able to be in a comfort zone in a situation that was a whole new experience. That was really nice."
Kimberly has always felt a part of the football life, and it increased even more when Case made the jump to the pros.
While NFL quarterbacks use verbal play calls, it's common at the college level for offenses to rely rather on hand signals.
When Case signed with the Texans, he wanted to learn the playbook as quickly as possible and enlisted the help of Kimberly, who jumped into the role willingly. She would read a play off to Case, who then repeated it back to her.
"It was really fun to help him," Kimberly says. "Every single day for a long time, that rookie year, I read plays just to help him learn it.
"Now, once in a blue moon or if he's learning a new playbook, I'll help him," she adds. "But otherwise, he's just on a whole different level now – he doesn't really need my help. But it was fun to be a part of it."
Over the next five seasons, Case filled both a practice squad role and a starting role for the Texans and Rams before signing with the Vikings as a free agent in 2017.
Originally signed as a backup to Sam Bradford, Case stepped in to start Week 2 after Bradford suffered a knee injury in the season opener. Case took the opportunity and ran with it, quieting the critics and helping lead the Vikings to a 13-3 regular season and into the playoffs.
To watch Case succeed – and to see him have the support of Minnesota fans – has meant the world to Kimberly, who said U.S. Bank Stadium is beautiful and "makes it so much more fun" to watch a game.
"Everybody talks about the SKOL chant, and it's the best thing ever – I'm fully up, doing it, I love it," laughs Kimberly, who even has embraced the Minnesota winters with open arms. A Texas girl through-and-through, she's gone sledding, ice skating and learned how to play hockey.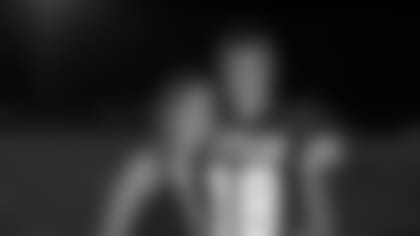 "We love it. We love Minnesota, we love being here," Kimberly says. "It's been the place that's felt closest to home to us."
More than the Twin Cities community and energetic stadium, however, Kimberly is excited about – and proud of – Case's success in Purple. While she emphasizes that Case's talent has always been there, Kimberly says it's been the Vikings teammates he's surrounded by that have helped build such a strong team.
"Just to see him have such great confidence has been really special to watch," Kimberly says. "We've built really great relationships with the guys, and that's been so fun … There's something unique about a friendship that makes a team that much more special."
Adds Kimberly: "With Adam Thielen and Case, they have a great bond off the field, and you've now seen it on the field, too."
The Keenums' dream has become a reality, and yet through it all they've remained down to earth.
From grabbing dinner with friends to belting out Taylor Swift's latest single on a drive down 494, Case and Kimberly are just everyday people. And from a snow cone to the snowy Midwest, they wouldn't want it any other way.
When asked about the silliness and keeping life light, Kimberly sits quiet for a moment, thinking.
"Our faith plays a huge part in keeping us grounded," she says. "We've learned so much every place we've been, and I think that's also helped keep us grounded.
"We've really just embraced it and had fun with it," Kimberly adds. "And when we're not, we call each other out on it."
Because at the end of the day, Case and Kimberly know they're in this adventure together – as husband and wife, study buddies, as best friends.
"A lot of people talk about the negative along the way, but I really feel like it's been a great experience for us," Kimberly says with a smile. "Everything we've been through, God has always been there in our lives."