EAGAN, Minn. — The Vikings on Saturday announced the activation of defensive end Kenny Willekes from their practice squad to the 53-man roster as a COVID-19 replacement.
The second-year pro made his NFL debut on Sunday as a standard elevation from the practice squad. He played 16 snaps on defense and seven on special teams against the Cowboys.
Willekes is likely to be enlisted to help this Sunday when the Vikings (3-4) visit the Ravens (5-2) in Baltimore in Minnesota's first game this season without All-Pro defensive end Danielle Hunter, who suffered a torn pectoral muscle against the Cowboys. Hunter will miss the rest of 2021.
Minnesota also announced the signings of centers Cohl Cabral and Spencer Pulley to its practice squad and the termination of a practice squad contract for Nate Orchard, who had just been added this week.
The moves come at a time when Minnesota's depth is being tested on both sides of the line of scrimmage by a variety of factors.
The Vikings agreed to send Stephen Weatherly to Denver during their Week 7 bye, leaving Hunter, Everson Griffen, D.J. Wonnum and Patrick Jones II on their 53-man roster.
Jones dealt with a knee injury last week that made him unavailable against Dallas, but he was not listed on this week's injury report.
Griffen, Wonnum, Jones and Willekes are expected to be available against Baltimore, which ranks third in the NFL in yards per game and features dynamic threat Lamar Jackson as its quarterback.
Willekes missed all of 2020 with a leg injury he suffered during a preseason practice at U.S. Bank Stadium. He called his first opportunity to play in the NFL "surreal." The Michigan State product attacked his rehab and has shown a high level of aggressiveness while learning from veterans.
"I guess that's just the way I do things, the way I've always done things," Willekes said. "I'm attacking at 100 percent. Just tried to get better each day, tried to take each day as an opportunity to get better. I was able to learn from Danielle and Griffen, two vets. Obviously we have a great coach with [Assistant Head Coach/Co-Defensive Coordinator/defensive line coach Andre Patterson]. He's one of the best in the league, [assistant defensive line coach] Imarjaye [Albury, Sr.], and just able to sit back and take that time. Instead of feeling sorry for myself and sitting around, I was able to try to get better each day."
Willekes has drawn considerable credit from coaches and teammates for the way he's been working at practices.
Offensive Coordinator Klint Kubiak said he loves to watch Willekes at practice because of the way he helps the offense prepare.
"He's the hardest-playing 'Jesse' out there. He loves football," Kubiak said. "He's up the field, he's disrupting plays. He's got passion for the game. I love the way that guy plays football, and he just brings a lot of energy to our team. He makes it hard on us as an offense, which I always appreciate, and makes our guys work."
On the offensive line, Minnesota is dealing with center Garrett Bradbury, who was vaccinated against COVID-19 in the spring, tested positive for the virus this week.
He was placed on the Reserve/COVID-19 list Thursday and will miss a game for the first time in his career. Bradbury started his first 39 regular-season games.
Veteran guard Dakota Dozier, who is on the practice squad and also had been vaccinated, was placed on the Practice Squad Reserve/COVID-19 list Friday.
Minnesota is likely to turn to Mason Cole to replace Bradbury against the Ravens. Cole was acquired in a trade with Arizona this offseason but has only played for the Vikings as an extra offensive lineman so far. He started at center against Denver in Minnesota's preseason opener when he played 52 snaps. Cole played 26 against Indianapolis and 34 at Kansas City after relieving Bradbury in both games.
"Yeah, he's done a good job," Vikings Head Coach Mike Zimmer said Friday. "He did a good job at Arizona. We're glad we have him."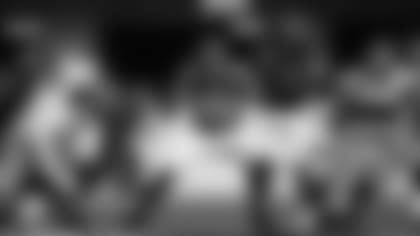 Cabral (6-foot-5, 296 pounds) is rejoining the Vikings after spending time with the team during the preseason. He played 14 snaps against Denver, 13 against Indianapolis and 29 at Kansas City. Undrafted out of Arizona State in 2020, Cabral spent time with the Rams and Texans before he was claimed via waivers by the Vikings in May.
As a two-time captain at Arizona State, Cabral appeared in 50 games for the Sun Devils, ending his college career starting in 39-straight contests. The 2018-19 Second-Team All-Pac 12 selection only allowed one sack in his final two seasons at Arizona State.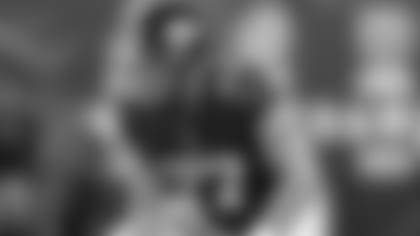 Pulley (6-4, 311) has appeared in 49 career games and has made 26 starts at center. The six-year veteran started all 16 games for the Los Angeles Chargers in 2017 and made 10 starts for the New York Giants in 2018-19. While with the Chargers, Pulley was a member of an offensive line that allowed a league-low 18 sacks, protecting for Philip Rivers, who threw for 4,515 yards and 28 touchdowns.
Pulley spent training camp with the Tennessee Titans in 2021, but he was waived after reaching an injury settlement before the end of camp. Undrafted out of Vanderbilt in 2015, Pulley was with the Commodores from 2011-15. He tallied 41 starts, which included a streak of 37 consecutive starts. Pulley was a team captain his senior year and earned SEC Offensive Lineman of the Week in 2015.