MINNEAPOLIS — Kene Nwangwu's 97-yard kickoff return touchdown was an equalizer on the scoreboard and an energizer for the Vikings sideline and everyone in the stands.
Nwangwu recorded the third kickoff return touchdown of his two-year career, first of 2022 and first of his career in a home game Thursday to tie the score with the Patriots at 23 with 10:41 remaining in the third quarter of an eventual 33-26 victory.
It marked the first touch by a Viking in the second half and was a 13-second response to New England's 37-yard touchdown pass from Mac Jones to Hunter Henry on the previous snap.
"Yeah, that's definitely the moment. When we saw that, we were like, 'OK.' We could feel the change in momentum," Vikings outside linebacker Danielle Hunter said. "That pretty much sprung us up. It gave offense some energy, gave defense some energy."
Linebacker Eric Kendricks noted there were multiple key plays down the stretch, but, "if I were to give it to one play, I'd say it was the kickoff return."
"Shout-out to special teams coming up big for us when we least expect it," Kendricks said. "That touchdown was huge momentum for us and gave us points we needed for the lead."
Quarterback Kirk Cousins, who threw the game-winning touchdown to Adam Thielen with 9:34 remaining and led Minnesota (9-2) to its sixth fourth-quarter comeback of the season, mentioned Nwangwu's return in the third sentence of his opening statement.
"Obviously the kickoff return, the whole unit, it was an unbelievable return that really made a difference in the game," Cousins said. "I think they might have drawn that one up at halftime, so halftime was pretty productive."
Nwangwu returned two kickoffs for touchdowns in 2021 within his first five career games, setting an NFL record for the fewest games with two scores. But they happened in losses at Baltimore and San Francisco when the Ravens and 49ers were able to sway games in their favor.
This time, he reaped the reward with a Vikings win.
"We had a great scheme … and we had 10 guys doing their assignments, so it's my job to score a touchdown," Nwangwu said. "At the 50, I saw the kicker was left, so to me, 'All right, we're going to score on that one.' "
Head Coach Kevin O'Connell said he has hit Nwangwu up at pregame meals all season, asking, "Is today the day? Is today the day?
"He's just so talented, such a special athlete. I've got so much confidence in [Special Teams Coordinator] Matt Daniels and [assistant special teams coach] Ben Kotwica," O'Connell said. "Our special teams units have had game-defining plays for us all season long.
"I just thought in that moment for Kene, even when it looked like maybe they were closing in on him there, he's just so explosive, to get that thing going. Then to finish that in a moment where it was a huge play for our team," O'Connell added. "You'd like to think we would have gone on the field right there and driven for a touchdown. But to get that immediate response allowed the defense to get their cleats back in the ground and be ready to go on the next drive.
"Ultimately as an offense, when we got our op, to make sure we drove the football and got points. That's three phases of our team. You have heard me talk about that a lot," O'Connell continued. "Complementary football coming together at its finest. We're going to need to win like that. We're going to need to play well like that when it matters in all three phases and win big football games against good teams."
New England kicked off seven times. One resulted in a touchback, and one was aimed at Johnny Mundt, who did not advance the ball at the end of the first half.
Nwangwu returned the other five, totaling 166 yards for an average of 33.2.
Patriots kicker Nick Folk placed the ball at the Minnesota 2-yard line twice, the 3 twice and 2 yards into the end zone once, and Nwangwu welcomed each opportunity.
"I've got a chip on my shoulder. If they're going to put it in play, we're going to make teams pay for it, so for me, my mindset is I'm going to set up my teammates and make sure their blocks are true," Nwangwu said. "They're doing their assignment, I want to do my assignment, and that's putting the ball in the end zone.
"Our mindset on special teams is to be momentum starters — sparks for our offense and defense. Going out on the field, that's my mindset," he added. "That's what we're doing, and I think we accomplished that goal with that kickoff return."
The return drew attention from Cordarrelle Patterson, who recorded five of his NFL-record nine kickoff return touchdowns for Minnesota.
"It's awesome," Nwangwu said when told about Patterson's tweet. "He's the goat. The way I see C.P. is, he's the gold standard for me."
Kendricks had the benefit of teaming with Patterson and now Nwangwu. He credited Nwangwu for continuing to work hard even though the ultimate goal had not happened before Thursday, nearly a year after Nwangwu's second score.
"We know how dangerous he is, obviously from last year, but he's been pretty dormant this whole year, and that's kind of hard when you're used to making plays like that," Kendricks said. "But it's about sticking to the routine, sticking to the course, and you never know when it's going to be your turn to make that play. You've gotta be ready."
Vikings safety Camryn Bynum, who was drafted in the fourth round of 2021 six spots after Nwangwu, predicted his draft classmate will "go down as one of the greatest kick returners."
"He's got three already in only his second season, and I know he's gonna keep getting more," Bynum said. "He's been due for one, and he was able to come down with it. I expect a few more from him this year."
The Vikings special teams also got nine points from Greg Joseph, who made field goals of 30 and 36 yards and went 3-for-4 on extra points, as well as benefitted from a strong night of punting by undrafted rookie Ryan Wright.
Wright punted three times for 158 yards, averaging 52.7 and netting 49.0. All three punts placed New England inside its own 20-yard line.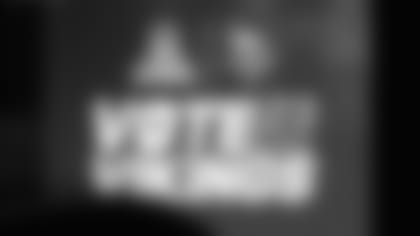 Pro Bowl Voting is Open!
Cast your vote to send your favorite Vikings to the 2023 Pro Bowl Games.
He also was involved in another momentum-swinging play.
Facing fourth-and-3 at the Minnesota 36, Wright punted the ball 56 yards to the New England 8 and forced a fair catch. Wright's foot was still up in the air on his follow-through when Pierre Strong, Jr., struck it and received a 5-yard running-into-the-kicker penalty, awarding Minnesota a fresh set of downs.
The Vikings followed with an 8-yard pass to Dalvin Cook, a 36-yarder to Jefferson and the touchdown to Thielen, the 52nd of his career, which tied him with Anthony Carter for third in team history.
"[It was worth it] because we got the first down and it led to that awesome touchdown catch by Adam Thielen," Wright said of taking the hit. "A great throw by Kirk, too. But if you actually look at it, it was a really good punt, so it's kind of bittersweet. But obviously I've got to be favorable to what helped the team the most.
"I'm not a flopper. I mean, obviously I'm going to fall if I'm on one leg and someone runs into it," Wright added. "It's just gravity. It's gonna happen. But yeah, adrenaline was running through my body, so I didn't really feel it until right now."
O'Connell pointed to the return by Nwangwu, the punting by Wright and the home crowd for contributing to the win.
"Every time we needed them to be with us on defense and make that extra stop or special teams with Kene's huge kick return, Ryan Wright punting it three times inside the 20, I feel like our crowd willed our organization forward coming off a tough loss," O'Connell said. "That is something I'll forever remember in these tough circumstances. But we got to continue to improve and try to show up each and every week with purpose and not need to have setbacks to find our best. I think that's what we're going to need to do as the season moves forward and hopefully on into January."