MINNEAPOLIS — Justin Jefferson has his annual Thanksgiving meal down to an art form.
"Turkey is a must. Dressing is all-time, that's my favorite," Jefferson said. "Gotta have the ham. We do stuffed bell peppers. I don't know if anyone else does that, but that's what we do."
There weren't any of the latter at the Groveland Emergency Food Shelf in Minneapolis on Tuesday, but Jefferson made sure some local families will be well-fed and able to enjoy the holiday this year.
The Vikings wide receiver donated 100 turkeys to Groveland and helped pass them out and spread some cheer to those in need.
"This is a happy moment for me, just giving back to the community once again by giving some turkeys away," Jefferson said. "Just feeding some families for Thanksgiving … it's very important.
"I'm a very family-driven guy. Every holiday, our family was together at the table," Jefferson added. "Just feeding some other families, and hopefully they get a joy out of it."
The event was put on by the JJetts Foundation, which Jefferson and his family started this year. The 22-year-old said he is enjoying getting to know the Twin Cities community more in 2021.
"It's been better this year. Last year, it was nothing at all," Jefferson said. "It's good to interact with the community now."
The initiative came about when Jefferson's brother, Jordan, reached out to Groveland about wanting to help.
"We want to give back to those in need," Jordan Jefferson said. "It's a great opportunity for us to connect with local organizations and also get in front of families that are in need of resources."
David Enghusen, the Executive Director at Groveland, said the food shelf was blown away when Jefferson said he would provide turkeys to those in need.
Enghusen noted that Groveland usually has most other holiday staples, but turkeys are sometimes few and far between.
"We were tickled," said Enghusen, who said Groveland feeds roughly 4,000 people per month. "Turkeys are pricey. We were able to get some this year, but this makes a huge difference.
"This makes it possible for us to really get a turkey to everybody who wants one," Enghusen added. "There's a huge need."
Jefferson provided the main course, which was given out in bags that were also filled with mashed potatoes, stuffing, gravy, croissants, green beans and pumpkin pie.
Those in need could also go through rows of tables and get anything else they needed, whether it was fruits, vegetables, dry goods or canned items.
Recipients expressed their appreciation for Jefferson's good deed.
"I always want to give back to the community, share my love," Jefferson said. "I want to do my part."
Patrick Peterson hosts drive-thru food distribution
A Thanksgiving tradition Patrick Peterson started in the warmth of Arizona shifted this year to chilly Minnesota.
The veteran cornerback who joined the Vikings this offseason continued his annual tradition of providing meals for families that he began with the Cardinals.
Peterson rubbed his hands together for warmth and joked about getting acclimated to the Minnesota winter – "I know it's just the beginning of it" – but he was all smiles during the drive-through event that took place in partnership with The Open Door Pantry.
"I love to see the smiles on the families' faces and see how meaningful this is to them," Peterson said. "This is a very important time of the year for me, for families, because this is a time of giving. Why not continue the tradition here in Minnesota?"
The Open Door is a local nonprofit that fights hunger by providing weekly food-shelf-style pop-ups for community members. The organization has previously partnered with the Vikings Table food truck, as well.
Jason Viana, Executive Director of The Open Door, said it's a special thing whenever they're able to team up with the Vikings.
"For Patrick to take time out to make this possible is incredible. Our [typically weekly] distributions are a little different than this," Viana explained. "The 200 turkeys and meal kits that Patrick has provided today, out of his pocket, would not have been available otherwise. This is completely on top of what we normally do, it's a bonus, and these families wouldn't have had the chance without Patrick.
"As seasonal jobs come to a close, as heating bills go up, there's always an increased need. The holidays are a stress on everyone, so there's always a bigger need at that time of year," Viana continued. "Having this extra support is huge. And I think one of the benefits is watching the smiles of people coming through. Having someone of Patrick's stature know they exist and recognize what it means to struggle, it really means a lot more than just the food."
Peterson said he first was inspired to help those around him when he attended Blanche Ely High School in Pompano Beach, Florida. While there, he watched notable Blanche Ely alumni – including Al Harris, Zack Crockett, Corey Simon and former Viking Tyrone Carter – give back on a consistent basis.
"Seeing what those guys were able to do … seeing them do football camps and food giveaways and having parties for the community, I kind of knew I had a talent that I could be in this position, and I always promised myself when I was in this position, I would do the same thing that those guys did," Peterson said. "Because I feel that those things help change lives."
Thielen Foundation & Mike Zimmer Foundation partner with The Salvation Army
Adam and Caitlin Thielen partnered with The Twin Cities Salvation Army to distribute 200 Thanksgiving dinners, which were donated by Hy-Vee, for the fourth consecutive holiday season.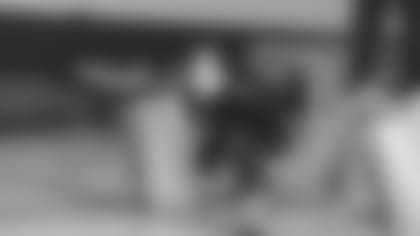 "On behalf of the families we serve, we want to thank both the Thielen Foundation and Hy-Vee for their extraordinary generosity," said Lt. Colonel Dan Jennings, Commander of The Salvation Army's Northern Division. "The pandemic has given rise to evolving challenges like inflation, food shortages, and evictions, and this gesture will help provide some hope to those who are in dire need of it."
The Mike Zimmer Foundation, which was established in memory of the late Vikki Zimmer, also teamed up with The Salvation Army, specifically to provide food for families experiencing homelessness.
Today, the foundation will provide hot Thanksgiving meals at all The Salvation Army's Twin Cities shelters, as well as its adult rehabilitation center.