EAGAN, Minn. – Justin Jefferson is tired of losing, plain and simple.
Prior to starting his NFL career, Jefferson was part of an LSU team that went 34-7 over the span of three seasons (2017-19). He's now starred on a Vikings team that's gone 15-18 and missed the playoffs in back-to-back campaigns.
Jefferson reported Tuesday for his third Vikings Training Camp and on Wednesday spoke with Twin Cities media members. The 23-year-old – wearing a black sweatshirt and baseball cap that both bore his likeness doing "The Griddy" – balanced excitement and urgency from the podium.
"Coming from a winning team and having a losing record [has definitely been] difficult for me. But I'm ready to change things around," Jefferson said. "We're all ready to change things around, get back to that old Vikings team that they used to be, by getting to the playoffs and competing for that main goal that we're trying to reach."
It's clear when listening to Jefferson where his top priority lies. Individual stats are great, but "Jets" is more concerned about the whole team reaching its ultimate destination.
Jefferson said he's ready to do whatever's asked of him.
"Whatever numbers I end up with, that's the numbers I end up with," Jefferson said. "It's mostly about having a winning season, getting to the playoffs and reaching the main goal that we're all trying to reach."
Don't confuse Jefferson's team-first mindset with a lack of personal drive, though.
After two seasons of breaking records set by Hall of Famer Randy Moss and establishing new benchmarks for rookies and second-year players, what does Jefferson have to look forward to in Year 3.
"I'm not labeled as the best receiver at this point, so that's my motivation – becoming the best receiver and being the best teammate for my team," Jefferson said. "Just doing things to provide for my team and just trying to get to that main goal, like I said."
Though Jefferson has set benchmarks and earned consecutive Pro Bowl nods, he isn't about to be complacent.
He told reporters, "The best version of myself hasn't come yet," and emphasized there's plenty of work to be done.
"I feel I still have things to improve on. I feel like my game can go up even more than what it has been," Jefferson said.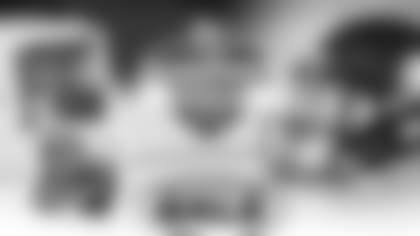 2022 Vikings Training Camp
Find out everything you need to know about Vikings Training Camp including schedule, tickets, activities and more.
He believes Minnesota's new offense under Head Coach Kevin O'Connell gives him and other skill players opportunity to make an even bigger impact on the field.
"Just the change and being able to spread the ball all around the field. Just putting people in different positions to get the ball," Jefferson said. "We have some great playmakers on offense, and we have that confidence in Kirk [Cousins] to get the job done, also."
After two seasons of navigating stringent COVID-19 protocols and not spending time together outside of the team facility, the Vikings locker room is renewing its chemistry and feeding off the energy of a fresh start with O'Connell and new Vikings General Manager Kwesi Adofo-Mensah.
"It's been good for us," Jefferson said. "With the new coaches coming in, just having that connection, building that connection with them. Coach K.O.'s been doing a great job with connecting us, helping us have a team bond. Everybody's just so comfortable and excited to go into the season.
"We're trying to get back to that winning record," he said. "I hate losing, I'm a competitive person and I'll be satisfied once we win the big goal."