Does the offseason have you craving more Justin Jefferson and missing "The Griddy"?
Cinnamon Toast Crunch is offering a fun way to satisfy that hankering.
Starting today, fans can purchase a limited edition "Griddy Toast Crunch." Along with the cereal, which is available only on the company's official website, customers can also order an exclusive sweatshirt.
The "Griddy Toast Crunch" box features splashes of Vikings purple and gold, as well as a Cinnamoji of Jefferson.
The Vikings receiver has just two NFL seasons under his belt, but he's dazzled in them both.
Jefferson in 2021 established new career highs in catches (108), yards (1,616) and touchdowns (10), becoming the first player in NFL history with more than 3,000 receiving yards in his first two seasons.
He earned his second career Pro Bowl nod, and now he's adding personalized cereal to his rapidly accruing accolades.
While having a popular breakfast food named after you – or your signature celebration – is certainly unique, Jefferson isn't the first Viking to show up in the cereal aisle.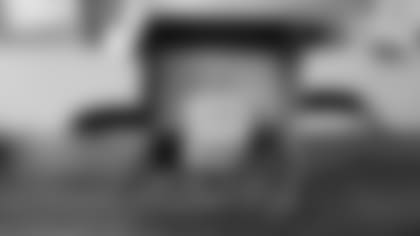 Of course athletes through the years have appeared on the front of orange Wheaties boxes, but some have had the honor of having a limited-release cereal like the Griddy Toast Crunch.
Among those players? Hall of Fame wide receiver Randy Moss, of course.
After the NFL named Moss the 1998 Rookie of the Year, the phenom earned his own cereal – Moss' Magic Crunch – that featured colorful marshmallows.
Jefferson has already been following in Moss' footsteps, so it seems only natural that he'd do so in this case.
Vikings quarterback Kirk Cousins also had a cereal named after him, when Hy-Vee launched the limited-edition CinnaMINN Snaps in 2020 to raise money for the Boys & Girls Clubs Twin Cities.
Jefferson now is part of an exclusive club that has also included Jason Witten's Lucky Stars and Peyton's O's, which featured the former tight end and quarterback, respectively.