Josh Metellus filled out his ballot, then waited for the votes to be tallied and a new team captain to be announced.
He didn't expect to hear his own name.
The Vikings had gathered for Saturday night meetings in Chicago, and Head Coach Kevin O'Connell announced that with Brian O'Neill, one of Minnesota's eight team captains, going on Injured Reserve, they'd promote a player for the regular-season finale and NFC Playoffs.
"Coach asked the leadership group how they'd feel appointing a captain or voting for a captain, and they chose to vote like we did during training camp," Metellus explained. "Not at any point did I think I was going to be the name called.
"But K.O. was speaking, and my heart was starting to pound a little bit, just intuition, my instincts kicking in. I'm like, 'There's no way. Could this actually be [happening]?' " Metellus continued. "It's something I've dreamt about ever since starting football, is being a leader on any team – that was always the goal. When he said 'Josh Metellus will be our new captain,' I wanted to cry right then and there."
O'Connell told the team that Metellus had been almost the unanimous choice, and that O'Neill had cast his own vote for the 2020 sixth-round pick.
"First and foremost, I checked in with Brian to make sure he thought it was a great idea, and he was fired up about it," O'Connell told reporters Monday. "As he finished saying that, he said, 'I think it should be Josh Metellus.' So it was a nice foreshadowing to the overwhelming number of votes he got."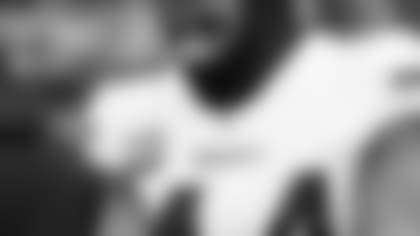 Metellus texted O'Neill Saturday night to thank him for believing in him.
The third-year safety and special teams ace said he's looked up to O'Neill since being drafted by Minnesota and has especially appreciated his leadership over the past two years as a Vikings captain.
"To have a guy like that, such a key part of our culture in this building, to have a guy like that give his vote for me, it just meant the world," Metellus said. "I told him that, and he was like, 'Yeah, man, I've always thought you earned it. You earn it every day.' Just to have that support made it even more special."
Following the meeting, Metellus immediately called his wife Haley to give her the news.
The two shared their excitement over the phone, but Metellus told her it wasn't likely that he'd actually have the "C" patch on his jersey for the next day's game.
"It was the night before a noon game – I just wasn't sure there would even be time," he said.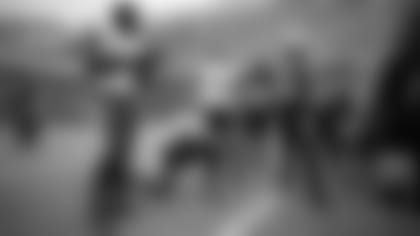 But the next morning, Metellus got off the bus at Soldier Field, located his temporary space in the visitors' locker room, and there it was: a pristine, white jersey with the purple 44 and a purple C embroidered over the chest.
All the emotions of the previous night came flooding back.
Metellus snapped two photos of the jersey and texted them to Haley, who proudly received them back home in Minnesota.
When he later suited up for the game, Metellus joined teammates Dalvin Cook and C.J. Ham – both of whom he'd voted for during training camp – at midfield for the coin toss.
Metellus previously this season had graciously accepted the honor of single-game special teams captain, both ahead of the Week 2 game against the Eagles and on Christmas Eve against the Giants. This, though, felt different.
"You get to go out there for the coin toss and see other players with the C on their chest, and I look and I'm next to C.J. Ham and Dalvin Cook, who I really respect," Metellus said. "I value their leadership, [and] just being on that same level with those guys meant the world."
It truly is a dream come true for Metellus, whose leadership has been touted by teammates and coaches long before he received an official designation.
O'Connell said Metellus was among 22 players who received votes in August and that he came close at that time to making the cut.
"And then what he's done throughout the season – his role as being one of the premier special teams players in the league, but also, when he's gotten a chance to get out there on defense like he did yesterday – he's an incredibly consistent, smart player," O'Connell said. "You feel his physicality, his ability to tackle. He made a couple nice plays in the ball when it was in the air yesterday.
"Not a surprise for me," O'Connell added. "He's been A-plus for me all season, from a standpoint of his [on-field] role, but also his ability to lead our group has been huge."
It's not a first-time responsibility for Metellus, who served as a team captain during his junior and senior seasons playing high school football, then as a senior at Michigan was selected by teammates as one of two ancillary captains beyond the main four.
"But it wasn't to the point where this is, where I've got the C on my chest. I don't know, being a captain on an NFL team, there aren't many feelings like it," Metellus said. "Knowing that a bunch of guys, all who are great at what they do, are choosing me to help lead them? It's something special."
Metellus started Sunday's game in place of Harrison Smith, who was sidelined with knee soreness, and finished the day with three tackles and a career-high three passes defensed in Minnesota's 29-13 victory.
Of course, he took his jersey home following the win.
"I didn't even wash it," he laughed. "I had to just bring it home and show Haley."
Now looking ahead to the Vikings Wild Card playoff game against the Giants Sunday, Metellus is honored to help the team prepare.
"I think our mindset is to keep doing what we've been doing all year," he said. "Times like this, you can either psych yourself out or [choose to] not take the moment too seriously. I think in our case, especially as leaders on the team, we're just urging everybody to keep doing what we've doing.
"What we've done has won us 13 games, put us in good position," Metellus added. "If we stay to the details and play as hard as we can play, I don't see any reason why we shouldn't be able to make a great run."