Vikings tight end Johnny Mundt has transitioned to Minnesota after growing up as a Niners fan on the West Coast.
Head Coach Kevin O'Connell and Offensive Coordinator Wes Phillips brought Mundt to the Vikings after overlapping with him in Los Angeles and helping the Rams win Super Bowl LVI.
Mundt caught his first career touchdown last season. Off the field, he's found leisure learning how to golf with teammates and jamming out to music with his wife and their newborn son.
We sat down recently for a Water Break presented by Crown Royal.
Q: Your wife gave you a record player for your birthday a few years ago. Sounds like music plays an important role in your life?
A: Yeah, she has a great ear for music, and I think I do, too. So, tangible gifts of sentimental value are really important. We'll give each other things like that. And we have a son now, so just playing music for him is so cool. Just like, "Oh, J.J. would love the song." Or, "I'll add it to his playlist." From a young age, my parents listened to music, and my aunts and uncles. It offered a lot of inspiration.
Q: Do you play any instruments?
A: I grew up playing the trumpet in middle school. And then I was like, "That's not as cool." So I jumped over to the bass guitar. Played two years in jazz band and then kind of stepped away in high school. Then two years into the league, I got an acoustic guitar and learned some cowboy chords. And now I've got two electric guitars.
Q: Is guitar something you hope your son picks up, or are you looking forward to teaching him?
A: If he wants. There'll always be a guitar in the living room. Whether he wants to pick it up and jam, it's totally up to him.
Q: Sounds like he will grow up around music much like you did, right?
A: Oh yeah. We are always going to be dancing, singing, like goofballs.
Q: What is it like having a second year here in Minnesota, but with the added benefit of having both Kevin O'Connell and Wes Phillips here with you?
A: Yeah, it was the most confident I've ever been just playing football and being in our offense as a whole. So it's been great, just building better chemistry with guys on the team that stuck around from last year. It's a really good group of guys. I can't say enough about them. We get together and play golf. Sometimes we'll catch a movie, stuff like that. So it's really cool.
Q: After growing up as a West Coast guy, what has the transition to Minnesota been like?
A: It's definitely different. The weather for sure is different. Winter is the real deal. Real thing here. All the seasons. But yeah, it's a different pace of life. Touch slower but yeah, like I said, getting out playing golf with the guys. I wasn't much into golf before this, but a lot of public courses here so it's easy to hop on and get a round in.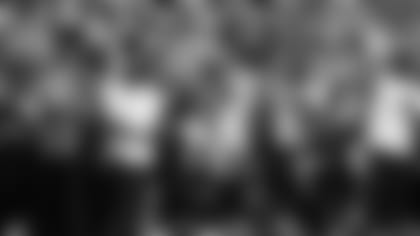 Q: What were the challenges you found in picking up that sport?
A: Just getting off the tee box, right? Having a good shot with three guys watching is tough, you know? Short game is tough with my wedges. But I'll dial in a nice drive here and there and set me up for a good approach.
Q: Shifting back to football, you had your own moment in the Netflix documentary Quarterback. What do you remember about Kirk Cousins calling "Y whatever" for you, which resulted in your first career touchdown?
A: So, I didn't watch the doc. But I did have family members and friends send me the clip. I think it's just hilarious. It was a goal-line play. It was dialed up for me to count block, and then release outside and have Kirk throw it to me. And it was a very wordy play call. And it was kind of late in the play clock. And so getting all that out, it just didn't happen on that play. But I knew exactly what I needed to do.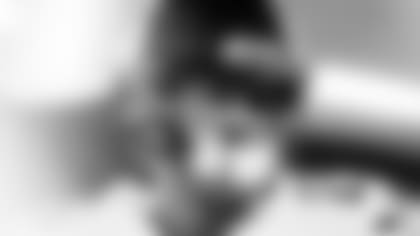 Q: So it was one of those things where it's like, based on the situation, and formation, you knew what your responsibility was?
A: As soon as I knew the personnel and the formation, plus half the information, I knew what the play was.
Q: I don't know if you saw the quote from training camp but Kevin O'Connell called you the best No. 3 tight end in the league. What does his support mean to you?
A: To have him go to bat and say that really meant a lot to me. My agent was really stoked about it. Yeah, it was super cool to hear him say that. It really justified a lot of the work I put in. My most recent training camp was the best camp I've ever put on film in the NFL. Just hearing that was really reaffirming.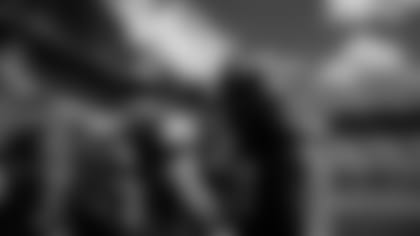 Q: What was it like winning a Super Bowl? I understand the injury situation you were in when that occurred. And that probably plays a lot into how you felt in that moment. But even now that you're able to look back and say you are a champion, does it feel how you thought it would?
A: It was tough. I had an ACL [injury] and was out after Week 6. I was still around the building, around the guys. You know, I'm just helping out when I can. Hop into some film review and stuff. But it just makes me want to get back to that, right? I want to feel what it's like playing in one and winning.
Q: You mentioned once that going through that ACL recovery was one of the toughest parts of your life. Just with how isolating the experience is, who and what helped you through it?
A: Well, my wife is phenomenal. She's a superhero. She was by my side, building me up. She was terrific. And just caring for me and helping pick me up from the facility and dropping me off places when I couldn't even drive, cooking meals, just picking up a lot of the slack around the house.