Jerick McKinnon grew up in Marietta, Georgia, dreaming of playing in the Georgia Dome.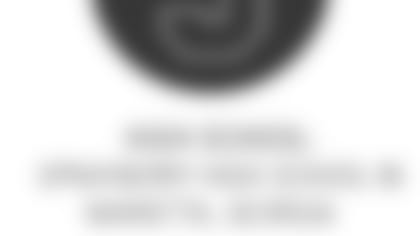 He finally got his chance last week and helped the Vikings clip the Falcons 20-10. McKinnon rushed a season-high five times for 33 yards, providing a change of pace and style in contrast to Adrian Peterson, who rushed 29 times for 158 yards and touchdowns of 1 and 35 yards.
The Vikings totaled 191 rushing yards against a Falcons team that entered the game as the stingiest rush defense in the NFL (87.4 yards allowed per game).
In addition to that, McKinnon continued to contribute on special teams, and was able to use the trip's overlap with Thanksgiving weekend to connect with family.
We caught up with McKinnon for a Timeout.
Q: With the return of Adrian, you're not asked to carry as much of the load on offense, but you've had a few opportunities. How much have you learned this year from watching him?
A: I think I've made the most of my opportunities, but not having that much of a load, it's really been more of a mental year for me, not getting as many reps, but learning from him and Matt [Asiata] and Zach [Line], [Dominique Williams], all of the running backs and Coach Kirby [Wilson], of course, so I mean, as a competitor, you always want to play more, but I think, in the long run, the situation I'm in is going to be more beneficial than me getting the load in back-to-back years. I'm just trying to learn as much as I can from guys like Adrian and Matt and Zach, who have been in the league for more years, and Coach Kirby has coached and been to the playoffs, so I'm taking that in and taking criticism, fixing it and building myself to be a better player. I think it's a blessing in disguise, even though most people wouldn't see it that way.
Q: Now that Adrian is back, does Coach Kirby still call you "Mister"?
A: No, he calls me "Young Jet" this year, so I'm moving on up. I've got a stripe under my belt.
Q: You went out to California to work with Kyle Rudolph this offseason. How have you seen that benefit you this season?
A: Most definitely it's helped. Going out there and just working on my smaller muscles was big coming off of rehab [of back surgery]. I really had to start from scratch all over. My mobility, my flexibility, my core is a lot stronger. I just feel like it was the right decision to go out there and work on the smaller things to progress to the bigger things in the offseason. I'm thankful he invited me out there and let me live the lavish lifestyle for an offseason with him.
Q: You're playing a lot more on special teams this season. What are your goals on special teams?
A: Just contribute, whether it's blocking, or I got my hand on the blocked punt (against Green Bay). No matter what, whenever I touch the field, whether I get a chance on offense or get a chance on special teams, just still having that mindset to go make a play because all phases count in the game. Special teams is about flipping the field and putting the defense in a good position and vice-versa, so being able to contribute to the team and the special teams success we've had. We're playing real good on special teams right now. We allowed a big return (against Green Bay). That wasn't good, but I mean, you come back and fix those things. I just feel like special teams is just like offense or defense. Those 11 guys bond just like our offense or defense. I'm excited to be out there with those guys, especially on kickoffs. The opening kickoff is always amped up.
Q: What was it like to be a captain on special teams this season?
A: That was an honor. That was my first time going out for the coin toss in the NFL. I just felt honored that the coaches felt that I had played good enough to be named a special teams captain. It was another dream come true to be out there for the coin toss and have that moment. It's something I'll cherish.
Q: What did it feel like when you got a hand on the punt?
A: It hurt. It was cold, so it hurt, but it's a good feeling. You practice all week, schemes and stuff like that, and then you get in the game and do it and see it pay off. That's a lot of credit to Coach [Mike] Priefer and Coach [Ryan] Ficken for drawing up those punt block strategies. It was a good feeling, not just for myself, but for the team. At the time, we needed it so that made it that much better.
Q: There's so much planning and practice that goes into it, but you don't always get the reward. You guys were getting close though.
A: I think [Adam] Thielen had his hand on one earlier this season. Like Coach says, you've always got to believe every time you touch the field that you're going to block the punt if the punt block is called. Those plays are just as big as an 80-yard run or an interception for a touchdown, so it's all about mindset, really.
Q: What are you doing to relax off the field?
A: I don't know. I'm a loner, man. I get tired of seeing these guys in here (laughs). I chill with Shamar [Stephen] a lot. I've been to Rudy's. I kick it with [Jarius Wright, Cordarrelle Patterson]. I kick it with everybody. If I'm not at home or doing my own thing, I'm most likely with someone on the team, kicking it, playing games.