When Jayme Robison's husband walks through the door at 5 p.m. each day, she gathers any paperwork currently spread across the table and closes the lid of her laptop.
The proverbial clock striking 5 signals family time for the Robisons, and it's a valuable part of the day.
Jayme says the no-evening-work rule is sometimes challenging for her, but she soaks in the pre-sunset hours with Brian and their two children: Madelyn, 4; and Parker, 2.
Tis the story of two professional athletes navigating life together.
Most people recognize Brian Robison as a starting defensive end of the Minnesota Vikings. What they don't often realize, however, is that his other half is equally successful in another arena, where she's been barrel racing professionally since she turned 18.
Jayme has been riding horses for as long as she can remember. Her parents grew up owning horses for trail riding, and she started the same at a very young age. Jayme fell immediately in love with the animals, but trail riding lacked luster.
"It was really laid back, and that just wasn't my thing," Jayme said.
A neighbor of Jayme's barrel raced, and she worked it out with Jayme's parents to introduce her to the sport. Jayme was hooked. After starting to barrel race in just the third grade, she hasn't stopped.
Shortly thereafter, 10-year-old Jayme was approached at a barrel racing event by one of the adult riders, who wanted to introduce Jayme to her son, Brian.
"He didn't really go with her a lot to these barrel races," Jayme explained, "but she convinced him to go with her one day because she had to show him his 'future wife' – which was me.
"She'll remind me to this day that she's the only one who told us that this was our future – that we were going to marry each other," Jayme added with a laugh.
Brian will tell you that for a 12-year-old boy, there's not much farther from the mind than marriage. But a part of him was captivated that day.
"I mean, she was a girl that caught my eye," Brian said. "I guess you could say the rest was history."
For the next eight years, Jayme and Brian were part of each other's lives. She didn't make it easy for him, though.
"We broke up several times," Jayme said. "I felt like he needed to explore and figure out life. The world is way too big, and he lived in this small little town [Splendora, Texas]. I just knew that he was going to get out of it and go crazy.
"He didn't," she added, smiling. "But I broke up with him quite a bit."
Jayme ended their relationship one last time when Brian received a football scholarship to the University of Texas. But to this day, she says that Brian "once again proved her wrong" and waited contently.
The two started dating again during Brian's junior year, and they've been together ever since.
As Brian hunted dreams of the NFL, Jayme attended college while continuing to compete professionally at rodeos. She pursued an education degree, but all the while her heart was on a horse, competing.
"I can't remember life without it – I'm just so passionate about the animal itself," Jayme said. "It's what I love to do. I didn't want to do anything else – I was just going to rodeo."
Jayme kept her promise to herself, never shelving her passion. Little did she know, however, her world was about to take a crazy turn.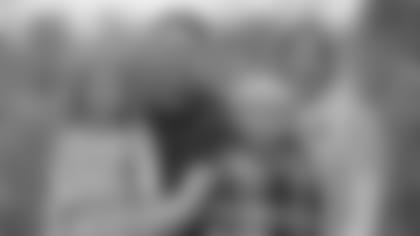 During Brian's time with the Longhorns, Jayme played the role of supportive girlfriend. She respected his training schedule – often limiting phone time to 10-minute conversations at 9 p.m. – and traveled the two hours to Austin when able to attend games. She dutifully sat in the stands, though football was far from her first love, and cheered as Brian anchored the defensive line.
But she didn't realize just how good he was.
At one point, Brian asked Jayme which city she hoped they'd end up in when he was drafted.
"I'm looking at him like, 'We're not going anywhere. You're not going to the NFL, Honey,' " Jayme recalled. "I didn't want to crush his dreams, but I also didn't want to jump on the bandwagon that everyone else was on."
When draft weekend rolled around, Jayme and Brian were engaged. They sat with friends and family, watching names called and college stars cross the stage to don an NFL-branded baseball cap.
On Day 2, Brian received a call from a Minnesota number during the fourth round. He was about to become a Minnesota Viking. Everyone in the room cheered, clapped and congratulated – except Jayme.
"Everybody's clapping and happy and all this, and I'm crying," Jayme said with a chuckle. "I hadn't even been thinking about this – 'What am I going to do? What am I going to do with my horses and my life?'
"There were so many emotions," she added.
Jayme may have been unsure of her emotions and how she would make such a quick transition, but she never had any doubts about traveling with and supporting her fiancé. Shortly after Brian was drafted by the Vikings, the couple packed up their belongings – and horses – for the 1,200-mile trip north.
"We made the decision that we were going to do it together," Jayme said. "That I was going to bring my stuff up here and figure it out."
What Jayme is especially grateful for is that they've only had to "figure it out" one time. She understands it's rare for an NFL player to have a 10-year career, let alone spend the entirety of that career with one team.
It's a luxury Jayme doesn't take for granted.
Each summer when training camp rolls around, Jayme recognizes that any player, including Brian, could find himself falling short of the final roster. But she knows that no matter what happens, they're in it together.
"Now we're coming up on 10 years. I don't even want to know what that is in dog years, because that's probably what he's considered in the NFL," Jayme quipped. "But I still think the same thing – if it were over tomorrow, I couldn't have pictured it any other way."
And everything in between
In the almost-decade since Brian was drafted, the Robisons' life has become more and more of an adventure.
Jayme extended her passion to her own horse-breeding business, Miller Robison Performance Horses. Through her business, which she runs with the help of her sister, Robison owns a stallion that she breeds. Currently, she also owns more than 20 horses – including foals and brood mares – and trains a large number of those to be ridden and competed on.
The breeding and training all goes into being a successful barrel racer in the Women's Professional Rodeo Association, and Jayme said it's that process that can be the most difficult.
"It's almost like being a little scientist yourself, because you have to pull these different bloodlines and decide what fits well, what works well, and then after that you have to raise them and train them," Jayme said. "By the point they're ready to ride, I have so much love and so much [work] invested in them.
"If you put in 100 percent, that horse is going to give back 100 percent," she added. "You have to have that bond with the horse. If you don't, it's not going to work, no matter how hard you try."
As much as Jayme devotes to her business, she wouldn't trade anything for her second job as a parent. She and Brian welcomed their first child, Madelyn, in 2012. Two years later, Parker arrived.
"He's definitely all boy," Jayme said of her youngest.
She and Brian have passed along a number of qualities to their children, and they've also shared their passions with them.
Madelyn loves to attend Vikings games and cheer for Brian, but she'd rather wear a helmet to ride her pony – purchased for her before she was born – than to play football. The pony is just one of the animals Madelyn loves to care for in Texas, including chickens and a pig. Still on her wish list? A goat, of course.
"I love when anyone has that gift with an animal," Jayme said of her daughter. "I feel like if you can love something else, you're set."
Parker, though barely 2 years old, is a football fanatic.
A pint-sized version of his father, Parker intently watches away games on the television, clutching a miniature football and running in place, gathering in an imaginary huddle or assuming his stance on an invisible line across the living room floor.
While on a recent grocery shopping trip, Parker identified a Norseman logo as "Daddy."
"He thinks that the Vikings in general is his dad," Jayme said. "He doesn't understand that we share the team with the entire state of Minnesota."
No matter what her children gravitate toward, Jayme is proud to see them already growing into themselves and pursuing their passions.
"I feel like my kids, if they take just a little bit of Brian's drive or a little bit of my drive, they will succeed in life," Jayme said. "They're not quitters."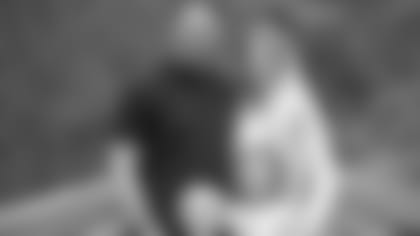 One area Jayme doesn't pressure Madelyn or Parker in is competition, although plenty abounds in the household. In a marriage between two professional athletes, almost any scenario offers an opportunity to compete – from watching *Wheel of Fortune *or calling one of their kids into the room.
Ask either one of them, and they'll lay claim to the highest number of victories.
"She loses a lot, and she's a great loser," Brian said with a grin. "We compete at everything. It makes things a little more fun, because you can kind of relax, make jokes and play around, and it keeps things a little bit light at the house."
While they like to egg each other on, there's also a very real part of Brian and Jayme that wants the other to be elite in his or her sport. They are each other's biggest critic.
In the Vikings Oct. 9 game against the Texans, Brian recorded a season-high two sacks. When he met Jayme in the family room postgame, however, it wasn't the pair of sacks she commented on.
"The first thing that came out of my mouth was, 'Why did you miss that sack, Brian?' " Jayme said.
No longer the halfhearted fan in the stands, Jayme has grown to love football and watches Brian's every move like a coach.
"He missed a sack, and he shouldn't have," Jayme said. "I'll say, 'You got two, but you still missed one. It doesn't count.'
"I used to criticize him for not getting off the line quick enough," she continued. "You name it, I've criticized it. But it's because I want him to be the best he can be."
On the flip side, Brian travels with Jayme during her rodeo season – which often nearly perfectly complements the NFL offseason – and offers feedback on Jayme's races. If Jayme makes a mistake, Brian is often the first to point it out.
"He doesn't really know what he's talking about," Jayme said, smiling. "He doesn't know much about the horses.
"He likes to stay in just this reachable distance [of the horse]," she added, extending her arm in front of her, "but he'll still tell me what I'm doing wrong or shouldn't have done."
A lot of kidding around goes on between Jayme and Brian, but there's one exchange that Brian could not be any more serious about. Each day when he comes home from work and Jayme closes her laptop, Brian calls her Superwoman.
"I can't say it enough," Brian said. "She thinks I'm joking a lot, but I just don't know she does it. She spends all day with the kids […] along with handling a lot of stuff with my foundation, along with running her business."
Added Brian: "In my opinion, she's definitely 'Mom of the Year' every day of the week."