Before taking the field in Las Vegas yesterday, Jaylen Twyman took a moment to be grateful.
He said first and foremost he's just "thanking God for allowing me to get back to this stage and giving me another opportunity" to fulfill his childhood dream.
Last June while visiting a family member in Washington, D.C., Twyman was caught in the wrong place at the wrong time, becoming one of multiple victims injured in shooting.
The defensive tackle was shot four times; though all were considered flesh wounds, Twyman spent the entirety of his rookie season on the Reserve/Non-Football Injury list.
Which means Sunday marked Twyman's first football game since Dec. 27, 2019, when he helped Pitt defeat Eastern Michigan in the Quick Lane Bowl.
Readying for his Vikings debut, though, he said he felt "just excitement" rather than anxiety or apprehension.
"I'm just trying to poised," Twyman said. "That's one of the main things I preach to myself, is just being poised and living in the moment. Don't let the moment get too big for you. Just being where my feet are. Once I got the shoulder pads on and the helmet on and stuff like that, it was just trying to treat it like a normal game."
Twyman recorded three tackles in the Vikings 26-20 loss to the Raiders.
He's looking forward to two more chances in the preseason – against the 49ers and at the Broncos – but Twyman is focused on more than just game production.
"The preseason games are very important, but I also feel like practice is very important. So I just try to go one day at a time and dominate practice," he said. "I just try to line up every day and give the best me I'm capable of."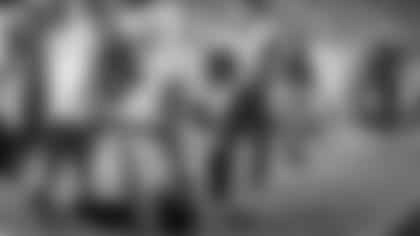 Twyman spent last season recovering both mentally and physically, thanks to help of a "really good support system" in family, friends, teammates and the Vikings training staff.
"It's been a grind. I've been knocking off the rust," Twyman told Vikings.com on Friday. "It's fun to be back with the guys and actually playing football again. Putting on the pads at OTAs, just learning the defense from the coaches, it's been really exciting. I've been looking forward to it and am happy to be here."
Twyman is especially appreciative of Vikings Team Dietician Remi Famodu-Jackson and Director of Player Performance Josh Hingst, both of whom emphasize sports science and nutrition as part of a player's training regimen.
Twyman noted that he'd been quite careful about his diet during college but "put on quite a few pounds" last year after being injured.
"I always knew – I had a plan for what type of player I want to be in this league, and Miss Remi is just helping me achieve that," Twyman said. "I just went and talked to her, and she made out a meal plan and things I should do to get back to my original playing weight, and Coach Josh.
"It was just one big family helping me try to become the player I want to be," he added.
Part of the lifestyle changes Twyman has implemented include cutting out certain types of carbohydrates and gaining a better understanding of what he should and shouldn't consume. He explained how Famodu-Jackson replaced milkshakes he craved with a real strawberry-and-cream protein shake.
"I drank that after practice, and it essentially tastes just like a milkshake, but it's on the healthier side," Twyman said.
He's also paid close attention to the way veteran players such as Kirk Cousins, Harrison Smith and Danielle Hunter focus on fueling and recovery.
"I feel a lot better, a lot lighter, and a lot more aware of my body weight and how I'm moving," Twyman said. "One time I was talking to Danielle and he told me his pass-rushing weight – and how when he's at this weight, he knows he's gonna get to the quarterback.
"I kind of stole that from him. Just getting a feel for that," he added. "I'm very dialed in on that, for sure."
On July 19, his 23rd birthday, Twyman posted a photo to Twitter that garnered lots of positive – and impressed – feedback.
Twyman chuckled when asked about the photo.
"Honestly, I wasn't even looking for a reaction. I had reached my weight goal after being super heavy earlier in the year. So getting down to my weight goal right before camp, I was just excited to do that and show off some of my hard work," he said. "The nutrition and the lifting and all the running hills down in that South Florida heat … it paid off."