MINNEAPOLIS – It's only fitting that Jarius Wright be in the building when the Vikings host the Jets.
Wright, who played for Minnesota from 2012-17, starred in a walk-off-touchdown win over the Jets almost exactly eight years ago.
The receiver caught a short screen pass from Teddy Bridgewater and turned it into an 87-yard touchdown to lift the Vikings over New York on Dec. 7, 2014, at the University of Minnesota. Wright juked out Jets safety Jaiquawn Jarrett, then outran Sheldon Richardson – who later played for the Vikings – to the end zone.
Wright returned to Minnesota this week and relived the iconic moment.
"It was on third-and-5, and I remember telling myself, 'You've gotta get the first down here.' Caught the ball, broke one tackle, and I look up and it's just open field. I'm like, 'OK, now I've gotta go score,' " Wright recounted. "I see a big d-lineman facing me, and it was so cold, I'm like, 'C'mon, legs, we gotta get goin.'
"I just remember going up the sideline, and then once I scored, my first thought was to go celebrating with the fans," Wright added. "I have a special place in my heart for Minnesota fans."
Wind chill at kickoff that day had been 21 degrees Fahrenheit, in the first of two seasons the Vikings played in Dinkytown during the construction of U.S. Bank Stadium.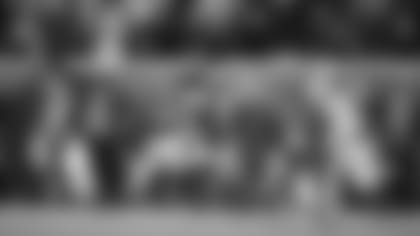 "It was a very, very great environment, even though it was cold. The fans always still came out to support, always were very loud," Wright said. "And if you go back and watch that touchdown, you saw the environment that it was then. … It was so electric each and every game, and like I said, even though it was cold – I did really enjoy playing there."
That touchdown will always be among the favorite plays of many, including lifelong Vikings fan Marcus Miller.
Miller said he'll never forget Wright's touchdown to cap a Jets game that already had been one for the books.
"That was such a strange game," Miller said. "It started with a defensive touchdown by Gerald Hodges, there was a safety when Richardson sacked Bridgewater, Percy Harvin was back [as a member of the Jets roster]. Very weird. Jarius' walk-off TD seemed like a fitting end."
Wright may never have been the Vikings No. 1 receiver, but he always received lots of love from the Purple Faithful – especially when he came up with big plays on third down, which seemed to happen often.
"Jarius was just clutch — he never acted like a 'diva' wide receiver, and he always made plays when we needed him," Miller said. "I guess most third receivers seem like underdogs, and it's hard not to root for that guy, especially when he plays so well and with that much passion."
Wright appreciated the opportunity to be invited this weekend to Minnesota, where he reconnected with former teammates (including Adam Thielen, Dalvin Cook and Harrison Smith) at the Vikings walk-through Saturday.
He was welcomed warmly by Head Coach Kevin O'Connell, who surprised Wright with a special request of sounding the Gjallarhorn prior to the Vikings-Jets kickoff Sunday.
The answer was a no-brainer for Wright, who said he still considers Minnesota a second home.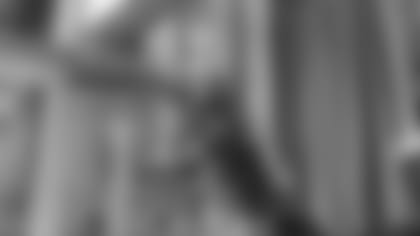 "It means a lot just for the Vikings to have me back. They didn't have to do this, so I'm very grateful that they gave me an opportunity to be back," Wright said. "Just getting a chance to see some of my old teammates and a chance to see these new facilities, it brought back a lot of old memories. But more than anything, I'm just happy that they're winning here."
The former Vikings receiver has been keeping close tabs on the team from afar, and he's especially impressed – along with everyone – by Justin Jefferson's incredible career start over the past two-plus seasons.
"What he's doing, it's crazy to watch," Wright said. "I was telling someone the other day, 'At this point, any ball thrown Justin Jefferson's way, you expect him to catch it – no matter what it's at.' He built that reputation for himself, and it's a great reputation to have in this league. I think he's proven himself to be one of the top receivers in this league."
Wright may have hung up his NFL cleats, but he's stayed around the sport he loves.
He and his wife, along with their 13-month-old daughter, live in Wright's home state of Arkansas, where he coaches at White Hall High School and also teaches middle school P.E.
"I'm enjoying getting to be a good influence on the kids," Wright said. "Just getting a chance to be a positive role model, a positive influence in these days where kids really need somebody to look up to."
He continues to have plenty of influence in Minnesota, as well.
Wright received a roaring reception from a packed U.S. Bank Stadium crowd after sounding the Gjallarhorn.
"I love that the Vikings see Jarius like we fans do — a great teammate, an underrated player. He is definitely deserving of sounding the Gjallarhorn," Miller said. "We all missed him when he wasn't here, and it's great to see him back in purple."
Wright is equally thankful.
"These fans, they're one reason why I do think of it as a second home," he said. "They treated me very well, no matter win or loss.
"Of course, I still keep up with the Vikings, and it's a great year," Wright added.