Any defensive end will tell you that it's hard to beat the feeling of breaking through the opposing offensive line, surging toward the quarterback and taking down the signal caller yards behind the line of scrimmage.
Jared Allen spent six seasons with the Vikings, during which he recorded 85.5 of his 136 career sacks. He knows well the rush of adrenaline and a crowd's roaring response – but he considers his off-field contributions to be much more rewarding.
It all started with a 2009 USO tour to United States military bases in the Middle East. A couple of years prior to the trip, Allen had been made aware of a disparity that existed in adaptive housing for veterans but at the time was heavily committed to another nonprofit.
"But then I went on the USO tour," Allen said. "And when I came back, I knew I wanted to shift my focus to helping our men and women when they return to the States."
Allen recalls the casual startup meeting as "sitting down with a buddy"; the two hashed out the concept of adaptive housing, asked themselves what "home" should mean – "our most secure place in our most vulnerable times" – and established the program's mission.
"We dove right in and just took it from there," Allen said.
Fans of Allen during his 12 NFL seasons are familiar with his level of intensity on the field, and he's poured just as much energy into a cause close to his heart.
Support for the military wasn't learned by Allen; rather, he was born into it. His grandfather served in both the Korean and Vietnam Wars as a 23-year member of the U.S. Marine Corps, and his brothers and uncles also served, including an uncle who spent 34 years in the U.S. Air Force.
"We knew that the reason we got to do what we did was because selfless men and women volunteered to serve our country and to go abroad and to fight for our daily freedoms," Allen said. "It's just always been a strongpoint in our family, so I always had that respect for them.
"So when I got an opportunity to go over and see firsthand what our men and women were going through and then hear some of the stories of the gap when they came back, those who were severely wounded, I really felt like I had to do something to serve my country," Allen added. "I was employed with the Vikings at the time and playing in the NFL, so I figured the best way to do that was to serve those who serve us."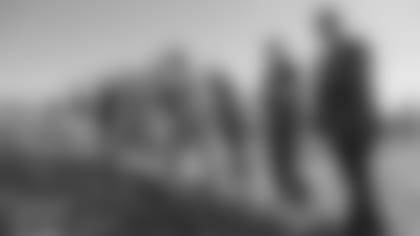 Remodeling homes and rebuilding lives
Since 2009, Allen and the organization have fully completed the builds or remodels of nine homes for veterans who were seriously wounded in combat. In addition, another eight homes – in eight different states – are currently under construction.
Each one has an amazing story of heroism and survival: Ken Champlin, who lost both of his legs below the knees and suffered a traumatic brain injury from an IED attack; Cory Remsburg, who was in a coma for more than three months after his platoon hit a roadside bomb in Afghanistan during his 10th deployment to the Middle East; Colin Faust, who lost his left leg and suffered severe injuries to his right arm and leg when he stepped on an IED; Andrew Hanson, who lost both of his legs when he was hit by an EEP while serving in Iraq in 2007.
After recovering, Hanson began looking for ways to make his home in Luverne, Minnesota, handicap accessible. After making small modifications himself over several years, Hanson was strongly encouraged by fellow servicemen to apply for assistance from Homes for Wounded Warriors. In 2014, Hanson submitted his application.
When Allen himself called Hanson to let him know that he'd been approved, the gesture spoke volumes.
"That went a long way," Hanson said. "It meant a lot. Right from there, I knew I was dealing with an organization that was honest and legitimate and genuinely wanted to help veterans."
JAHFWW remodeled Hanson's existing home to include an open kitchen, widened doorways, indoor and outdoor ramps and new appliances.
"After I was injured … two of my goals were to get my house up to snuff, handicap accessible, and to put myself in a place where I was financially stable," Hanson said. "But I hadn't really looked beyond that because I knew it was going to take a long time."
Now, Hanson is pursuing his Master's degree in Orthotics and Prosthetics, with a passion to help others who have been affected by an amputation. 
"I think in a big way, Jared and his organization really did kind of lead me down this path," Hanson said.
Allen called Hanson's story "phenomenal" and said it's just one example of lives that have been changed through the foundation.
"[Cory Remsburg's dad used] to tell us that when Cory was having a bad day, he would take him by his house, and that was his sense of independence," Allen said. "[John] Rickets was on the suicide watch list when we got his name. He was in a really bad, dark place, and now after building the house and doing that, we went to his wedding almost two years ago now. Seeing where they started from and seeing where they end up, it's always special."
Allen remains incredibly hands-on with the nonprofit. The Pro Bowler reviews applications, personally calls veterans who have been selected to receive a home build or remodel, and never misses an opportunity to hand over the keys.
"To be able to answer that prayer for them, to be able to take that little snippet of life pressures off their plate for that moment, it's the best," Allen said.
And it doesn't stop there.
Allen invests in each of the veterans impacted through his foundation, and it's a relationship that's often long-lasting.
"We try to stay connected with them and give them someone they can always contact or talk to," Allen said. "We're always there for them."
Hanson attested to the heart Allen has for the veterans he works with.
When Hanson first received the phone call from Allen, he was taken aback by how down-to-earth he was. Now, he'll tell you that it is just Allen's nature. He recalled an experience he had after the remodel, when he and Allen went fishing together.
"We went to go pick up bait at a gas station, and he drinks normal gas station coffee like the rest of us; he sits around and talks to people like he's just a normal person at the checkout," Hanson said. "He was just standing around talking to people, and I don't know if everyone knew who he was. He just acted like a normal person, and I thought that was pretty amazing.
"He's definitely one of those guys who knows that [football] is one part of his life, but he's still a person – and he knows that," Hanson said. "And I thought that was really respectable."
Jared Allen is known for many things: 136 career sacks that twice led the NFL and the token celebration that accompanied each one; five Pro-Bowl appearances; the cowboy boots, belt buckles and a signature mullet that has also retired.
But he hopes that he's remembered for something much bigger than all of it.
"Football's great, and football was something I loved to do. But at the end of the day, none of this is stuff we can take with us," said Allen, who recalled a team chapel service during his time in Minnesota.
"The pastor asked, 'Do you want to be successful or significant?' Being successful is great, and you can make a lot of money or be well-known for your craft, but significance is what you leave behind, what people are going to remember. How did you spend your time here on earth?" Allen said. "That's always been my mentality. So it's awesome [doing what you can] to make other people's lives better – to pay it forward, so to speak."
You can also give directly to Allen's ****#GivingTuesday campaign***, which is aiming to raise $50,000 by Nov. 28 for homes currently under construction. *