"Momentum" is one of the most identifying words of the 2020 Vikings.
After winning one of six games to start the season, the team has battled back by winning five of its past six to improve to 6-6.
A .500 mark with four defining games left to play seemed like a pipe dream in late October, but Sunday's unaesthetic 27-24 overtime victory over Jacksonville positioned the Vikings to control a substantial part of their postseason hopes.
There were numerous momentum swings within the game that Minnesota trailed by nine in the second quarter and by 10 in the third quarter.
The Vikings appeared to be taking control, changing a 16-6 deficit into a 19-16 edge. Minnesota was knocking on the door for a third consecutive touchdown when a fumbled exchange between Kirk Cousins and Dalvin Cook opened the fourth quarter by giving Jacksonville the ball at its own 2-yard line.
Rather than sagging its shoulders, Minnesota's defense delivered an impressive sequence that ended with a sack of Mike Glennon and safety recorded by Ifeadi Odenigbo for a 21-16 lead with 14:11 remaining in regulation.
Here's another look at that sequence.
Q4, 14:55 remaining — First-and-10 at the Jacksonville 2
The Jaguars open with a three tight end set against a Vikings defense that is in base, with rookie Troy Dye lined up in the normal spot of Eric Kendricks, veteran Todd Davis at strongside linebacker and Eric Wilson at weakside linebacker. Rookies Cameron Dantzler and Jeff Gladney are at cornerback, with Dantzler lined up across from receiver Chris Conley.
Gladney is on the left edge of the defense. The Jaguars all block to their left, with tight end Tyler Eifert blocking Davis, and Glennon handing off to James Robinson. This leaves Gladney, who has logged significant time in the slot this season at nickel, and he reads it all the way. He charges from the edge before Robinson finds much room and minimizes the gain.
Unfortunately for the Vikings, however, Gladney suffered an injury on the play and left the game.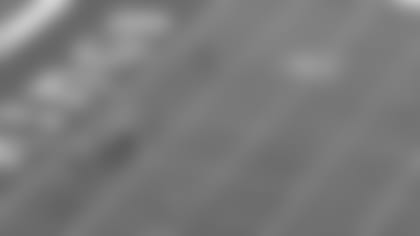 Q4, 14:33 remaining — Second-and-7 at the Jacksonville 5
The Jaguars keep their same skill grouping on the field, and the only change that the Vikings make is bringing in Kris Boyd for Gladney.
Dantzler travels to the left of the defense (right of the offense) to follow Conley.
The Vikings defensive line holds, gumming up the works and preventing Robinson from picking up steam. Credit Eddie Yarbrough and Armon Watts for some dirty work.
Davis surges forward to take on a block by tight end Eric Saubert, allowing safety Anthony Harris to read and quickly react. He comes swooping in unblocked to tackle Robinson for a loss of 1.
Harris gets the tackle for loss because everyone else did their job on the play, a point that Head Coach Mike Zimmer consistently emphasizes.
"We try to do it on all the plays, showing why – like, I don't know maybe it was a couple weeks ago, there were times we were trying to show a player why he was lined up where he was," Zimmer said Monday. "If he had been in the other, correct spot it would've helped out two or three other players.
"We show and talk about that all the time with really everybody, whether it's offense, defense or whoever," Zimmer added. "I'm always telling them, 'Do your job so someone else can have success doing theirs.' And that's part of the unselfishness. You have to, what's the word I'm looking for, you have to not try to make a play so someone else can and vice versa. Someone else will do it so you can make a play. It all fits hand-in-hand, really."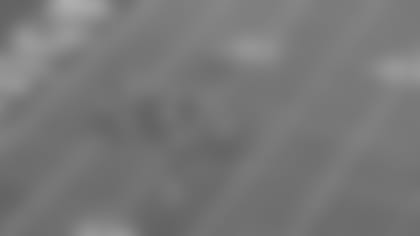 Q4, 14:15 remaining — Third-and-8 at the Jacksonville 4
The Jaguars go empty out of the shotgun with four receivers and running back Dare Ogunbowale, who lines up on the left edge of Jacksonville's spread.
Minnesota has gone to its nickel package with Wilson and Davis at linebacker and rookie Harrison Hand joining Dantzler and Boyd as an extra cornerback.
The Vikings deploy a pass rush unit of Odenigbo at right defensive end and Jordan Brailford at left defensive end with Jalyn Holmes and Hercules Mata'afa lining up on the interior.
Odenigbo and Brailford each win their 1-on-1 matchups against Jacksonville's tackles, and Odenigbo, who prevailed with a power move that drove back Cam Robinson, reaches Glennon before four of his receiving targets are out of their breaks.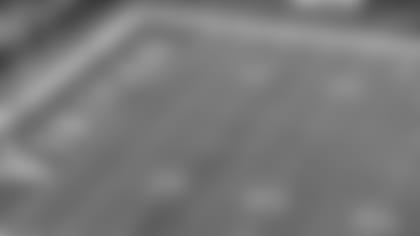 Vikings safety Harrison Smith, who dropped into coverage on receiver DJ Chark, Jr. and was running with him, said he enjoyed reviewing the play Monday on film.
"Ifeadi had a great left hand on the sternum of the tackle and really got some push back there," Smith said. "That's the fun stuff to watch on film afterwards because you don't see that during the play, but seeing what every other guy's doing that contributes to success, and then I think you gain an appreciation of what guys contribute, and it just adds more and more confidence."
Smith later credited Boyd for defending a route well on the play that resulted in Smith's 27th career interception and set up Minnesota's game-winning drive.
"[He] allowed me to not feel much stress, so I think when everybody does their job, it makes everybody's job that much — not easy — but it doesn't make it quite as hard. So when you're clicking like that, that's when big plays start coming around. It's never an individual effort, it's always the whole group playing off one another," Smith said.