Irv Smith, Jr., is approaching the abbreviation of SAK (Swiss Army Knife) in the Vikings offense.
The most comprehensive display of Smith's versatility this year occurred in Week 9 against the Lions when he caught touchdowns of 9 yards and 1 yard from Kirk Cousins and helped the Vikings rush for 275 yards.
The Vikings second-round pick of the 2019 NFL Draft showed the reasons he was predicted to be an X-factor heading into his second pro season. Listed at 6-foot-2 and 242 pounds, Smith helps Vikings coaches create mismatches and force opponents to choose between using a base defense or specialty package.
The Vikings can be productive in the run game or pass game with Smith "in-line" at the line of scrimmage or as a "move" tight end, often in a set that incorporates two or three tight ends.
The tight end position runs in Smith's blood. His father and namesake played seven NFL seasons, including five for a New Orleans team that drafted him in the first round of the 1993 NFL Draft with the 20th overall pick. The younger Smith's uncle, Ed, played the position for three NFL seasons.
Smith grew up in Arizona and Louisiana. He played high school at Brother Martin in New Orleans before heading to Alabama and setting Crimson Tide single-season records for a tight end with seven touchdowns and 710 yards as a junior in 2018.
In his first campaign in Minnesota, Smith set a Vikings record for a rookie tight end with 36 receptions, including his first career touchdown that sparked a major comeback win against the Broncos in the 2019 Salute to Service game at U.S. Bank Stadium.
Coincidentally, Smith's first touchdown of 2020 also occurred in a Salute to Service home game. So did the second.
While Smith may miss the "barbecued shrimp or crawfish — anything seafood, that's my thing, especially Cajun seasoning" from the Gulf Coast, he's generally getting acclimated to Minnesota — with help from teammates like Tyler Conklin, who spotted Smith shivering on the sidelines at Lambeau Field in Week 8 and offered a parka, saying "Here, my friend. You're from the South, Cuz. You need it more than me."
"He knew I was cold. That was definitely the coldest game I've played in," Smith said. "I know if you grew up here, it's not that cold, but for me, it was probably the coldest game I've played in, so it was cool that Conk' showed me some love and gave me the jacket because he knew how cold I was. It's a different kind of cold up here."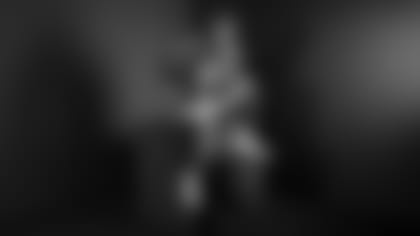 We caught up with Smith for a Water Break, presented by Crown Royal.
Q: I feel like New Orleans isn't a place that's very well-understood by outsiders. What's the biggest misconception about New Orleans?
A: "If you don't really know, the only thing you see really is the parties, loud music and jazz music, but it's a big culture. People are very open-armed. If you're a good person, they're going to love you and show you how much by great food, big parties, a lot of camaraderie. It's a very family oriented city."
Q: Does the family aspect sometimes get lost in translation?
A: "Yeah, if you're not from there, you just, by the way we talk and things we do, other people wouldn't understand. They don't know why you do those things and what people are talking about. At the end of the day, it's very loving. I'm very thankful for it being family oriented."
Q: What did you expect when you were drafted by Minnesota? Is there something about here that has surprised you?
A: "When I first got here, I heard, 'Minnesota Nice,' and everybody is very nice. It's definitely true, as far as if you're nice to somebody, they're going to be nice to you back. I feel like that's very true out here. It's how the world should live."
Q: Have you tried any of the winter activities? Snowshoes? Ice fishing?
A: "I want to try ice fishing because I like to fish. In Louisiana, we catch a lot of fish, so I definitely do want to try ice fishing."
Q: Do you have a teammate in mind to be your guide?
A: "I know Riley [Reiff] is a big outdoorsman, so I'll ask Riley for sure and some of the offensive linemen."
Q: Is there a tight end that's played in this system or a similar one that you most try to replicate?
A: "I've watched a lot of Owen Daniels. [Offensive Coordinator Gary Kubiak] coached him. We're pretty similar in size and different things like that, so I definitely have a lot of regards for him and how good of a player he was. Delanie Walker is kind of similar to my size. At the end of the day, I'm not Gronk-sized (Rob Gronkowski), but I really like the way they play, just leaving it all out there on the field, so I'd say Owen and Delanie, and Shannon Sharpe for sure, too. He was a lot of fun to watch. Those are definitely guys that played the game the right way."
Q: What's your key to blocking bigger guys?
A: "Honestly, it's a mindset. Obviously you practice your technique, work a lot of technique and hand placement, getting your body in the right direction, and pad placement. It's very-fine details for sure, but at the end of the day, you can use all of the details, and if you're not a dog out there and not confident in your abilities … then you don't have anything, so I would definitely say it's a mix between technique and just having to let that dog out."
Q: When you get a pre-snap look that's favorable, like it appeared on the second touchdown against the Lions, how do you keep your poker face?
A: "Well, shoot, I mean that's kind of all week in practice, you kind of know the couple of plays, that if they get called, you've got a good chance of getting the ball and getting in the end zone, especially kind of with Coach Kub' … it's definitely going to be a touchdown. You hear the play called in the huddle and you just feel that energy. At that point, you've just got to go out there and do your job and execute, and the fun is going to happen."